Local officials in the northern Chinese province of Hebei are anticipating a surge in COVID-19 infections and are making preparations to curb the spread of the disease, according to government documents recently obtained by The Epoch Times.
The Chinese New Year, the nation's most important traditional holiday event, kicks off on Feb. 12, setting in motion the world's biggest human migration as hundreds of millions return to their hometowns to reunite with family.
Shijiazhuang, Hebei's capital, is experiencing a severe outbreak. Authorities issued a lockdown last week and mandated nucleic acid testing for all 11 million residents, in an effort to curb the spread.
Internal government documents received from a trusted source shed light on the scale of the local outbreak.
The Epoch Times obtained a copy of an emergency notice issued by the Hebei Provincial Health Commission on Jan. 6, which concedes the province "faces a very severe COVID-19 situation." It called on cities and health care institutions to stock up on enough emergency medical supplies for 30 days.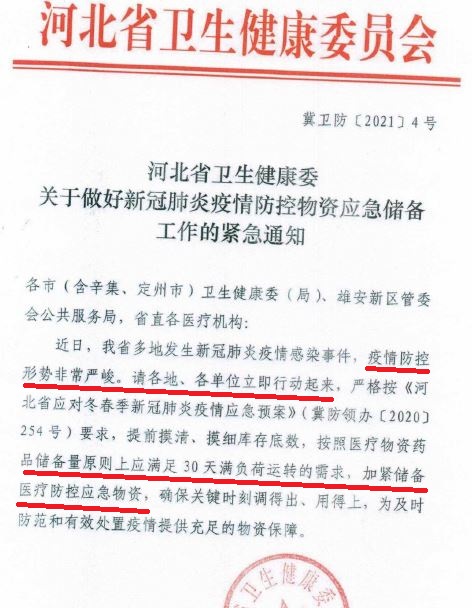 Another document, issued by the Shijiazhuang "command center" that handles COVID-19 outbreaks, revealed that authorities are anticipating a surge in COVID-19 infections during the Chinese New Year holiday.
The command center stated in the Jan. 6 "action plan" that districts, counties, and cities throughout Hebei must "lock in" supplies for pandemic control during the holiday, and "be well-prepared for large-scale nucleic acid tests in case of any emergencies."
The Epoch Times also obtained an "emergency notice" issued on Jan. 6 by the "quarantine support team" within Shijiazhuang's command center.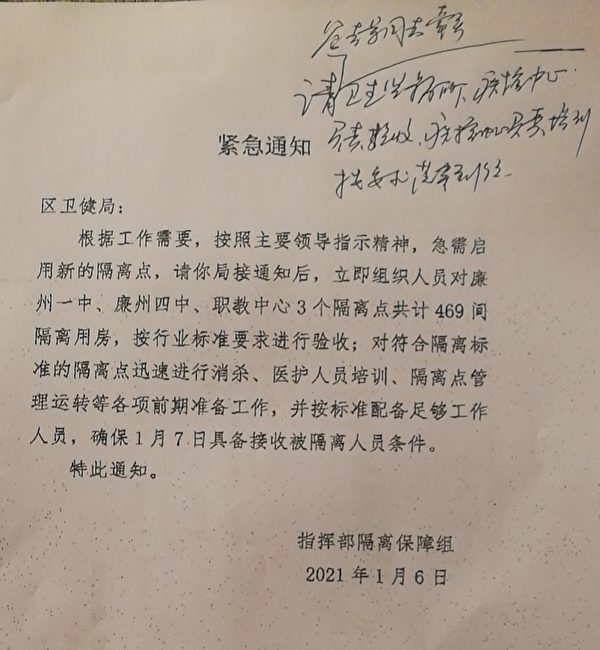 Addressed to the health bureau of Gaocheng district—where most of the city's infections have been detected—the Shijianzhuang command center ordered the district health bureau to immediately organize personnel to inspect a total of 469 rooms at Lianzhou No. 1 Junior High School, Lianzhou No. 4 Junior High School, and a vocational education center. The classrooms need to be thoroughly inspected, cleaned, and disinfected so they could be used as isolation units. In addition, the facilities need an adequate number of personnel who can be trained to care for the people isolated there.
The health bureau was ordered to have the new quarantine facilities ready by Jan. 7. Quarantine centers are typically used for people who are close contacts of confirmed COVID-19 patients and suspected by authorities to have been exposed to the CCP virus.
Hebei's health authorities have designated Gaocheng district as a high-risk area for disease spread, and set 30 areas as medium risk, including 20 in Shijiazhuang and 10 in nearby Xingtai city.
Long Tengyun contributed to this report.