A Chinese woman has died under mysterious circumstances just 12 days after being detained by police for her spiritual beliefs.
Yu Baofang of Anshan City, Liaoning Province is a practitioner of Falun Gong, also known as Falun Dafa, a self-improvement practice that involves living according to the principles of truthfulness, compassion, and tolerance. The practice includes qigong-like exercise movements and meditation.
Yu, her husband, and their son were arrested and detained by local authorities in July this year for refusing to renounce their faith, according to a report on Minghui.org, a U.S.-based website dedicated to publishing information on the persecution of Falun Gong in China.
Her husband Wang Dianguo is still detained and has been denied the chance to make funeral arrangements for his wife. Her son Wang Yu has been released.
On July 17, Yu was sent to a hospital in Anshan City. She died several hours later. Yu's son, Wang, was allowed to visit his mother, but was not allowed to be near her or touch her, Wang told Minghui.org.
"I wanted to stay longer. I wanted to hold her hands. This would be my last chance to hold her hands, but the police didn't let me. They forcibly took me out of the room. I only stayed there for a few minutes," Wang said.
Hospital staff told Wang they attempted to resuscitate her, but that her cause of death was still unknown.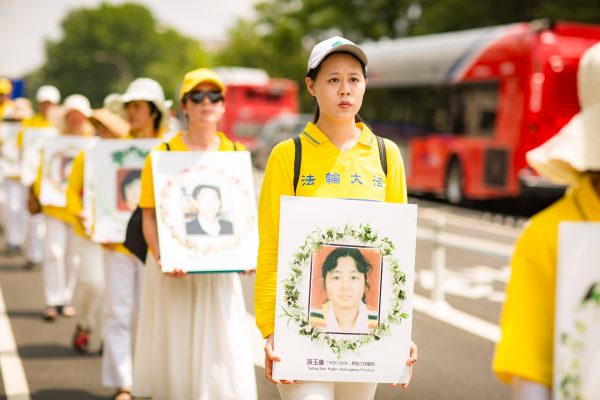 The following day, the Anshan Women's Detention Center where Yu was detained informed Wang that Yu had died from diabetes, but did not provide any medical documentation from the hospital.
Wang said his mother had no record of diabetes prior to her arrest. The detention center conducts physical exams on their detainees upon arrival, and also did not provide records showing Yu had any health conditions.
"If my mom had serious health issues, why would the detention center accept her without a word? Why had they only informed us [of her death] an hour after her death and not before or during her emergency treatment?" Wang told Minghui.org.
Yu's family has requested video evidence of the hospital's rescue efforts or a hospital report, but the detention center has yet to provide either.
They suspect Yu had died from being tortured and that the local authorities are attempting to cover it up. They are now seeking legal action.
Wang also told Minghui.org that his family home was ransacked by the police. When he returned home after being released, he found that the police had taken the family's cash, and a very bad odor filled their home. The police unplugged the refrigerator and left its door open. The food inside was left to rot, and maggots covered it and spilled onto the kitchen floor.
4,135 adherents are confirmed to have perished as a result of torture and abuse, according to Minghui.org, though actual figures are likely much higher due to the authorities' tight control of information about the persecution. In addition, a large number of Falun Gong practitioners have been killed through forced, live organ harvesting, according to researchers.