Chinese officials and employees at state-run companies had their passports confiscated amid the COVID-19 pandemic, according to internal government documents The Epoch Times recently obtained.
Authorities did not elaborate on the reasoning, only noting that the passports are to be taken away for "central management" in order to "deal with the novel coronavirus."
Chinese civil servants and staff at state-run firms have regularly reported that their foreign travel and passport use are restricted by authorities.
Such limitations are usually due to the Chinese regime's concerns that citizens could be exposed to free information in the outside world and then have their political views altered.
Mainland Chinese activist Dong Guangpin said Beijing may have been especially concerned as nations around the world were condemning it for covering up the COVID-19 outbreak and calling for concrete action to hold the regime accountable for causing the pandemic.
By contrast, Chinese state propaganda has continually spread the narrative that authorities successfully contained the disease and assisted other countries in the effort.
"The Chinese Communist Party needs to prevent negative information [about the regime] flowing from foreign countries into China," Dong said in an interview.
The Epoch Times obtained documents from the government of Xingtai, Hebei Province, that detailed the recent restrictions on passports.
On April 2 this year, the Xingtai Foreign Affairs Office released an emergency notice requiring all its counties and districts to take over passports from government workers and all staff at state-run companies in Xingtai.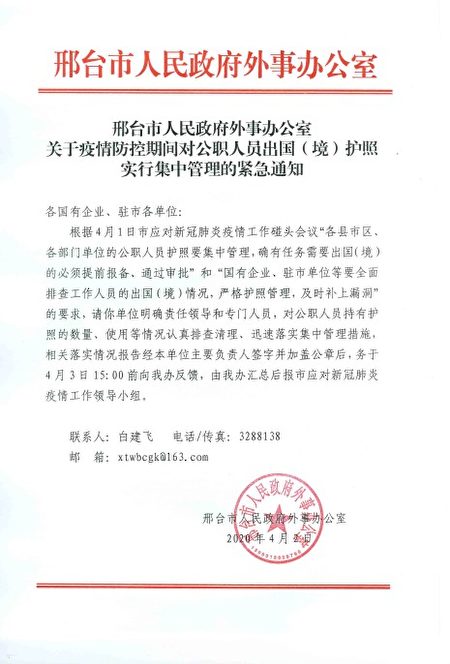 Companies then wrote reports to the Xingtai office detailing their compliance to the order.
Jizhong Energy Group's organizational department said that it had canceled all foreign assignments and collected the passports of 1,552 people.
Team 520 of the First Bureau of China Metallurgical Geology Bureau said that of its 27 employees, 24 had submitted their passports to the human resources department. The other three were people that the company had laid off.
Hebei Xingtai Power Generation Co. said that it had 304 passport holders at the company, whose passports were surrendered for unified management and put on record with the parent company, Hebei Construction Investment Group.
Meanwhile, a local power supply company under China's State Grid, in addition to taking the passports, also required its staff to sign an agreement promising that they would not go abroad without consent.
A Beijing teacher surnamed Du told The Epoch Times that as early as 2017, his school began to collect teachers' passports. This year, restrictions were tighter; as all teachers' requests to visit foreign countries had to be reviewed and approved by the local education committee prior to their departure.
In China, most ordinary citizens who wish to travel abroad need to go through a travel agency, which will ask for a letter of permission from their employer before assisting them in applying for a foreign visa.
Since November this year, CCP immigration authorities said that in an effort to prevent imported COVID-19 cases from entering the country and spreading the disease, they would more carefully vet citizens' entry and exit applications for non-essential travel. On Nov. 12, all 46 land ports of entry and 66 border passages in China were closed.