Chinese Authorities Abuse Petitioners in Liaoning
August 27, 2008 12:56 pm Last Updated: October 1, 2015 10:51 pm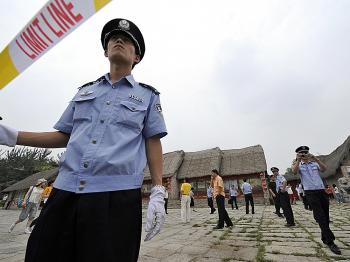 Li Sufen from Shenyang, the capital of Liaoning, said some petitioners are being held at a basement of the Hunbei Ecological Hotel in Lanjian Village of Tiaxi district.
Li said she has been appealing to authorities for 18 years.
She was shocked to be arrested in her rental property on the eve of the Olympics because she had promised the local government that she would not petition or cause trouble during the Olympics.
Li was on house arrest throughout the Games.
"I was arrested in my home in Beijing on August 5. I had already promised not to appeal, but they still arrested me.
"There were 22 people being kept in the basement, with more than 10 people from Public Security Bureau, Special Police, Safety Guard and Justice Bureau watching us 24 hours a day.
"We were locked up in the basement and we could not get out," she said.
She said some people in the basement were on a hunger strike, some had objects stuffed into their mouths which prevented them from speaking and interfered with their breathing. Others suffered so much abuse that they tried to commit suicide.
These 22 Chinese citizens were subjected to this abusive treatment for simply attempting to use legal appeal procedures which are part of the Chinese Constitution.
Another petitioner Liang Zhongfeng said, "I was arrested on July 14. I was beaten and yelled at. They said I was not listening and not submissive enough. They put a toad in my mouth. I am very scared."
Some of the petitioners who were held in the same prison as Liang were taken from their homes and handcuffed in the basement. Others were intercepted on their way to appeal in Beijing and thrown into this jail.
The "designated protest areas" in Beijing appear to have been a farce to weed out dissident voices during the Olympics.
Read this article in Chinese.