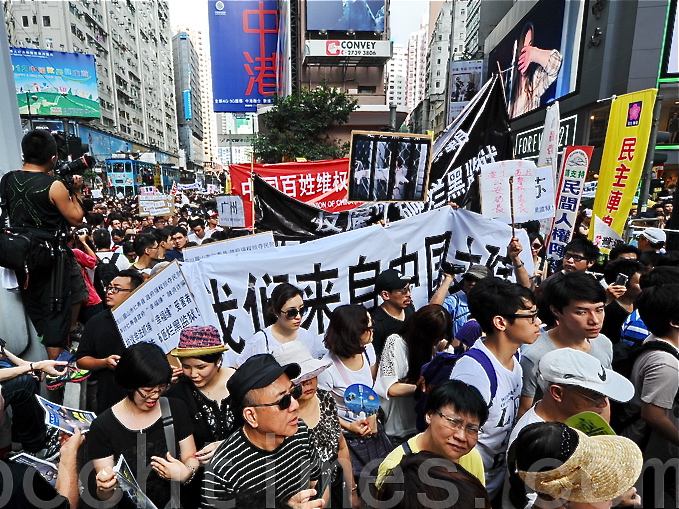 A Hong Kong based human rights group says that disguised mainland Chinese security police followed and harassed them during a protest march earlier this month when Chinese regime leader Hu Jintao was visiting Hong Kong. In the meantime, several key members of the group have gone missing after returning to the mainland.
Liu Weiping, chairman of the Chinese People's Rights Alliance, organized over 200 mainland Chinese members of the organization to participate in the annual protest march on July 1—the commemoration day of Hong Kong's return to China.
Liu told Voice of America's (VOA) Chinese bureau that his two Hong Kong cell phones were interfered with. From the time Hu Jintao arrived in Hong Kong on June 29, until the day after the July 1 march, he wasn't able to talk normally on his phones with members in mainland China.
Two activists from mainland China's Jiangsu Province, Song Ningsheng and Zeng Jiuzi, said they were approached by an undercover national security officer posing as a reporter with Hong Kong's Apple Daily. The man tried to acquire personal information about the two activists. After some questioning, he admitted that he was part of China's state security apparatus.
Liu told VOA that both Song and Zeng have now gone missing, along with several other activists who took part in the march.
"I still can't contact Song and Zeng. … They have most likely been detained by the Chinese regime," Liu said.
Another mainland national security agent tried to mix into the group's protest march, but created immediate suspicion when he asked a person next to him where he was from.
"We are from the mainland, we can pick out state security and national security police with just one glance," Liu told Germany's Deutsche Welle.
According to Hong Kong law, mainland Chinese police can only investigate people in the city with the assistance from Hong Kong police; they cannot conduct independent operations.
Professor Wang Youjin, a legal scholar, told VOA that plainclothes mainland Chinese police often conduct independent investigations in Hong Kong. Hong Kong police cannot stop them and tend to play dumb or back away from such incidents.
"[Mainland] police take on various identities to enter Hong Kong to track or arrest criminals, or to spy and collect information. Many such cases have taken place and were later discovered by Hong Kong residents. Hong Kong police are taking a very passive attitude," Wang said.
Read the original Chinese article.
Click www.ept.ms/ccp-crisis to read about the most recent developments in the ongoing crisis within the Chinese communist regime. In this special topic, we provide readers with the necessary context to understand the situation. Get the RSS feed. Get the new interactive Timeline of Events. Who are the Major Players?

The Epoch Times publishes in 35 countries and in 19 languages. Subscribe to our e-newsletter.