China's most recent cyberspace clean-up operation issued a report on May 27, detailing two months of targeting bloggers and other social media accounts.
As part of the campaign, authorities interrogated 2,089 bloggers, closed 66,600 social media accounts, and deleted 1.41 million posts.
Meanwhile, increasingly harsh censorship—reflected in the May 18 arrest of a popular stand-up comedian—has sent a chill through China's comedy and live arts scene, the BBC reported this week.
Although it has cast a pall over what remains of self-expression in China, experts say the censorship operation is actually a sign of desperation. The ruling Chinese Communist Party (CCP) has lost confidence in its ability to rule, they say, and tightened cyberspace restrictions betray an extreme fear of public opinion.
Targeting Independent Reporters
The Cyberspace Administration of China (CAC)  launched its recent "rectification campaign" on March 10. Its goal was to shut down individual social media users who "spread rumors and misinformation, impersonate official organizations, news media, and specific personnel, and engage in hyping hot issues, clout-chasing and illegal monetization."

The most recent campaign steps up the efforts of Operation Qinglang—meaning "Operation Clear and Bright"—a censorship operation launched by the CAC in 2021.

The campaign has targeted bloggers' accounts on popular Chinese social media platforms such as Weibo, Tencent, Douyin, and Kuaishou.

As of May 22, authorities had penalized around 930,000 social media accounts, with punishments ranging from removing followers to suspending or canceling profit-making privileges.

About 67,000 accounts were permanently closed.

The alleged crimes included spreading rumors, impersonating CCP, government, or military authorities, counterfeit businesses, spreading misleading information, or exaggerating hot-button issues.

Earlier in the month, in a focus on social media accounts that disseminate "fake news," authorities reported that they had closed more than 100,000 online accounts for misrepresenting news anchors and media agencies.
Decades of Increasing Censorship
Wu Shaoping, a U.S.-based Chinese human rights lawyer, said that the regime began targeting Chinese bloggers soon after Xi Jinping became CCP General Secretary in 2012.

One of the first notable incidents, he explained, was the 2013 arrest of Chinese-American venture capitalist and social media influencer Charles Xue, better known by his screen name, Xue Manzi. An activist and "Big V"—as Chinese influencers are popularly known for their verified online accounts on Weibo—he spoke out on subjects such as child trafficking and the plight of the underprivileged, testing the limits of online expression in China.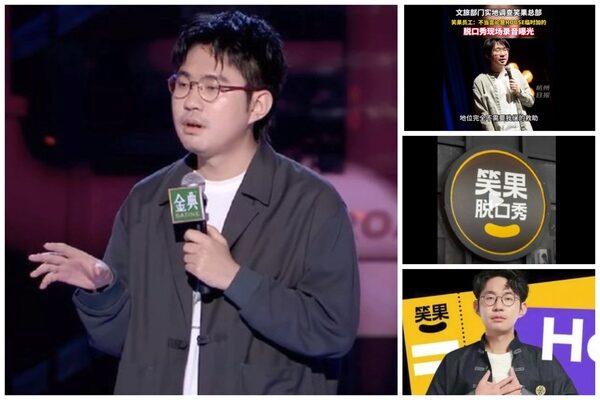 However, Wu said the CCP's cyberspace censorship has recently spread from targeting online celebrities to zeroing in on ordinary grassroots users.
He said he believes the CCP's censorship of free speech will only grow. Its ultimate goal is to cover all of Chinese society and all walks of life, he said.
Stand-Up Comedian's Arrest Sets a Harsh Example
The recent arrest of stand-up comedian Li Haoshi is an example of how the tentacles of censorship are now reaching into the entertainment world, Wu said.

Li, popularly known by his nickname, "House," was arrested after one of his comedy routines came to the attention of authorities.

In the May 13 performance in Beijing—later posted to Weibo—Li described the antics of his adopted dogs as they chased a squirrel. As they gave chase to the rodent, he was reminded of eight words, he said: "Fine style of work, capable of winning battles."

Unfortunately, the joke referenced a well-known CCP slogan for the People's Liberation Army. The phrase was made popular by Xi.

The comedian was detained on May 18 despite his profuse public apologies for the joke.

Li's joke cost his company a $2 million fine. The company fired him and issued their own apologies, but their offices in Beijing and Shanghai have been shut down, according to an NBC news report. A social media user who posted a protest at his suspension was also arrested.

According to a

BBC report

,

 

the size of the fine to the company that booked the comedian was so exorbitant

that there is speculation that stand-up comedy could be virtually wiped out in China over fears of similar punishment.
A Chill on China's Arts and Comedy Scene
The ripples from Li's arrest were felt immediately. On May 22, a popular Malaysian comedian had his Chinese social media account suspended for poking fun at China.
Nigel Ng—who goes by the stage name "Uncle Roger"—had posted a video clip on May 18 from an upcoming comedy special in which he pokes fun at Chinese surveillance and Beijing's claims of sovereignty over Taiwan.
The video shows Ng interacting with someone in the audience who said he is from Guangzhou, a metropolis in China's south.
"Good country, good country, we have to say that now, correct?" Ng says. "All the phones listening."
Ng's Weibo account said that he was banned from posting for "violating relevant laws and regulations."
Not only have the actions frozen China's comedians, it has sent a chill through the country's live music scene, with the BBC reporting Sunday that authorities are targeting live music performances, which had just started to make a comeback after COVID-19 lockdowns.
'Cultural Revolution 2.0'
Wu called the CCP's stepped-up control a "Cultural Revolution version 2.0," in which even laughter is censored. "The laughs scare the dictator," he said.
Along with reporting on the results of its "rectification" efforts, the CAC encouraged netizens to support a clean cyberspace by "actively supervising and reporting" bloggers and their posts.
Wu said the purpose of inviting the general public to report on Chinese bloggers was to create a false image of "societal support of its censorship," all the while suppressing what he called "escalating societal discontent."
The Associated Press, Cheng Jing, and Luo Ya contributed to this report.