A mass COVID-19 testing order in Beijing's largest district has prompted residents to stock up on food, fearing that they might soon be confined to their homes like the millions in Shanghai, a city approaching its fifth week of lockdowns.
Chaoyang will expand the scale of COVID-19 testing to all people working and living in the district, officials said at the April 24 briefing. About 3.5 million inhabitants of the eastern Chaoyang district will be tested three times this week, starting from April 25.
Beijing has warned of increasing cases in the coming days, with a municipality official saying at the April 25 briefing that the virus had spread for a week before being detected.
Across the city, Beijing has recorded 70 cases in the current outbreak since April 22, though the official count has increasingly come into question by residents and experts, given the Chinese regime's history of downplaying and covering up information about outbreaks across the country.
The announcement sparked panic buying since the afternoon of April 24, despite officials' assurances that supplies were plentiful.
"Shanghai was a lesson," said a 63-year-old Chaoyang resident surnamed Di. He bought two bags of vegetables, enough for 8 to 10 days.
He was preparing just in case his building is added to the more than a dozen already put under lockdown, he said, even though he believes the capital city won't suffer the same fate as Shanghai.
Shanghai's 25 million people have been sealed in their homes for nearly a month as authorities seek to contain an outbreak driven by a fast-moving Omicron variant. The financial hub, which had earlier denied plans of citywide lockdowns,
abruptly reversed course
in late March, leaving unprepared residents struggling to secure food and other daily essentials.
In scenes reminiscent of Shanghai and other Chinese cities battling outbreaks, shoppers in Beijing crowded stores and online platforms since April 24, snapping up leafy vegetables, meat, instant noodles, and other items.
Lines formed outside supermarkets and grocery stores in the early afternoon, while vegetables and fruits were sold out on online platforms by evening, domestic media Yi Cai reported on April 25. Photos circulating on microblogging platform Weibo show near-empty grocery shelves.
The uncertainty was felt by residents in other districts, including nearby Haidian, where no infections have been recorded, prompting citizens there to stockpile food as well.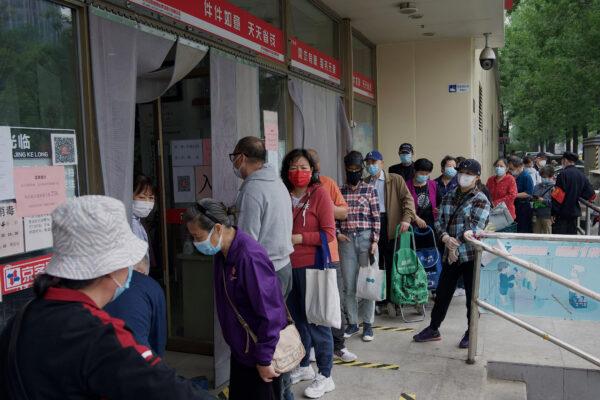 Currently, many offices, shops, and schools in Chaoyang remain open, but residents were asked to reduce public activities.
"No one goes out today," a Chaoyang resident told The Epoch Times on April 25, adding that some stores were closed, and a nearby residential community, Dongyu Xi Li, was sealed off.
Authorities have locked down dozens of residential buildings. By the afternoon, they had tightened control of one part of Chaoyang by designating it as "control areas," a term meaning inhabitants can't leave their neighborhood, and public facilities and entertainment venues are shut down, according to official media Xinhua.
Officials told reporters on April 25 that they would decide the next move based on the results of mass testing and tracing.
At a separate briefing held late that night, the spokesperson of Beijing municipal government announced that they would launch three rounds of mass testing in another 10 of the city's 16 districts, as well as the city's tech hub, the Economic-Technological Development Area.
The eastern district of Chaoyang is home to the city's wealthiest residents, most foreign embassies, as well as corporate headquarters.
Worries about a potential lockdown under the regime's heavy-handed "zero-COVID" policy sent China's stock market slumping to two-year lows on April 25.
In the financial hub of Shanghai, there was no immediate sign that the strict curbs would be eased.
Instead, authorities on April 24 started erecting metal barriers around compounds to restrict people's movements. Many two-meter-high fences have been installed around residential compounds where at least one person tested positive for COVID-19.
Reuters, Hong Ning, and Gu Qing'er contributed to this report.