Shanghai has entered its seventh week of lockdown, and measures have only become harsher, with officials being pressured to eliminate every COVID-19 infection within communities as per the regime's "zero-COVID" standard, leaving millions with little hope in sight.
In some parts of the city, if an apartment building has a positive case, all its residents are forcefully shipped off to quarantine facilities. Meanwhile, infected people have had to hand over their house keys so health workers can disinfect their homes.
Some Shanghai residents have reported that their neighborhoods have announced a "quiet period," where no one is allowed to leave home and deliveries are halted, though there's been no official announcement.
Such strict policies have been additional blows to those of the city's 25 million residents who have been relying on deliveries to obtain food and other daily necessities while they're confined inside their homes.
The tightened curbs came after Chinese Communist Party leader Xi Jinping addressed the Shanghai outbreak for the first time. Speaking at the seven-member Politburo Standing Committee meeting on May 5, Xi vowed to win what he called a "battle defending greater Shanghai" while issuing warnings to anyone who questioned the zero-COVID policy, according to state broadcaster CCTV.
Following the meeting in Beijing, Shanghai's Party chief Li Qiang on May 6 ordered officials to "issue military orders at all levels, and take more resolute and powerful actions to overcome the great war and great tests," according to an official statement.
'One Person Tests Positive, Whole Building Quarantined'
According to neighborhood community notices circulating online, residents were being sent to centralized quarantine facilities if someone in the building tests positive. Over the weekend, many shared on Twitter-like Weibo that they were forcefully taken away for quarantine. On May 10, the hashtag "one person tests positive, whole building quarantined" garnered 1 million views.

When asked about the claim at a briefing on the same day, city officials said the definition of a close contact within a sealed-off building includes residents who live above or below the floor where a person tested positive. Previously, people who shared the apartment or lived on the same level as positive cases were considered close contacts. The widened criteria mean that more people in the same building are now at risk of being sent to the isolation center, even though officials called on avoiding the "one-size-fits-all" approach.

In a widely shared video, police in hazmat suits argue with residents, who were told they needed to be quarantined after a neighbor tested positive.

"This is so that we can thoroughly remove any positive cases," one of the officers can be heard saying.

"It's not that you can do whatever you want—unless you're in America. This is China," another police officer says. "Stop asking me why. There is no why. We have to adhere to national guidelines and epidemic control policies."

In another viral video from Douyin, a Chinese version of Tiktok, some hazmat suit-clad neighborhood personnel patrolling an empty street can be heard saying: "Residents, please don't go out. If one person becomes positive, all in the building will be taken away."

The Epoch Times couldn't verify the authenticity of the videos.
'Quiet Period'
Several residential communities have ordered people not to leave home or receive deliveries, as part of a "quiet period."

One residential community in Shanghai's Pudong district ordered people not to step out of their homes or receive essential deliveries such as food and medicine, according to a resident who shared the notice with The Epoch Times.

People were asked to cancel food orders if the packages were scheduled to be delivered before May 10, according to a statement issued by the Laoshan Sancun neighborhood community. The Epoch Times couldn't reach the community despite repeated calls.

Another Pudong resident surnamed Hu told The Epoch Times on May 9 that other neighborhood committees were issuing similar orders. People in Hu's residential compound were supposed to be released on May 11 after recording no new infections for two weeks. But the new "quiet period" means they'll be confined in their homes for another three or four days, he said.

At the weekend, residents in at least four of Shanghai's 16 districts received similar notices, with many previously allowed to walk inside their residential compounds, according to Reuters.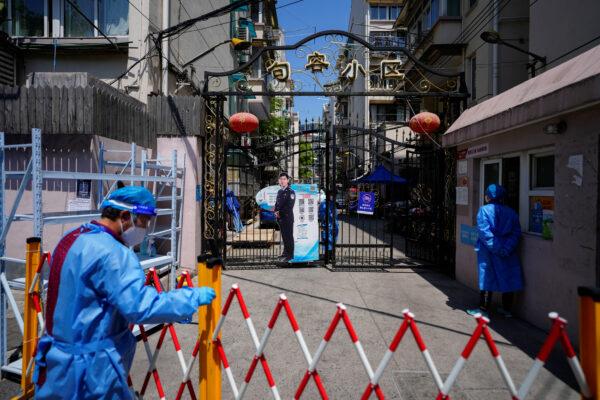 'No Hope'
Shanghai city official Jin Chen confirmed at a press conference on May 10 that health workers needed to disinfect the homes of people who had tested positive. The official reminded residents to inform health workers about items that needed special protection.

Concerns have been rising after recordings emerged on social media that show neighborhood staff in Shanghai demanding that residents hand over keys to their homes to let health workers disinfect.

A resident surnamed Chen told The Epoch Times that people in Beicai town were asked to hand over their keys as they were sent to quarantine.

He said health workers then went in and sprayed disinfectant on the floor, furniture, and beds, and they threw all the cold and frozen food on the floor as they disinfected the refrigerator.

"People are furious when they come home after two weeks' quarantine: Food is moldy and smelly ... and flies are everywhere," he said.

The extreme measures have fueled public angst and raised questions about their legality.

Professor Tong Zhiwei, who teaches law at the East China University of Political Science and Law, wrote in an essay widely circulated on Weibo on May 7 that such acts were illegal and should stop.

"No organizations in Shanghai have the right to forcefully require residents to hand over the keys and enter their homes for 'disinfection,'" Tong wrote. "Any practice of using coercive means to force residents to be sent to shelters for isolation is illegal."

Liu Dali, a lawyer from one of China's largest law firms, wrote a similar letter to authorities.

Copies of both letters have been censored from the Chinese internet. Posts from Tong's social media account on the Weibo site were blocked as of May 8.
The heavy-handed control has left some seeing no hope of being free anytime soon, as the authorities aim to snuff out transmission of the fast-moving Omicron variant. On May 9, Shanghai recorded 3,014 cases, down from 3,947 a day earlier, though residents have repeatedly said the official figures are underreported, given the regime's practice of covering up information it deems harmful to its image.
On May 10, the last two subway lines suspended operation, according to state-backed news outlet The Paper.
A Pudong resident surnamed Wang said there are always one or two positive cases after mandatory testing of all inhabitants of the 33 apartment buildings in his community.
"All the residents are complaining. It seems like there's no hope of easing restrictions. We could be sealed in until the last day of the year," Wang told The Epoch Times on May 9. "People are desperate."
"It's like a prison," said Coco Wang, a Shanghai resident living under the new restrictions. "We're not afraid of the virus. We're afraid of this policy."
Luo Ya, Yi Ru, Lin Cenxin, and Reuters contributed to the report.