Chinese companies have acquired more than 100,000 acres of farmland in Texas, the agriculture powerhouse of the United States that leads the country in
exporting a host of crops
.
The acquisition of that much acreage is concerning for Texas lawmakers, particularly for state Agriculture Commissioner Sid Miller, who told The Epoch Times in an exclusive interview on Nov. 16 that it presents a national security threat and needs to be stopped.
"It should be a matter of urgency; the stupidest thing we could do is let the Chinese buy our farmland," Miller said. "It would give them access to our food sources or electric grid ... there's no good reason to allow this to happen."
Miller said he first became alarmed about the issue in 2016, when the company
Guanghui Energy Co. Ltd.
, owned by Chinese billionaire Sun Guangxin, who's
reportedly connected
to the Chinese Communist Party (CCP), began purchasing up to 140,000 acres of farmland in the border town of Del Rio—next to Laughlin Air Force Base. The company stated that it would use the land to build wind turbines.
"They could be spying on our military, performing espionage," said Miller, who's working with lawmakers to create a national ban on foreign-owned companies purchasing land near critical infrastructure sites.
"I'm working with the Texas Legislature to stop it at the state level; I'm also working with the congressional delegation to stop it at the federal level."
Chinese Firms Purchase More Farmland
In the summer of 2022, more lawmakers became alarmed when it was revealed that a Chinese agriculture company called the
Fufeng Group
, which has
ties to the CCP
, purchased hundreds of acres of farmland in Grand Forks, North Dakota, near another Air Force base.
The Grand Forks Air Force Base is home to a low-Earth orbit satellite mission that would advance military intelligence and surveillance, according to Sen. John Hoeven (R-N.D.).
"We've been working with SDA [Space Development Agency] and the Air Force to secure this new mission, which is essential for our nation to stay ahead of our adversaries in developing critical new technologies," he said.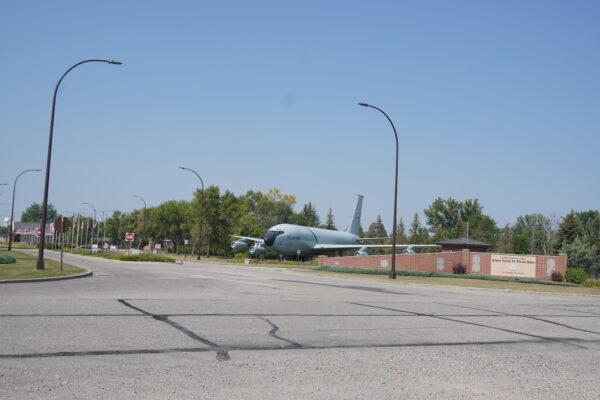 Hoeven said the new mission will serve as "the backbone for all U.S. military communications across the globe."
According to a
report
from the U.S.–China Economic and Security Review Commission, the location of the land close to the base is "particularly convenient for monitoring air traffic flows in and out of the base, among other security-related concerns."
The
Fufeng Group
maintains that it will use the land to build a wet corn milling plant that extracts high-valued amino acids, lysine, and threonine, which are essential ingredients in animal nutrition feed formulations.
States Respond
Since the pattern of Chinese companies buying up U.S. farmland has been brought to light, several states have begun trying to stop the practice.
"There are eight states that forbid it now, there's 34 that have some kind of restrictions, but we really need a national policy over this," Miller said.
"We hail from the greatest country in the world, and there is simply no reason we should be reliant on a communist country like China for our food supply. If we begin to cede the responsibility over our food supply chain to an adversarial foreign nation, we could be forced into exporting food that is grown within our own borders and meant for our own use," Newhouse said in a statement.
Reps. Elise Stefanik (R-N.Y.) and Rick Crawford (R-Ark.) have also introduced legislation called the Promoting Agriculture Safeguards and Security
(PASS) Act
, which would "protect our national security by preventing foreign adversaries from taking any ownership or control of the United States agriculture industry."
"Food security is national security, and I am proud to stand up against our foreign adversaries as they attempt to exploit any potential vulnerability and assert control over our agriculture industry," Stefanik said in a statement. "The United States cannot allow malign ownership bids of American assets by China, Russia, Iran, and North Korea to undermine the efforts of our farmers."
The Extent of China's Presence Unclear
It's unclear exactly how much farmland Chinese companies have
purchased in the United States
due to a lack of government transparency on farm sales. A 1978 law called the Agriculture Foreign Investment Disclosure Act requires those who purchase farmland in the United States to report the purchases to the Department of Agriculture. However, the data on those purchases hasn't been well kept, according to media sources.
But as tensions continue to grow between the United States and China, several legislators and state officials such as Miller say the time to reveal the true foreign owners of farmland in the United States is now.
"They could contaminate several truckloads of wheat or corn or whatever they're raising on this agriculture property and steal trade secrets or even try to shut off the electric grid," Miller said.
"We should just use a little cowboy logic and say, 'Hey, if we can't buy farmland in your country, we can't see any good reason that you should buy any of ours.'"
A previous version of this article incorrectly stated the total amount of land owned by Chinese companies in Texas. The Epoch Times regrets the error.