For anyone who dreams of and pursues "absolute equality and common prosperity for all," Huaxi Village in China came close to being that utopian dream; the only problem is, after enjoying world renown as "the richest village in China" for decades, Huaxi is now facing bankruptcy.
In late February,
a short video
of hundreds of people lining up in rain in front of a building in Huaxi Village was circulating on the internet. It looked like a run on banks by worried villagers seeking to withdraw their savings.
Chinese language media confirmed that the Chinese Communist Party (CCP) branch in Huaxi Village said the video was authentic but claimed that the village had no problem paying its debts and had sufficient funds.
However, one villager, Mr. Li, who lined up in the rain, told the local media outlet that the reason why villagers were panicked was because from Feb. 24, Huaxi Group's share dividends dropped sharply from 30 percent to 0.5 percent. No explanation was provided by the company. People who made withdrawals after Feb. 24 could only get a dividend of 0.5 percent instead of the 30 promised percent when they bought shares of Huaxi Group.
According to Chinese media Tencent, Huaxi Village is already bankrupt, with debts totaling more than 40 billion RMB ($6.1 billion). Villagers' villas are all mortgaged but no one dares to take them over.
Steel Loan Leads to Bankruptcy
How did Huaxi Village go from "the No. 1 village in the world" to bankruptcy?

Huaxi Village is located in Jiangyin City, Jiangsu Province, and was founded in 1962.

Like many other villages in China then, its annual per capita income was less than 20 yuan ($3.03); and villagers struggled to make a living.

However, it had a different CCP secretary: Wu Renbao, who once worked for the government as a "state cadre," and was assigned to the village to act as the party secretary.

Unlike other village officials, Wu Renbao had a very keen political sense and business acumen, as well as contacts in government agencies.

In 1992, right after the then CCP leader Deng Xiaoping finished his famous southern tour and reinforced his "Reforms and Opening-up" policy, Wu Renbao immediately realized that there could be a good chance that China's economy would take off soon.

He called an emergency meeting with key village cadres, and announced his judgment that economic development would inevitably lead to an increase in the price of raw materials.

So he decided on a strategy of "borrowing money to take maximum advantage of the situation."

The village borrowed more than 80 million yuan ($12.2 million) and bought a large number of raw materials such as steel.

After Deng Xiaoping's speech spread throughout China, the price of raw materials did rise a lot, and Huaxi Village was thus able to earn its "first bucket of gold" for further development.

However, a person close to Wu Renbao recently told the BBC that what helped Huaxi Village "get off the ground" was not Deng Xiaoping's southern tour speech, but the "insider trading in steel raw materials."

The fact that Wu Renbao was able to borrow 80 million yuan ($12.2 million), including 60 million yuan ($9.1 million) from banks, also showed that he had a very good relationship with both the government and the bank, which ordinary farmers didn't have.
A Socialist Revolution and a Flawless 'Place of Dreams'
With the vast wealth accumulated from steel, Wu Renbao started a socialist revolution in Huaxi Village in the 1990s.

He pooled the villagers' land and built villas in a uniform style for each household, and established a free medical and educational system in the village. So everybody seemed to be enjoying a dream lifestyle of living in beautiful houses, driving luxury cars, and having free food, medical coverage, and education.

However, the villagers only have the right to use the villas, but do not own them, which means that the villas can't be sold.

Wu Renbao also expropriated farmers' land and built a large number of factories, including sock and textile plants. He encouraged villagers to work in the factories and set up the Huaxi Group, which is controlled by the Village Committee and gives villagers dividends at the end of each year.

Public information shows that the annual per capita wage of Huaxi villagers reached 122,600 yuan ($18,691) in 2004, which was 41.76 times the average wage of Chinese farmers and 13.01 times the average wage of urban residents.

However, only 20 percent of the group's annual dividends to the villagers are paid in cash, and the rest is deposited directly into the Huaxi Village Committee. Villagers can only submit applications to the Village Committee to receive the necessary funds when they need to deal with important events such as marriages, and sometimes the amount of payment will be reduced by the Village Committee with the excuse of "austerity."

Under Wu Renbao's iron fist rule for more than 40 years, Huaxi Village developed its economy in a "collective totalitarian" mode, which is "building fields in the 1970s, factories in the 1980s, and cities in the 1990s."

By 1996, the entire village was living in a unified villa.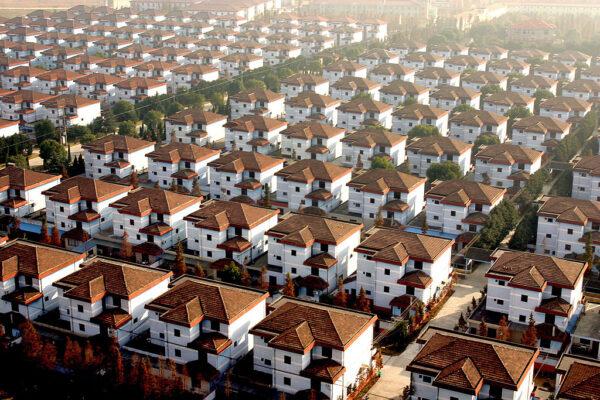 A promotional film "The Road to Huaxi" for visitors to Huaxi Village claims that the village has achieved a perfect status with many "nos": no gambling, no superstitious activities, no major criminal offenses, no petitions, no complaints, and no backstabbing, etc.
In the film, Huaxi Village is portrayed as completely cut off from the dark side of society and as a flawless "place of dreams."
As a result, Huaxi Village has been regarded as "an advanced model that grew up under the guidance of Mao Zedong Thought, Deng Xiaoping Theory, and the important thought of 'Three Represents' of Jiang Zemin," and "a banner of rural development in China."
As the person who was responsible for all the achievements, Wu had participated in many national and party congresses and had been received by all the CCP General Secretaries including Jiang Zemin, Hu Jintao, and Xi Jinping.
In 2005, Wu was featured on the cover of Time Magazine, and in August 2011, Huaxi Village bought the rights to broadcast an advertisement in Times Square in New York for $1 million, promoting itself as a "world-renowned village."
'Common Prosperity' Becomes One Family's Kingdom
However, in 2008, Huaxi Village hit the ceiling of its development and started to decline. The main industries that Huaxi Village had relied on, including textile and steel, began to go downhill.

Another big problem is, while Wu Renbao was the one who created the Huaxi miracle, his family also became the sole ruler of the village. All the important posts have been taken by Wu's family members.

According to the study in 2004 by Zhou Yi

, a professor of sociology at Fudan University, the funds at the disposal of Wu Renbao's four sons accounted for 90.7 percent of the total amount of Huaxi Village, while ordinary villagers were only given about one thousand yuan per month.

It was also revealed that the gorgeous appearance of Huaxi Village is by no means real. Huaxi villagers are called "the richest farmers," but they actually cannot even meet the standards of normal people, because they are centrally monitored and managed, strictly forbidden from contacting outsiders. They even have to ask for permission if they want to leave the village.

In addition, villagers only have limited pocket money at their disposal. All other expenses have to be approved by the village.

Once villagers choose to leave the village, they must leave behind all their assets and wealth.

In the meantime, while villagers are only able to use items rather than own their luxury items, such as Mercedes-Benz cars, they are actually trapped into being actors and propagandists for the village. Visitors see them driving a Mercedes-Benz car.

In other words, although Huaxi Village claims that "common prosperity" is its ultimate mission, it has in fact become a kingdom for the Wu family only.
A Symbol of the Decline of Socialism and Collectivism
The news about Huaxi Village being nearly 40 billion yuan ($6.1 billion) in debt came out as early as 2019. However, Huaxi Village has never admitted it.

Recently a document from the Wuxi Municipal Government Office surfaced online, showing that the issue discussed at the 9th mayor's meeting in 2019 was "hearing a report on the liquidity difficulty relief situation of Huaxi Group in Jiangyin City."

Public financial reports show that as of the third quarter of 2018, Huaxi Group had liabilities of 36.93 billion yuan ($5.63 billion), a debt ratio of 67.4 percent compared to its total assets.

According to Chinese scholar Wen Kejian, Huaxi Village has become a symbol of the decline of socialism and collectivism.

He writes, "The existence of Huaxi Village was originally a consolation for those old souls who still have illusions, and now this consolation symbol is no longer reliable, and people must make a choice about the future."

Another 

Chinese financial analyst Caijinglengyan

 said that it is not at all surprising if Huaxi Village is crushed by debt and completely bankrupt. This fake, man-made miracle of the collective economy will have to collapse one day, together with the ideology once touted by the CCP, he said.

"This day is getting closer and closer," he said.