Local restaurants with a long history, Lin Heung Tea House, Tai Wing Wah Village Cuisine, Mido Cafe, Jumbo Seafood Restaurant, as well as snack shop Aji Ichiban, children's clothing store chain Chickeeduck, and so on, have all said goodbye to Hong Kong people within a short time since the fifth wave of the pandemic. Among them are new and old stores that had long been integrated firmly into the life of their respective neighbourhoods, while some are less familiar to Hong Kong people.
Their demise appears to be for varying reasons. Some people feel that it is a pity to see them go, and many people feel that their disappearance reflects just the harsh reality of the changes engulfing the new Hong Kong.
When we take a retrospective view of these classic businesses one by one, we can see a portrayal of the changes in people, and society over the years.
1) The Jumbo Seafood Restaurant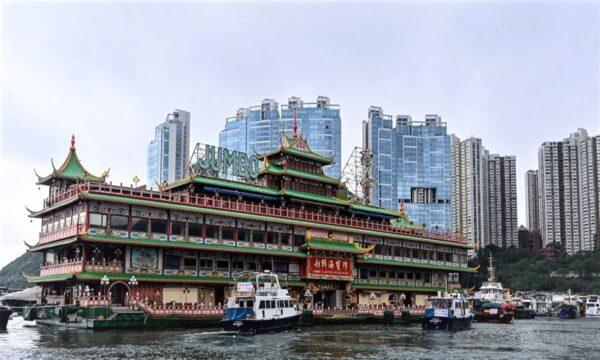 Jumbo Seafood Restaurant, which operated for nearly half a century and was out of business for more than two years, is one classic example. Its demise was quite dramatic, to say the least. Without the public knowing where it was going, it was towed away from Aberdeen Typhoon Shelter on Hong Kong Island by a tugboat on June 14, 2022. It is said to have encountered strong wind and waves on its journey ran into trouble on June 18 and overturned the next day.
It was
reported
earlier in August that the hull of the seafood boat had turned into a "bottom-up" posture, resting on the seabed reef, with the superstructure disintegrated. Owners and insurance companies plan to arrange for divers to scuttle the boat, making it sink to the bottom of the sea.
This bizarre sinking of the seafood boat indeed caused a lot of speculation from all walks of life. Four days before the seafood boat was dragged out of Hong Kong, the Hong Kong Economic Journal published a column saying that the boat itself was a "symbol of the colonial era," showing stereotyped prejudice against China by the West. It even suggested the boat might be pulled to deep water to be scuttled. This led to comments saying there were hidden business or political motives behind the incident, intended as one step to erase colonial memory.
2) Lin Heung Tea House
The century-old Lin Heung Tea House, when it closed on Aug. 8, still retained the unique image of a pre-war Cantonese-style tea house: selling cakes downstairs, and a tea house upstairs, where tea was served in traditional "baked cups." Its parent group, Linhong's Caterers Limited stated that its two franchisees, Lin Heung Tea House, and Lin Heung Jan, have both closed, but the Lin Heung Kui in Sheung Wan will not be affected and will continue to operate.
At the Lin Heung Tea House in Central, after it was shuttered, a pink notice was pasted on the door, saying, "Due to the pandemic, our shop was not able to operate as a profitable business. Thank you for all your support to date. Hope to see you again in the future."
3) Tai Wing Wah Village Cuisine, Wan Chai
Tai Wing Wah Village Cuisine in Wan Chai announced that it will close on Aug. 28. Hugo Leung Man-to, the owner, said that due to the impact of the pandemic and social distancing measures enforced to date, coupled with the previous government ban on in restaurant dining in the evenings, business has plummeted. "We did not have enough money to pay our employees, and closing became the only option," Leung said.

Tai Wing Wah specialises in traditional village cuisine dishes and nostalgic dim sum. Special delicacies served include, rice sprayed with lard, fish intestines baked with eggs, and custard sponge cakes. In the past, it served a lot of celebrities from the political and business circles. However, Tai Wing Wah Village Cuisine in Yuen Long will continue to operate.
4) Mido Cafe, Yau Ma Tei
The 72-year-old Mido Cafe retains the decorations of the twentieth century, including the ceiling wallpaper with irregular wavy patterns, and the walls, and pillars covered with mosaic tiles. Over the years, it had been the proud location of many movies and TV series, but it closed in July this year (2022). The notice outside the door did not explain exactly why. It only read, "Just taking the chance to let it relax and have peace of mind, reeeelaaaaaax…….! For sure fate will bring us together in the future, and we look forward to seeing you again."
Netizens have mixed feelings and make widely different comments on this. Some said they felt "it's a pity to see it go," while some said, "should have no pity feeling at all," and went on to criticise the restaurant as being expensive, while the food is not good. "The quality of the food is too bad and also expensive." "The food there is 'absolutely one of a kind,' it really drives me away from eating there."
5) Very Fair Seafood Four Seasons Hot Pot, To Kwa Wan
Like others, it was also a filming location for many movies. This old-fashioned charcoal hotpot restaurant, which appeared in the film "Infernal Affairs 2" had been standing in To Kwa Wan for more than 30 years. The shop closed on June 30, and the staff there said it was due to the retirement of the boss.
6) Delicious Food Court, Mong Kok
This food court became famous when in 2000, it was fined for the annoying smell spread from the "stinky tofu" it made and sold. It closed on April 28 because the owner did not renew the lease when it expired. This very unique "scent/odour," in Nullah Road, near Prince Edward station, will be missed by both its fans and its detesters alike.
7) 30 Store HK, Lai Chi Kok Branch
The Lai Chi Kok branch of 30 Store HK, one of the stores belonging to the "Yellow Economic Circle," had received a few complaints on trivial matters since 2019. According to the store, various government departments including the Food and Environmental Hygiene Department, the Lands Office, and the Fire Services Department came and stated that they might have been deliberately targeted by "certain people." They then needed to do something when they receive a complaint.

The Lands Office even sent a warning letter saying that the industrial centre where the store is located cannot engage in retail sales. To comply with the law, the store has even changed to operate using cashless transactions. However, some people still continued to report them to the government. The owner of the Lai Chi Kok store terminated the lease. The store closed on August 14.
8) Red Lobster, Causeway Bay
This American lobster-themed restaurant opened in Hong Kong's Causeway Bay in 2019. It announced its closure on Facebook in April, without giving a clear explanation. At that time, some people in the catering industry pointed out that the evening dine-in ban that started in January, really made it difficult for the restaurants to operate profitably.
9) Rainbow Convenant (Gen 9:13), Tsuen Wan Shop
The reason given for closing the "Rainbow Covenant (Gen9:13)," a Tsuen Wan "Yellow Economic Circle" group business was that it was no match for the fifth wave of the pandemic. It opened for the last time on May 28. The owner said, "We have all passed through the third and fourth waves of the pandemic, and even used candles to light the shop, but this time with the fifth wave... I really can't bear it anymore." He described the end of the Tsuen Wan store as a painful decision, indicating that "Brother Four," the boss, and "Sister Leck," his wife, had done their best.
10) Kwan Kee Beef Brisket in Clear Soup, Tai Po
This shop had been well received by people both inside and outside Tai Po. It was closed at the end of April as the boss had suffered for many years of arduous work in managing this one-man business.
11) Happy Cake Shop, Wan Chai
The shop had been in business for more than 40 years and was closed on Aug. 2, due to the owner's intention to take back the site. The decoration of the store still retained much of the 1970s feel, including the mosaic tiled floor, patterned tiled walls, and its iconic "ice cream cone." Jan LamLamb Hoi-fung, a radio host, was a regular customer of this restaurant, and he also patronised the nearby Shun King Restaurant. After learning that Happy Cake Shop was closed, he wrote on Facebook, "I used to have a happy egg tart and a cup of Shun King tea as takeaways. Today, "with both gone, I will no longer be "Shun King (lucky)" and have to say goodbye to "Happy" too.
12) Bowl and Plate, Shau Kei Wan
This cart noodle shop on Main Street East, Shau Kei Wan, was closed when the lease expired in July. The current team will move to Taipei to open a Hong Kong-style restaurant named "Meet Again," many people who left Hong Kong used to meet in the small shop and enjoy a glass of wine together.

Bowl and Plate explained on its Facebook page that because "there are still many things to do," so it will continue to speak freely in another place. It hopes supporters will understand, "it may look cowardly to move out of Hong Kong, but I believe it is better to show persistence."
13) CUHK Med Can
Med Can, a university canteen of more than 30 years, located in the Dr. Li Choh-ming Medical Sciences Building of CUHK Headquarters, was closed on June 30, when the lease expired. The person in charge pointed out that due to the impact of the pandemic, the business revenue has dropped significantly. And because of old age, he decided to close it after the lease expired in June.

Med Can was most famous for its lemon pie, and the "rice with two choices of side dishes," which became fond memories for generations of CUHK staff and students alike. On its last day, more than 100 people lined up in the rain to say goodbye and take photos with the canteen staff. Some students lamented that CUHK has "nothing worth staying for now." The Student Union and the Goddess of Democracy disappeared from the campus one after another, and now even Med Can has also closed, describing CUHK as an "empty shell."
14) Chickeeduck
The last branch of the Chickeeduck children's clothing store, owned by pro-democracy businessperson Herbert Chow Siu-lung, closed on July 9. He described it as "having completed a historical mission," in a Facebook post. Chow announced in November 2021 that he would end his retail business in Hong Kong in the second half of 2022 and planned to switch to other businesses. He said that this decision was made due to continuous suppression by "villain forces," his supply chain was blocked, and he was forced to leave Hong Kong.

Chickeeduck was established in 1990, and Chow purchased the company's equity in 1999 and became its CEO. The company, which targeted the mid-to-high-end children's clothing sector, had 18 stores in Hong Kong in 2019. Chow had been known for his outspoken comment since the "anti-extradition" movement in 2019 and had been under repeated suppression by the authorities since then. Many of its stores had their leases cancelled by the owners. In addition, his new shop in Tsuen Wan was once searched by the national security police.
15) Aji Ichiban
The chain snack retailer "Aji Ichiban," which once had about 100 branches in Hong Kong, announced in June that it had closed its entire business. A spokesperson for the group said that due to all the restrictions imposed because of the pandemic, a large number of tourists did not come, leading to huge losses that rendered the company unable to operate further. However, it did not rule out the resumption of business in the future.
However, many netizens pointed out that as soon as "Aji Ichiban" focused entirely on independent travellers from mainland China, they stopped visiting them for good. Some people said, "we really don't feel pity at all on its closure." There are also opinions saying that the main problem was the lack of diversity in its products compared with its competitors.