The suicide of Chinese organ transplant specialist Zang Yunjin has drawn attention to a questionable "Qingdao model" of human organ transplantation.
Zang, 57, head of the Organ Transplantation Center at the Affiliated Hospital of Qingdao University, killed himself by jumping off a high building on Feb. 26, a source told the Chinese-language Epoch Times around Feb. 27.
He was one of the most well-known liver transplant specialists in China and won a long list of titles and honors over his career for his involvement in the sector, based on China's state media reports.
China news commentator Heng He said that Zang wasn't merely an organ transplant expert who had helped spearhead the transplant industry in multiple cities in China. He noted that all the hospitals where Zang had worked were specifically identified in reports that investigated the Chinese Communist Party's (CCP) crimes of illegal organ harvesting from Falun Gong practitioners.
Zang Brought Organ Supply Chain to Qingdao?
According to the website of the organ transplant center founded by Zang, the institution was formed in February 2014.

When he founded it in Qingdao, Zang brought with him his team members, whom he had known while he worked at the Beijing Armed Police General Hospital, according to his comments during 

an interview

 with Qingdao Daily on Feb. 3, 2018.

However, the data show that the number of "donated organs" in Qingdao city entered the "fast lane" since the center was founded in 2014, and has seen significant year-over-year growth, in part due to Zang's center and his Organ Procurement Organization (OPO) team, 

Qingdaonews.com

 revealed.

Wang Zhiyuan, chair of the World Organization to Investigate the Persecution of Falun Gong (WOIPFG), noted in an interview with The Epoch Times on March 11 that China is among the countries with the lowest average voluntary organ donation rates in the world, citing a figure of "

only 0.6 per 1 million deaths (about 840 donors per year) in China

in The Lancet," an international medical publication.

He explained that Chinese people are reluctant to donate organs after death due to their age-old respect for the deceased—any removal of their organs would culturally be deemed disrespectful to them or an act that promotes misfortune to those who did such a thing.

Based on more than 10 years of investigations carried out by the WOIPFG and other researchers, mounting evidence shows

a massive living organ donor pool

has existed since the CCP's brutal persecution of Falun Gong practitioners began in 1999.

In 2019, an independent people's tribunal

concluded

, after a yearlong investigation, that the CCP has been forcibly harvesting organs from prisoners of conscience for years on "a substantial scale," with detained Falun Gong practitioners being the main organ source. The grisly practice continues to this day, the tribunal said.

Heng said he suspected Zang brought his organ supply chain with him to Qingdao to create his transplant center so that he could be confident in his sourcing of organ donors. Another important contributing factor, Heng said, was that the Beijing Armed Police General Hospital—a military unit of the People's Liberation Army (PLA) or the army of the CCP—for which Zang had worked, can guarantee confidentiality and a large-scale supply of organs.
Zang's 'Qingdao Model'
In 2018, a nationwide congress of OPO was held between Jan. 26 and 30 in Qingdao, according to the 
China Hospital Association
. Zang served as its executive chairman.
At the conference, Zang delivered a speech to more than 200 experts from China, Spain, Iran, and Brazil about his "Qingdao model," calling it a platform for China's "standardized human organ donations," according to a report in China's state media
Qingdao Daily
.
"Qingdao model is a summary of our work in organ transplant work, an outcome of standardization as required by our country," Zang said. "The feature of the model lies in that all potential donors we find will be transferred to our hospital, which is unique across China."
The report didn't elaborate on the origins of "potential donors" or how transferring all potential donors to his hospital was either unique or a feature.
However, WOIPFG's Wang condemned Zang's Qingdao model—the so-called OPO—as a pretext to cover up the living organ donor pool initiated by the CCP regime.
When a potential donor at the hospital meets the criteria of irreversible brain death, the hospital authorities will continue to maintain the functioning of relevant organs to the best level, and seek suitable recipients through an online organ allocation and sharing system, according to
China's news portal Sina
.
The workflow of the Qingdao model implies that the organ transplants to be performed at Zang's center necessitate the arrival of donors' organs at the hospital in advance, and that they are waiting for patients who need them.
In fact, the brain death highlighted in the Qingdao model isn't uncommon in the community of China's organ transplantation.
Wang Lijun, a former high-profile CCP official and head of the Chongqing Public Security Bureau, as well as a few others, patented an invention called a Primary Brain Stem Injury Impacting Machine in collaboration with the Third Military Medical University of the PLA.
They received a patent for an innovation dedicated to causing brain death (patent number: 
CN201120542042
), which was called "A Killing Apparatus" by David Kilgour, Ethan Gutmann, and David Matas in their updated 2017-edition (
pdf
) of "Bloody Harvest / Slaughter." For an illustration see the following screenshot provided by the WOIPFG.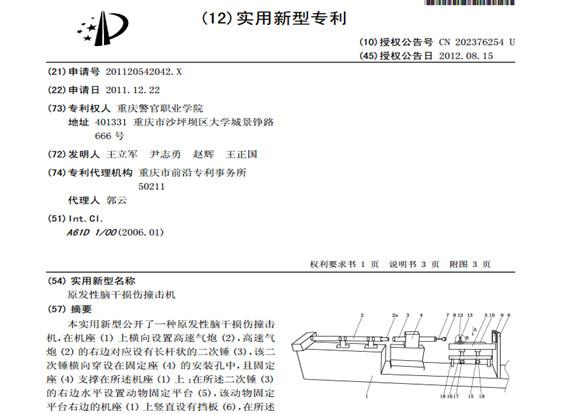 Zang's Career Coincides with CCP's Practice of Forced Organ Harvesting
Zang's career in organ transplantation rose from 2000, coinciding with the emergence of the CCP's crimes of forced organ harvesting against Falun Gong practitioners, according to Heng He.

The CCP began its nationwide campaign of persecution against Falun Gong practitioners in July 1999. Shortly afterward, hundreds of thousands of them were illegally detained in detention centers, labor camps, and prisons.

In September 1999, Zang began to study transplant surgery at the Thomas E. Starzl Transplantation Institute of the University of Pittsburgh Medical Center (UPMC) with the assistance of the Chinese government. He stayed there until December 2000, according to

China's news portal Sohu

.

Zang reportedly returned to China three months ahead of schedule due to China's urgent need for liver transplant doctors.

Since 2000, the CCP expanded its mass persecution of Falun Gong followers, millions of whom were subjected to arbitrary detention and imprisonment.

In December 2000, Zang established a liver transplant program in Shandong Provincial Qianfoshan Hospital and became the first to perform such a surgery in the province.

In September 2001, he contributed to the creation of the Shandong Provincial Organ Transplant Center.

From 2004 to 2008, he participated in 1,600 cases of liver removals from donors in Tianjin First Central Hospital.

In January 2005, Zang joined the Liver Transplantation Institute of the Beijing Armed Police General Hospital. In April, he was appointed deputy director of the institute. There, he performed more than 1,000 liver transplants.

From 2014 onward, Zang moved to the Affiliated Hospital of Qingdao University and led the transplant activities there until he committed suicide on Feb. 26 for unknown reasons.