TAIPEI, Taiwan—China is continuing its military coercion against Taiwan on Aug. 5, the second day of its military drills encircling the island, with warplanes and vessels crossing the median line of the Taiwan Strait that separates the two neighbors.
Calling the military drills "highly provocative," Taiwan's defense ministry said many Chinese military jets and warships had been seen in waters near Taiwan as of 11 a.m. local time, with some crossing the median line. Also known as the Davis Line, the median serves as an unofficial air and maritime buffer between China and Taiwan.
In response, the ministry said it has deployed aircraft, patrolling naval vessels, and land-based missile systems to monitor the situation.
"We seek no escalation, nor do antagonize others," the ministry
said
on Twitter, adding that the Taiwanese armed forces "are committed" to defending the self-governing island.
On Aug. 2, China
announced
that it would hold live-fire military drills in six zones around Taiwan from Aug. 4 to Aug. 7, in apparent retaliation against a visit by U.S. House Speaker
Nancy Pelosi
(D-Calif.) to the island. Some of the zones partially overlap with Taiwan's territorial waters. The drills are the biggest the Chinese regime has ever held in the Taiwan Strait, according to Reuters.
Ballistic Missiles
Beijing's Friday military moves came a day after China
launched 11 ballistic missiles
into the waters around Taiwan. Japan
said
five of the missiles landed in its exclusive economic zone (EEZ), which extends 200 nautical miles from the country's coast. Of the five missiles, Japan's defense ministry said four had likely flown over Taipei.
Taiwan's defense ministry did not dispute Japan's claim,
saying
the flight path was "outside the atmosphere and is not harmful to the vast area on the ground it flies over."
China also deployed unmanned aerial drones against Taiwan on Aug. 4. On Thursday evening, Taiwanese troops had to fire warning flares to drive away four drones that flew above the area of Taiwan's Kinmen islands, which are located about 1.3 miles from the Chinese coastline. Earlier the day, three drones flew over waters off Taiwan's east coast, according to an announcement (
pdf
) from Japan's defense ministry.
On Thursday, 22 Chinese fighter jets
crossed
the median line of the Taiwan Strait.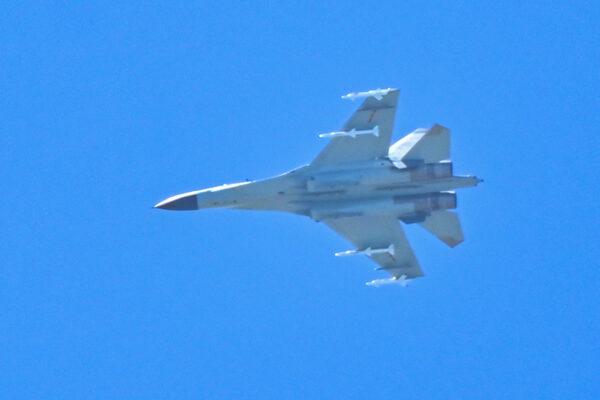 Condemnation
In response to China's missile launch, Taiwan President Tsai Ing-wen
called
on the Chinees regime to "act with reason and exercise restraint." Tsai also appealed to the international community to "come together to put a halt to these unilateral and irrational military actions."
Several U.S. officials have since criticized Beijing. White House National Security Council communications coordinator John Kirby
called
the missile firings "irresponsible."
Sens. Bob Menendez (D-N.J.) and Jim Risch (R-Idaho), chairman and ranking member of the Senate Foreign Relations Committee, issued a joint
statement
saying that Beijing was attempting to "upend cross-Strait peace and stability by changing the status quo with Taiwan."
"Beijing should not be under any false illusion that these military drills will lessen resolve in the United States or elsewhere, or erode our commitment to stand with the people of Taiwan and their right to determine their own future," the senators stated. "Just the opposite."
On Friday, Japanese Prime Minister Fumio Kishida met with Pelosi in Japan, the fifth stop of Pelosi's Asia trip that has so far included Singapore, Malaysia, Taiwan, and South Korea.
"I have informed speaker Pelosi that the fact China's ballistic missiles had landed near Japanese water including EEZ threatens our national safety and security and that Japan had strongly condemned such actions," Kishida said, according to Reuters.