China's entropic war in South Asian nations like Nepal, Sri Lanka, and Maldives is at an advanced stage, according to strategists. These unrestricted war operations are to ensure China's hegemony in its backyard where it wants to push its agendas and counter adversaries like India, an important U.S. ally in the Indo-Pacific, they say.
The idea of entropic warfare goes back two millennia to China's Warring States period, according to Brig. Gen. David R. Stilwell (ret.), former Pentagon deputy director for politico-military affairs for Asia and assistant secretary of state for the bureau of East Asian and Pacific Affairs who's currently on the advisory council of the Krach Institute for Tech Diplomacy at Purdue University.
"Sun Tzu incorporates it into his book 'The Art of War' in terms of 'Winning without Fighting (Winning without Armed Conflict).' The PRC uses this concept in both big and small countries but the techniques are different," said Stilwell, using the acronym for the Chinese regime's official name, the People's Republic of China.
Mark Herman of the Center for Counterproliferation Research at the National Defense University defined entropy as the "steady degradation of a system" in a two-decade-old paper (
pdf
). In military terms, he said it is a metric that measures "enemy disorganization and ineffectiveness."
Stilwell said to understand China's political warfare, which is synonymous with entropic warfare, in these small nations in South Asia, it's important to understand these nation's geography vis-a-vis China.
"Nepal is the home to at least some of the Tibetan Diaspora, which Beijing badly wants repatriated (where they can be silenced). Sri Lanka and the Maldives can both be used to threaten India's security and they command sea lanes that bring energy to China from Africa and the Middle East," he said.
Cleo Pascal, a senior fellow at the Foundation for Defense of Democracies, said the Chinese Communist Party's (CCP) entropic warfare in a region is generally focused on a larger adversary that the regime seeks to control through the smaller countries in the neighborhood.
"For China to be able to take and hold Taiwan—a stated primary goal of the CCP—it has to have 'security' in a wide perimeter around Taiwan. That area covers a lot of Pacific Island Countries. If it can't control them, it needs to be able to contain them or destabilize them to the point they are not a concern," Pascal told The Epoch Times in an email.
"Similarly, if China is to control the Himalayan highs—a priority since Mao's time— as well as the Indian Ocean (through which many of China's key supplies flow) it has to be able to control, constrain or destabilize India," she added referring to the first CCP leader Mao Zedong.
Over the past few years, India and China have had multiple face-offs along a disputed border, including a few violent clashes, a controversy that goes back decades since the CCP seized Tibet in the 1950s under Mao.
Pascal said that Mao's dream to control Himalayas and the Indian ocean brought the two nations in direct contention and China's attempts at constraining India meant among many things, creating problems for neighbors surrounding India.
"China already has an 'Iron Brother' in Pakistan, but other targets are Nepal, Sri Lanka and Maldives," she said.
It's for the same reasons that when the Trump administration framed its Indo-Pacific strategy, it included "strengthening India and ensuring unimpeded commerce in the Indian Ocean' as key goals. It's also why the Trump administration directly highlighted the China threat during its engagements with India's neighbors, according to the
Center for Strategic and International Studies
think tank, which noted that the the Biden administration has continued the policy but with a few changes.
Comprehensive National Power
Experts said China's unrestricted or entropic warfare is determined by a "comprehensive national power" (CNP) score which is a value that the CCP empirically measures for each nation to determine what it would need to overtake them and achieve its agenda, according to analysts.

"Beijing follows a system of CNP which encompasses the political influence, diplomatic guidance and ascendancy, economic domination and control and last but not the least the military supremacy to ensure the countries all over the world follow the path ascribed by the CCP," said Col. Vinayak Bhat (ret.), a satellite imagery expert and an Indian military intelligence veteran.

According to Bhat, the CCP uses various means to achieve its goals, including sowing public discort via the internet and media channels, financing infrastructure projects with soft loans, diplomatic coercion, and influencing elites and politicians through covert and overt means.

Stilwell describes the latter as "elite capture" and said that in smaller countries like in Nepal, Sri Lanka, and the Maldives this is a large component of entropic warfare. "Beijing's working of the Rajapaksas in Sri Lanka is well documented," he said.

Two former Srilankan Presidents, Mahinda Rajapaksa and Gotabaya Rajapaksa were

sanctioned this month

by the Canadian government for "gross and systematic violations of human rights" committed during their tenure in civil war between the Sri Lankan government and the Liberation Tigers of Tamil Eelam (LTTE), a separatist group from 1983 to 2009.

The current Srilankan President, Ranil Wickremesinghe took over from Mahinda Rajapaksa, who was the prime minister until May while his brother, Gotabaya Rajapaksa was the president until July. The Rajapaksa clan was forced to resign last year amidst violent protests against them during which Mahinda had to be evacuated by the military from his official residence. Ranil Wickremesinghe, an opposition leader first took over from Mahindra as the prime minister and was later elevated to president after Gotabaya fled.
Rajapaksas
openly supported
CCP's policies on international forums and its economic investment in Sri Lanka and were alleged to be under the influence of the communist regime. Sulochana R. Mohan, deputy editor of Ceylon Today, a leading Sri Lankan media, said that China was successful in achieving its agendas in the country because of its "elite dominance" of Sri Lankan politics. Power in the country was concentrated in a few political families like the Rajapaksas, and China's money helped them maintain their rule, she added.
"There has been no room for the rest mainly because wealth is considered power in this region. Power, wealth, and rank have been guarantors of elite insulation" while the same diminishes democracy and governance and the Chinese have used this greed of the political elites to capture them for its interests, Mohan told The Epoch Times.
Paskal described Sri Lanka as the classic case of the CCP using corruption and opaque contracts to gain control of strategic infrastructure, most famously the Hambantota port. The port was leased to China for 99 years in 2017 after Sri Lanka failed to repay $1.4 billion in loans. It is located 10 nautical miles away from one of the world's busiest sea trade routes.
"The destabilization in Sri Lanka was largely caused by factors that in varying degrees were directly or indirectly related to China: corruption, COVID (which collapsed the economy), and crop failures (exacerbated by bad fertilizer from China)," said Paskal.
The Sri Lankan government has told the international community that China is only a "commercial partner," however while operating in Sri Lanka, Beijing has now started challenging India, Japan, the European Union, and the US as well, according to Mohan.
The CCP regime has subtly made inroads in Sri Lanka's local politics while projecting itself as a "people-centric development partner." Mohan said it has strategically established several media associations, institutions, and [corporate social responsibility] projects to win over the support of the local people who have appreciated its "material and monetary contributions" to the plantation sector, the northern fishing community, and other sectors while letting themselves be "colonized."
"Except for the hybrid solar
power project
in the northern region (which was not technically approved), the Sri Lankan government has not revoked any Chinese projects but has backtracked and shelved officially agreed Indian, Japanese, and American ones. It is evident that China has trapped Sri Lanka, as no government officials, [parliamentarians], or even the opposition speaks out against China's involvement in Sri Lanka, with the exception of a few selected Tamil politicians and activists," said Mohan.
Nepal and Maldives
Experts said China's activities in Nepal and Maldives are also ultimately targeting India and its security. Maldives' strategic location in the Indian Ocean also creates threats for the wider Indo-Pacific.

"The Chinese are nothing if not predictable; it's a safe bet that similar things are happening in Maldives and Nepal," said Stilwell. In an unprecedented development in 2020, Nepal accepted Beiing's proposal to make Mandarin mandatory in some schools in return for the Chinese regime providing CCP-chosen Mandarin teachers free of cost.

"Sharp power often incorporates tactics of pressure and coercion as a means to interfere, control and sway decisions of other countries," said analysts Mansheetal Singh and Shreya Behal. in a

commentary published

on Observer's Research Foundation at the time.

"On the face of it, the new collaboration between the two countries will not only foster teaching Chinese language and culture, but it will also be utilized to promote China's policies and interests in maneuvering views of the people through a coalescence of literature, cultural affairs and exhibitions," said Singh and Behal.

These Chinese-language programs in Nepal are controversial because they are directly linked to the Chinese regime, and thus institutionalized to support Beijing's political objectives, some likely against India, according to them.

Paskal said Nepal is a buffer state between India and China and by using it as a proxy, China can hit India with cross-border terrorism, smuggling, trafficking, and infiltration while obfuscating the source and the intent.

"It also means retaliation from India could be spun in the Nepali press to make it look like India is the bad guy, further driving a wedge between two countries that should be natural friends," she said.

Bhat said that the Chinese communist Party has close ties with the Nepalese Communist Party (NCP) and it has ensured that the latter remains in power. The NCP in June 2020 also held a virtual meeting with the CCP to discuss and share their experiences on running the party and the government. Singh and Behal said such meetings between the two communist parties will likely pave the way for the introduction of "Xi Jinping Thought" in Nepal, referring to the personal dogma of the CCP leader Xi Jinping.
This meeting was joined by the Nepalese communist leaders from all provinces of the country while CCP leaders from neighboring Tibet Autonomous Region had also joined, according to
the Kathmandu Post.
Last year, the Nepalese communist regime further decided not to move ahead with the U.S. State Partnership Program amidst much debate in the country on the topic. This was a bilateral program focused on disaster mitigation for the earthquake-prone Himalayan nation. But local critics alleged the partnership was a covert military program, despite many attempts to clear the air by the U.S. embassy in Kathmandu.
Nepalese
media described
it as a military partnership between Nepal Army and Utah National Guard of the United States. Just two days after this decision, Liu Jianchao, the head of the CCP's International Liaison Department, held talks with communist officials in Nepal Pushpa Kamal Dahal and K.P. Oli. The Chinese regime was against the U.S. project from the beginning and
commended
Nepal's decision after it was canceled.
Bhat said China has also "ensured a steady inflow of technical skilled staff and finished product and outflow of raw materials from Nepal through new infrastructure projects especially roads, railways, dams etc." Chinese investment in Nepal was 76.47 percent of the total foreign direct investment during the first half of fiscal year 2021-2022, according to state-run media
China Daily
.
The Maldives represents a similar story of Chinese investment and debts, and is also increasingly becoming a battleground of influence between India and China—so much so that in an analysis published in the
Georgetown Journal of International Affairs
expert Michael Kugelman described it as one of the "biggest stories in Asian geopolitics in recent years."
India had the greatest influence in the Maldives for four decades until 2013 when the island nation was rocked by political turmoil during which Abdulla Yameen, an authoritarian with Chinese backing came to power, Kugelman wrote. This led to the China-Maldives free trade agreement and the island nation joining the regime's Belt and Road Initiative, a trillion-dollar infrastructure investment project aimed at entrenching Beijing's economic and political influence worldwide.
"Maldives is also a critical piece of strategic real estate. In Maldives, China was fine to work with Wahhabi elements to try to create a fracture with India and put in place more authoritarian leadership," said Paskal, adding that "Beijing likes authoritarians for obvious reasons."
There are many ex-pat Maldivians in Sri Lanka, and Paskal alleged that China paid them to vote for the pro-Beijing candidate. There are over 177,000 expat Maldivians in Sri Lanka, according to
a 2021 report
by the island's newspaper, Avas.
"In the political chaos, Chinese interests managed to get leases on over a dozen Maldivian islands, creating a major security vulnerability for India,' said Paskal.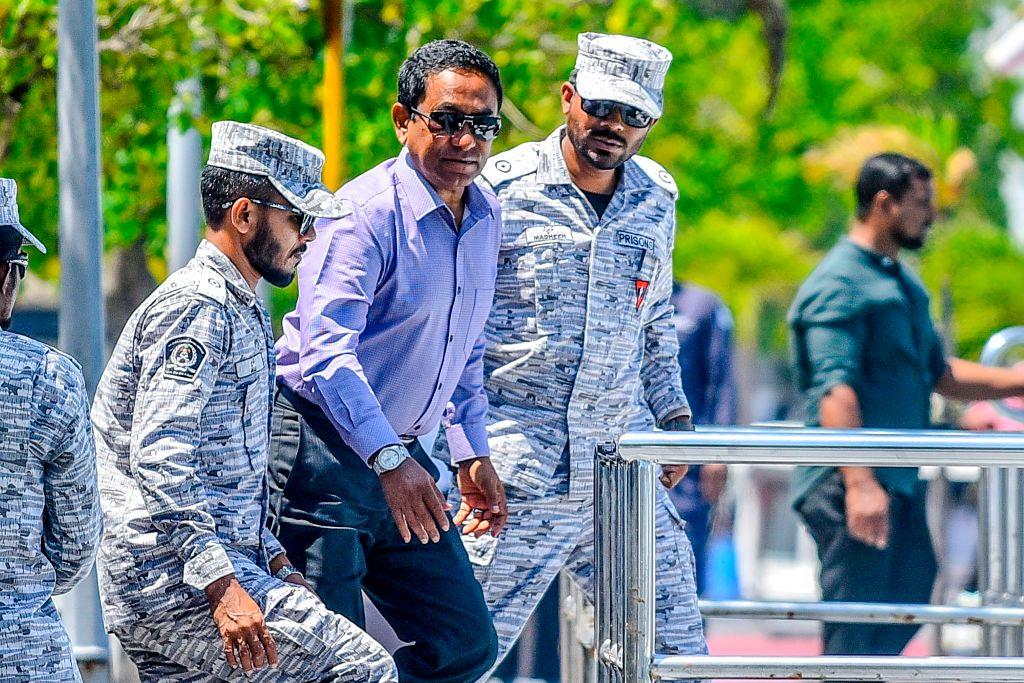 Decreasing Effectiveness
Stilwell said that in the long run entropic warfare is less effective when considering the amount of time and effort the Chinese communist has invested in the endeavor.

This is because the issue has been drawing more and more attention in the regions targeted by the regime, he said.

"Media, NGOs, human rights groups, etc., are looking for PRC negative influence and are exposing bad news stories about leaders getting caught trading national interests for personal gain," he said adding that he often points to Malaysian Prime Minister Najib Razak's ouster due to the 1Malaysia Development Berhad scandal (1MDB) scandal, in which he was accused of covering up while in power.

The 1MDB scandal involved embezzlement of a national sovereign fund and was described by the U.S. Department of Justice as the "largest kleptocracy case to date" in 2016. China was a key player in this fund which involved Chinese-Malaysian financier Low Taek Jho who's currently a fugitive wanted by global investigators. It has been speculated that Low is hiding in China, though the regime has denied harboring him.

Stilwell said China's entropic warfare can be countered through information warfare and when he was at the State Department, the U.S. administration had started a number of programs to bring transparency to PRC political warfare activities.

"John Garnaut in Australia famously says that PRC political warfare tactics are corrupt, covert and coercive. The solution he says is simple: Sunshine/transparency—shine a light on deals Beijing would rather not be made public,' he said.

Another effective solution, according to him, would be to expose CCP behavior to Chinese people and how their government is perceived globally.

"If I were in charge we would go on the offensive and expose this behavior in China, show the Chinese people how its government is perceived globally. These three countries are interesting but for going on the offensive, I'd go after their activities in Africa," said Stilwell.