The Chinese regime has announced a new director of Religious Affairs.
Cui Maohu was
named
on June 7 to take over from Wang Zuoan, who had been the director of Religious Affairs since September 2009. Prior to that, Wang served as deputy director under former Director Ye Xiaowen, who was in charge of the bureau from March 1998 to September 2009.
Both Ye and Wang are being named by a human rights advocacy group for leading brutal persecutions against religious believers in China.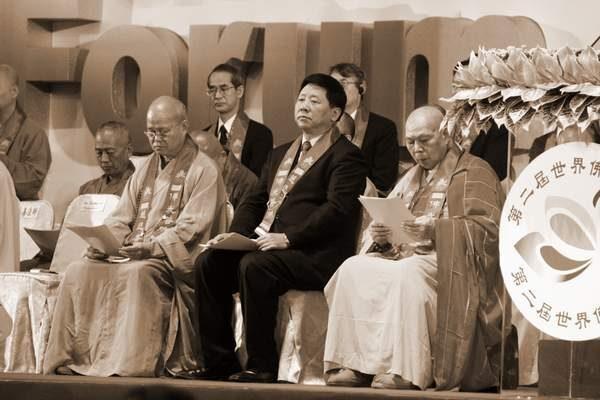 Although Cui is considered well versed in the Chinese Communist Party's (CCP) methods for managing religious and Tibet-related issues, due to his previous appointment as a Vice Governor of Yunnan Province where many Tibetans live, the new director's curriculum vitae shows no ties to the regime's United Front Work Department (UFWD) unlike his two predecessors.
The UFWD makes a particular effort to maintain the party's influence over China's religious, ethnic, and foreign affairs, with Tibetans as one of the target groups of its work.
The CCP works through the UFWD to expand the sphere of influence of its guiding socialist ideologies by maintaining a global elite-capture influence network that it uses to infiltrate or gain influence in Chinese society and the international community.
It remains to be seen what Cui's approach to monitoring religion will be, although he will be bound to the one-party state's anti-religion ideology.
Eradicate All Beliefs
Analysts 
have said
 that the ultimate goal of the CCP is to destroy the world's religions and spiritual belief systems.
A Toronto resident, He Lizhi, a former civil engineer in Beijing, recalled a brainwashing video he was made to watch while he was in detention for his Falun Gong faith in China.
Falun Gong is a self-improvement practice rooted in Chinese culture and Buddhist traditions. It teaches adherents to live by the principles of truthfulness, compassion, and tolerance. In 1999, the CCP launched a deadly persecution campaign against Falun Gong.
The video shows then Religious Affairs Chief Ye Xiaowen revealing the CCP's intentions toward religious and belief groups as, "the obliteration of religion, not only in China but worldwide, and the elimination of the concept of God from people's minds."
The comments were made during a "theoretical lecture" that Ye gave to top party officials as he outlined the regime's case while trying to convince them that "the eradication of Falun Gong was what the Party needed to do in order to achieve its ultimate goal."
He recalled, "Xiaowen explained that the reason the Chinese regime still had religious freedom in its constitution was to use it as a 'deceptive' temporary tactic, … to alienate the younger generations from their parents through the atheistic education … and to finally eradicate all beliefs."
The regime on the world stage has consistently denied charges that it restricts religious freedoms at home, despite the tens of 
thousands of accounts
to the contrary.
According to a 2019
report
by Thomas F. Farr, president of the D.C.-based Religious Freedom Institute, Ye had offered Congress in 2002 his assurances that "religious freedom was not imperiled in China" under the CCP's rule and that "parents were, in fact, free to teach religion to their children."
Farr wrote, "There was a half-truth in Xiaowen's assurance: Parents could teach their children surreptitiously, but the consequences of being caught conveying, for example, Catholic teaching on issues such as religious freedom for all, the equal dignity of all persons created in the image and likeness of God, or the evil of abortion, were severe."
Sinicization of Religion
The Religious Affairs Bureau is also the office tasked in 2015 with achieving a "Sinicization of Religion," which, according to
remarks
made by party leader Xi Jinping, means "upholding the principle of developing religions in the Chinese context, and providing active guidance for the adaptation of religions to socialist society."
Cai Xia, a party insider who was formerly a professor at the CCP's elite Central Party School in Beijing, previously explained in a
Twitter post
 that the "sinicization of religion" allows for the CCP to install Chinese religious leaders as "part of its propaganda machinery to assist the brainwashing and control of the populace—Buddhist, Taoist, Catholic, Christian, or Islamic."
Despite a brutal eradication campaign, Falun Gong adherents in China have resisted the regime's attempts to divorce them from their beliefs.
During a visit to the United States on 
June 5, 2006,
 Ye and Wang were both issued a civil lawsuit subpoena by a U.S. court over the serious allegations.
Ning Haizhong and Melanie Sun contributed to this report.