Chinese officials initiated the highest level of censorship of the unprecedented protests against the regime's zero-COVID policy and ramped up curbs on tools used to bypass the nation's internet control, according to reports, offering a glimpse of how the government is responding to the toughest challenges in decades.
From the capital Beijing to the remote county of Korla, Chinese citizens took to the streets, calling for an end to the strict COVID curbs and demanding freedom. In Shanghai, residents directed their anger toward the Chinese Communist Party and its leader,
demanding that they step down
.
Describing what Shanghai residents chanted in the demonstration as "pernicious political slogans," the authorities urged websites to "strengthen their content management," according to a leaked notice published by
China Digital Times
, a California-based website dedicated to archiving content censored in China.
The leaked directive was reportedly issued following a meeting at the Cyberspace Administration of China, the country's internet regulator, on Nov. 28, during which officials ordered online platforms to initiate "Level I Internet Emergency Response, the highest level of content management."
"Given the recent high-profile events in various provinces," information about street protests and related reports from foreign news outlets shared on the country's internet "must be rapidly identified, dealt with, and reported," reads the notice, which was first published by a Twitter user under the name Li Laoshi, an aggregator of protest-related information.
With the world's most sprawling and sophisticated online censorship and surveillance apparatus, known as the Great Firewall, Chinese authorities blocked access to websites from Google to The New York Times. Western social media platforms are also banned in the country.
Officials are required to remain on high alert and strengthen "preliminary content audits" at upcoming "sensitive dates," including Dec. 10, which is World Human Rights Day.
Curb Access to VPNs
In a separate notice, officials are told to launch a "thorough clean-up" of virtual private networks, known as VPNs, and other tools that people use to circumvent the country's internet restrictions.

The authorities also get platforms to take down videos and other documents explaining how to bypass the firewall, which was called "harmful content" in the leaked notice. It also asked search engines to remove results for related search terms.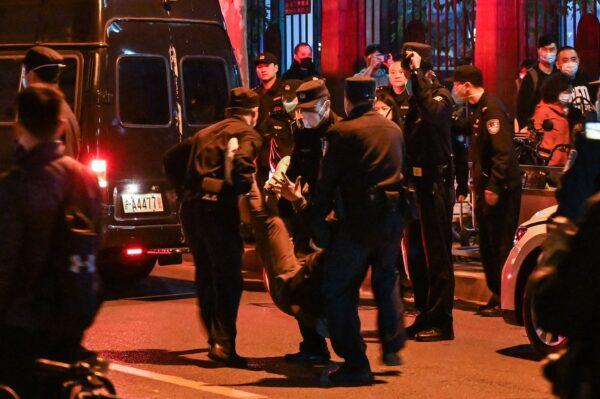 As protests erupted late last month, Chinese social media users have developed
creative ways
to bypass censors, racing to spread videos and photos related to the protests. Any protest details that successfully emerged on the tightly controlled internet were quickly taken down.
China's censors also suppress comments and images of white paper, now a symbol of defiance after young demonstrators were seen holding up a blank sheet of white A4 paper.
Amid domestic censorship, Twitter, which is blocked from the country's internet, became a platform for Chinese netizens to share demonstration updates. People use VPNs and other tools to share images and footage of protests taking place across China with the rest of the world.
Last week, police in Beijing asked to inspect travelers' phones to see if they have VPNs or foreign apps that are blocked in China, according to reports and online videos.
Heavy security
was seen at previous demonstration sites in Beijing and Shanghai following the unprecedented protests that erupted in at least 10 Chinese cities last month. The last time China saw such large-scale protests was in 1989, when tens of thousands of college students gathered in Beijing's Tiananmen Square to call for democracy and reform. The CCP responded by sending tanks and troops to crush the young protesters.
Amid foot patrols and flashing lights from lines of police vehicles, planned protests in Beijing in recent days were reportedly canceled. On Dec. 2, there were few signs of further gatherings.
While Guangzhou and several other Chinese cities on Dec. 1 
relaxed
COVID restrictions at some level, officials in Jinzhou, a city in the northwest province of Liaoning, told residents they will continue to implement the zero-COVID approach.