When Kentucky Fried Chicken (KFC) rolled out a promotion in China that included a Psyduck toy in its kids meals, the cartoon figure quickly became immensely popular as people started using it in memes making fun of the COVID restrictions.
June 1st is Children's Day in China. KFC and the Pokémon Company launched a children's meal package, that included a free Pikachu or Psyduck toy. The Psyduck meal became so popular that supplies soon ran short.
Although KFC used the toy to promote its kids' meal, it is adults who showed off the Psyducks on the internet. They dress up the cartoon figure in various ways, or have it hold up humorous memes. As the duck turns and moves to the rhythm of background music, the audience sees the first part of a slogan in one hand and the second part, which is the kicker, in the other.
For instance, some split four Chinese characters and put two in each hand, which may read, "Refuse to … work overtime," "Come downstairs … take a PCR test," "Pandemic … go away," "Health code … your travel pass," and so on.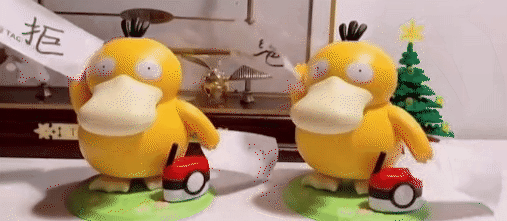 One woman imitated the movements of Psyduck herself, holding two pieces of paper in her hands, "I want to … go out." Apparently, she wished to get out of her apartment during a strict lockdown in her area.
Shops and companies have also joined ranks to promote their products or seek help. On May 26, He Xiaopeng, the founder of China's electric car Xpeng Motors, posted a video on Weibo, in which Psyduck was waving two pieces of paper that read "Urgently need … chips."
Regarding the phenomenon of Psyduck becoming an internet star overnight, Jiang Hai, a scholar in communications at the University of Electronic Science and Technology of China, told Chinese news portal Sina that it happened because the pandemic changed the public's thinking. "In a relatively anxious and depressing environment, Psyduck happened to appear at the right time, and thus became a tool for the public to vent their emotions," he said.
There are indeed many "Psyduck slogans" related to the pandemic control measures such as lockdowns. For instance, "Line up ... receive daily necessities," which refers to residents under lockdown receiving food and supplies from authorities once in a while; and "open your mouth ... next in line," which mimics the medical personnel at COVID testing sites.
Super Popular
The promotion was launched in China on May 21, and by evening, the children's meals in many KFC restaurants were sold out. Three days later, KFC restaurants in several big cities no longer displayed the item, although June 1 was still a week away.

According to Chinanews.com, a KFC clerk said that he received hundreds of calls a day asking if there were Psyduck available. Another KFC clerk decided to change his greeting to "Hello, this is KFC. No Psyduck [at the moment]."

Many customers wanted a Psyduck but did not want to the meal, so they hired someone via social media to eat it for them, creating an odd new service for those who are willing to get the toy for them. Some were even willing to pay tens of yuan to hire a person to buy and eat the meal for them.

The toy also became available on China's second-hand trading platforms, at prices as high as 200 yuan (about $30).

There are also customers who cannot find it and suspect that KFC has secretly sold them to illegal middlemen. KFC had to refute the rumor on its official mobile app.

A number of well-known social media bloggers revealed that Chinese merchants have already begun to profit from the newly-gained popularity of the toy. Manufacturers in Yiwu, China's largest small commodity wholesale market, are rushing to produce Psyducks to meet market demand. However, it is not yet known whether a patent infringement is involved.