Fifteen months ago, China publicly pledged to achieve carbon neutrality by 2060. However, analysts say the country's ruling communist regime will unlikely fulfill such a commitment, based on its industry signs and its record of breaking international agreements.
On Sept. 22, 2020, Chinese leader Xi Jinping addressed via video link the United Nations General Assembly in New York, promising that his country would go carbon neutral within 40 years.
Just over six months later, Xi attended a 2-day virtual climate change summit led by the United States. At that April 2021 meeting, he reaffirmed his carbon neutrality commitment,
vowing
that China would comply with the objectives and principles laid out in the U.N. Framework Convention on Climate Change and its Paris Agreement.
However, China is expected to take up more than one-third—the largest portion by country—of the global coal demand growth in 2021, according to 
Coal 2021: Analysis and Prospect to 2024
 released by the International Energy Agency (IEA)  on Dec. 17, 2021.
The report says China's coal consumption is estimated to increase by 159 million tons between 2020 and 2021 while the global rise was about 450 million tons during the same period.
The IEA says it maintains a special focus on China, the world's largest coal producer, consumer, and importer.
Coal-Fired Plants Expansion Takes Shape
Environmental group Greenpeace revealed on its Chinese site on Dec. 17 that, as of November 2021,
up to 85.6 percent
of China's approved coal power projects for 2020 had already been in operation or under construction. This would correspondingly produce an installation capacity of 35.786 gigawatts (GW), which will, in turn, add a sharp rise to coal power capacity throughout the Chinese Communist Party's (CCP) 14th Five-Year Plan.
In 2020, the CCP-approved coal capacity hit 41.8 GW, a rise of 200 percent year-on-year, according to Greenpeace. A low-carbon development policy research team of Greenpeace East Asia confirmed that the Chinese authorities had pushed hard their coal-fired plant projects throughout 2021, based on public data and satellite remote sensing imagery.
The environmental group's report shows that 51 of the 82 projects on the list were under construction and four had been put into operation (2.857 GW), with a combined installed capacity of 35.786 GW, holding 85.6 percent of the approved total for 2020, by the end of November 2021. Another 12 projects, whose information was available to builders for bidding purposes, involve a total capacity of 2.1 GW.
Additionally, unauthorized construction also existed in China, according to the report.
Moreover, non-profit Global Energy Monitor noted that the 2020 steep growth of China's coal plants offset a retreat from coal in the rest of the world, causing the first increase—12.5 GW—in global coal capacity development since 2015, in a study titled 
Boom and Bust 2021
: Tracking The Global Coal Plant Pipeline.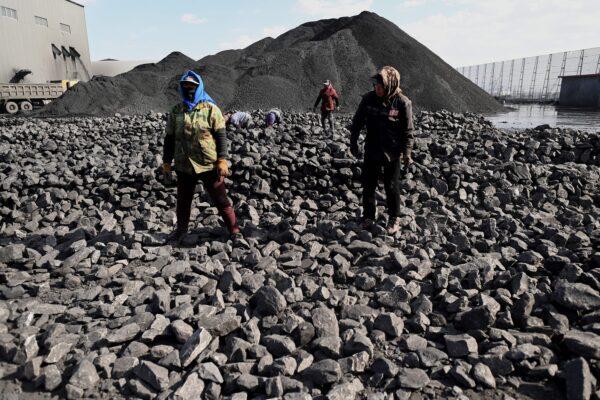 Coal Consumption Spurred Amid Power Crunch
In September 2021, a "power crunch" swept 13 Chinese provinces, including southeast Guangdong, China's biggest manufacturing center. The energy crisis triggered suspension or on-and-off operation in factories and blackouts in residential areas, raising concern over China's supply pressure and surging coal prices.

The demand-driven electricity supply eventually found its momentum in domestic coal outcomes and imports. A Dec. 15 report of energy production by the National Bureau of Statistics wrote that China produced 3.67 billion tons of raw coal from January to November, up 4.2 percent year-on-year. At the same time, China strengthened coal imports, which rose to 290 million tons, up 10.6 percent year-on-year, including 35.03 million tons in November, up 198.1 percent year-on-year.
A Pattern of Breaking International Commitments
"There is no reason to believe that China will live up to this or any other agreement," Antonio Graceffo, an economics professor, and China economic analyst, commented in an email to The Epoch Times on Jan. 8.

He cited examples of China's failure to fulfill its promises in the issues of the phase one trade deal with the United States and the reduction of nuclear arms.

On the other hand, Graceffo analyzed challenges the Chinese economy faces, including overreliance on coal and zero-COVID policy, which added to the degree of difficulty in carrying out its pledges if the CCP wishes to boost its economy in 2022.

"So, it is highly unlikely that the CCP will make good on this commitment," Graceffo, also a contributor to The Epoch Times. said. "We can finally admit that China never plays by the rules and never lives up to its word."
Anders Corr, a principal at New York-based Corr Analytics Inc, expressed his concern on the same day.
"Beijing is a virtuoso at breaking its international commitments and then denying that they existed in the first place or that if they did exist, denying that they were broken," said Corr, also a contributor to The Epoch Times.
He said Beijing is also seeking to defeat the West by any means necessary, including by bringing the world to the brink of environmental catastrophe.
"We therefore must assume that any public commitments made by Beijing about carbon neutrality are strategic in nature rather than sincere," warned the analyst.
Milton Ezrati, a chief economist for Vested, a New York-based communications firm, and contributor to The Epoch Times, said the only way China could meet its 2060 commitment is with technologies. However, he said, such workable technologies do not presently exist; nor will they come along in the intervening years.
"The lesson for the democracies and any other countries is that China's goodwill on any subject extends only as far as its interests allow," Ezrati added. "If a nation wants to know how China will behave, understand its interests."