Top Beijing regulators rushed to salvage market confidence as investors began panic selling Chinese stocks for days in a row, pushing major indexes to their lowest levels in years.
Hong Kong's Hang Seng Tech Index lost roughly 22 percent since Friday, stocks in Shanghai and Shenzhen also saw a daily drop of 5 and 4 percent respectively.
U.S.-listed Chinese shares fared no better. China Concepts Stock had a combined three-day loss of roughly $277 billion, the steepest since the 2008 financial crisis, and NASDAQ Golden Dragon China Index slumped by a cumulative 75 percent compared to its peak last February.
The regime's Vice Premier Liu He on March 16 chaired a Financial Stability and Development Committee meeting, urging government bodies to roll out market-friendly policies and exercise caution when introducing measures that may hurt markets.
China's central bank, the People's Bank of China, also convened a meeting the same day to convey support for small and medium-sized enterprises. The meeting also emphasized the importance of responding timely to "hot market trends" and to "reinvigorate confidence"—echoing a phrase Liu had invoked during the Cabinet meeting. The China Banking and Insurance Regulatory Commission and China Securities Regulatory Commission also hosted separate meetings in response to Liu's calls.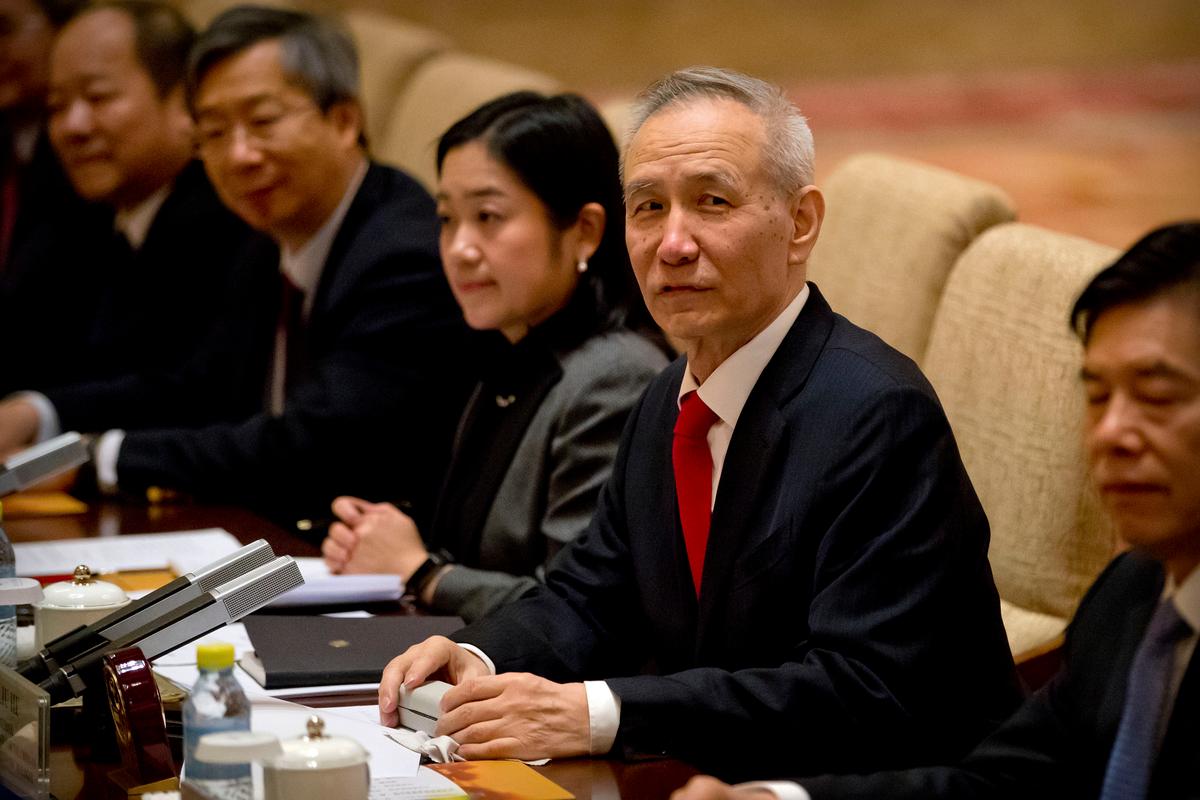 "A short term market fluctuation has not and will not change its long term healthy growth," read a summary of the securities regulators' meeting.
The flurry of official assurances came as Chinese stocks struggle amid China's
COVID-19 lockdown
uncertainties
, growing
international unease
over Beijing's ties with Russia, and the continued regulatory crackdown both in the United States and at home, including the risk of more mainland firms getting delisted from U.S. exchanges.
But a Chinese scholar affiliated with a prominent state-owned academy has sought to pin the blame for the country's market woes on the United States.
While the Ukraine war has shaken the global stock market, that alone cannot account for the precipitous drop in Chinese shares, especially those listed in the United States, wrote Zhang Ming, vice director at the Institute of Finance & Banking under the Chinese Academy of Social Sciences, in an essay on Tuesday.
Zhang claimed that institutional investors, with those from the United States in particular, have been "short selling Chinese stocks across markets."
"In the large backdrop of the Russia-Ukraine conflict, short selling Chinese stocks has become a 'politically correct' choice for some investors on Wall Street," he said.
Last week, the Securities and Investment Commission identified for the first time five Chinese companies, including KFC operator Yum China Holdings, that could face delisting for not meeting audit requirements under U.S. law. The move triggered a massive sell-off in Chinese companies' American depositary receipts (ADRs).
U.S. regulators have long sought complete access to audit papers for U.S.-listed Chinese firms, but Beijing has denied providing such records citing state secrecy. A 2020 law ​​Holding Foreign Companies Accountable Act gives Chinese firms three years to permit U.S. inspections before facing delisting.
Having senior Chinese officials give public assurances about the Chinese stock market's outlook was one way Zhang suggested to calm jittery inventors. His other advice includes loosening regulatory measures and discouraging foreign investors from making exits, such as by imposing a tax on financial transactions to curb abnormal capital flow.
With Beijing hoping to hit an ambitious economic growth target of 5.5 percent this year, its policymakers did indeed lose no time in salvaging investor confidence.
Stock markets rebounded following the remarks. Major Chinese tech stocks such as Tencent Holdings and Alibaba Group soared 23 percent and 27 percent respectively. Even the stocks that suffered under China's sweeping regulatory campaign last year responded positively. New Oriental Education and Technology Group, for example, rose 37 percent.
"These announcements don't mean much individually, but collectively, they suggest policymakers won't sit idle," Stephen Innes of SPI Asset Management said in a report.
Despite the officials' promises to support overseas listings, the antagonism toward the United States appeared to persist.
In a recent article widely posted by Chinese state media, Zhang Yundong, a former director for Shenzhen Market Supervision and Regulation Bureau, called for Chinese finance to "walk its own path" and break off the "superstition toward the U.S. financial model."
He revealed a deep mistrust toward foreign capital, saying that China should establish a real-time monitoring system of foreign stocks and strategically limit foreign hedge funds from entering the Chinese market.