The regime in Beijing has detained 1.43 million people during a three-month campaign dubbed a "public security crackdown" ahead of the Chinese Communist Party's (CCP) national meeting. However, not all those arrested are criminals.
As with other key Party events, the regime has tightened security in the capital in the lead-up to this month's all-important meeting known as the 20th National Congress, when Chinese leader Xi Jinping is expected to secure an unprecedented third term.
The regime's Ministry of Public Security, which set up the "100-day operation" that began on June 25, touted the campaign's success during a
Sept. 27
press conference: More than 1.43 million people were arrested and 640,000 criminal cases were resolved.
However, many of the so-called suspects are simply ordinary Chinese citizens, including dissidents, activists, petitioners, Christians, and Falun Gong adherents.
Enemies of the People
The regime claims the operation was the "hard fists" needed to protect vulnerable groups, such, as women, minors, the elderly, and the disabled.

The Chinese language edition of The Epoch Times learned that police targeted many non-criminals, including people who dared to speak up in defense of citizens in need.

Lawyer Chen Jiahong has been missing since Sept. 24, when the police visited his home in Guangxi Province in southern China. 

Chen

was previously imprisoned on a charge of "inciting subversion of state power" for his vocal support of victims of the "

709 Crackdown

," a 2015 mass arrest of civil rights lawyers and rights activists.

Xiang Jinfeng, an outspoken rights activist from Fujian Province on China's southeastern coast, was detained by local police in Longyan City on Sept. 1 on an unknown charge. His family was told only that the detention would last a month, Xiang's brother told The Epoch Times.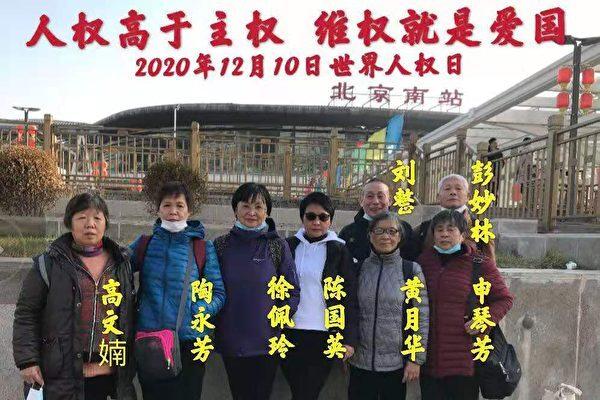 CCP's Societal Risk Factor: Petitioners
Petitioning the government in Beijing has become routine for many Chinese who believe their voices need to be heard by the authorities. However, they too have become targets of the latest operation.

Hu Jianguo, a Shanghai activist, once

said

, "By defending our rights, we are fighting for democracy and freedom, which is our greatest hope in life."

For two weeks, police have been stationed in his garage, watching him day and night, just to prevent him from going to Beijing to petition the government, he told The Epoch Times on Sept. 28.

Hu said that some other Shanghai petitioners such as Yang Yonglan, Gu Guoping, and Peng Miaolin and her daughter Peng Jun also are under 24-hour police surveillance.

"I told those communists that they are all embezzlers and thieves who keep money abroad and bully the people," he said. "For that, they sent a few more people [to my home], even a van was parked right outside watching us."

Since

2005

, the annual number of petitions in China has remained as high as 10 million, according to a 2013 book titled, "Petitions, Democracy, and the Rule of Law: China Topics," by City University of HK Press.

In fact, the total number of complaints about the regime's governance reached 10.24 million nationally in 2000, according to a

2005

research paper by Xiong Yihan, a political science researcher at Fudan University.
Zero-COVID Versus Zero-Petitioners
In
2021
alone, there were more than 3.8 million complaints specifically addressed to the state anti-corruption offices: the Central Commission for Discipline Inspection and the National Supervision Commission.
The regime claimed that corrupt officials at the grassroots level are the major cause of mass incidents.
To crack down on corruption, local officials initiated a "zero-petitioners" campaign.
Shanxi
 Province adopted the zero-petitioners initiative in 2020 as one of the main tasks of the provincial standing committee of the CCP. This year, the Education Bureau of Jiyuan, in 
Henan
 Province, also promoted the zero-petition initiative to ensure proper implementation of the zero-COVID policy.
Wu Shaoping, a human rights lawyer in the United States, said the CCP's harsh controls have created a state of tension and anxiety among the entire society. The pandemic is only an excuse to control people.
He believes the CCP is fully aware that "people's madness [anger] and protests may lead to the collapse of the regime."
In a
2009
interview with the Voice of America, human rights lawyer Jiang Tianyong said that many petitioners were finally "enlightened" through decades of petitioning.
"They realized it's not just the grass-roots officials who are corrupt, but the further they went on with their petitionings, the darker it would get."
Jiang, who also was arrested in the 709 Crackdown, has been under house arrest and 24-hour police watch since his release in 2019 after two years of imprisonment.
Haizhong Ning and Chang Chun contributed to this report.