NEW YORK—Fears of police harassment and arrests have plagued 23-year-old Zhang Minghui since she turned one. That's when Chinese police officers beat her father with wooden planks until his feet swelled and turned a dark purple color, and burned his arm with a lighter.
Before she was even 2, police locked her and her grandfather in an unofficial detention facility for a week. Provided with no food or water, they lived on whatever morsels could be stealthily brought to them by kind-hearted friends of her grandfather.
The detention in that dark room with only two small windows made up part of the fragmented memories of her childhood. When she was little, she had wondered whether it was all a bad dream.
If only it had been. Three months after she fled China for the United States in 2019, police again arrested her father and later sentenced him to four years in prison. Zhang's 11-member family, like millions of Chinese households, was targeted by authorities solely for being adherents of the spiritual practice Falun Gong, and striving to live by its three principles of truthfulness, compassion, and tolerance.
Zhang was among 2,000 Falun Gong practitioners who
participated in a parade
in New York City's Flushing neighborhood on April 23 marking 23 years since a historic appeal by adherents in Beijing on April 25, 1999.
The appeal was the
largest peaceful protest
in modern China after the
1989 student protests
in Tiananmen Square. And like the 1989 protests, it would precede a ferocious clampdown at the hands of the Chinese Communist Party, a regime that brooks no dissent.
Hostility
Falun Gong was wildly popular in China in the 1990s. By word of mouth, it drew a following of 70 million to 100 million over its health benefits and moral teachings. Zhang's parents had met at a Falun Gong event during this period, and later married. Chinese officials for years openly celebrated the practice's health benefits.
Those were years that Zhang never had a chance to experience, before the atheist regime made an abrupt U-turn.
In April 1999, in its first act of open hostility toward the faith group, officials in the northern Chinese city of Tianjin deployed police to beat and arrest dozens of adherents.
The city's authorities told the adherents they had to petition regime officials in Beijing to get the detainees released. As word spread, more than 10,000 practitioners from around the country eventually made their way to Beijing.
While Zhang was an infant at the time, others at remembrance events in Flushing and elsewhere were old enough to remember the appeal, with some having participated it. Fan Minghua, a 62-year-old living in Virginia, was one of them.
Standing Up for What's Right
In 1999, Fan was a merchant from Tianjin in her late 30s. Her participation in the April 25 appeal would have shocked the cutthroat businesswoman she was just a few years earlier.

In her hometown of Yangcun township, Fan was once known to be a "smart" person. She had sold everything from clothing to fish to coal, and made money off conning her neighbors. She lied about the length of the pants she sold, manipulated the scale to make her products appear heavier, and diluted sesame oil, a staple in Chinese cooking, with cheaper vegetable oil to profit from the difference.

"I thought nothing about morals at the time. Money was king," Fan, who participated in a similar remembrance event in Washington on April 23, told The Epoch Times.

Reading the books of Falun Gong in 1997, she said, brought about a "night and day shift" in her mindset. She stopped all her unscrupulous schemes after learning what it meant to be truly a good person. Sometimes, she gave away her products for free to customers who were struggling financially.
Standing on Fuyou Street near the Zhongnanhai compound—the Chinese Communist Party's headquarters in Beijing—Fan felt immensely proud of herself for being able to stand up for the values she believed in.
Her feeling was shared by Li Huilai, a Beijing local who was only a few years older. Li had slipped away from her house early that morning while her husband and son were still asleep. Like Fan, Li was driven to take a stand.
"If they can arrest people in Tianjin today, they can do the same to us tomorrow," Li, a 66-year-old New York City resident who participated in the Flushing parade, told The Epoch Times.
A Peaceful Appeal
On the tree-lined street, adherents quietly formed rows stretching for more than a mile, some doing the practice's meditative exercises or reading Falun Gong books they brought. Others, like Fan, picked up plastic bottles and other trash from the ground. Many recalled seeing cars slowly passing through the street, with people inside filming the appeal.

Fan recalled practitioners standing on the sidewalk and leaving ample room for pedestrians to pass by. The quietness of Falun Gong practitioners formed a stark contrast to the blaring police cars on the street. According to Fan, not a single practitioner made noise or behaved in a disorderly fashion.

"It was magnificent," she said.
By evening, all those who came for the appeal had left after learning that the detained Tianjin practitioners had regained their freedom and were assured of their right to practice freely without fear.
During events held at Tiananmen Square a few blocks away, flocks of janitors would normally be employed to clean up several tons of trash at the site, Li said. But after a day of demonstration by 10,000 people, not even cigarette butts from the police were seen on the ground, she added.
Passing a policeman who was recording from a camera, Li called his attention to her observation.
"Please take a look, where do you find such good people like this?" she said.
State Terror
Beijing's assurances to the appealing practitioners turned out to be the calm preceding a storm.

On July 20 that same year, a bloody suppression would descend, sparking terror across China. A few months later, Li was fired from her company for going to Beijing to appeal against the persecution; her husband was so fearful of state retaliation that he announced his intention to divorce her in a local newspaper, although he later withdrew the divorce application.

Fan, who was a volunteer organizer at a Falun Gong exercise site in her area, found herself a key target of the persecution from the outset.

In the wee hours of July 20, police scaled the wall around her house and arrested her. At a detention center, police forced her to watch propaganda videos and sign a document renouncing her faith.

Decades earlier, Fan had been shaken by a home-ransacking experience when she was still a child during the tumultuous

Cultural Revolution

, when the communist Red Guards—young zealots who violently enforced the radical doctrines of communist leader Mao Zedong—confiscated her family's valuables, including the door. Traumatized by such experiences of state-sponsored terror, Fan ended up caving in to the police.

She will never forget the moment she was coerced to renounce her faith, she said. "It felt like my entire body became paralyzed."
One Family's Toll
It was under such an atmosphere that Zhang grew up.

Ten of the 11 members of Zhang's family practice Falun Gong; they have lost count of the arrests, house raids, and incidents of police harassment they've suffered over the past two decades.

The very day the persecution campaign was unleashed, Zhang's grandmother Wang Zhen was taken away by police in a van in Weifang, in the central part of China's Shandong Province, and detained for roughly two weeks.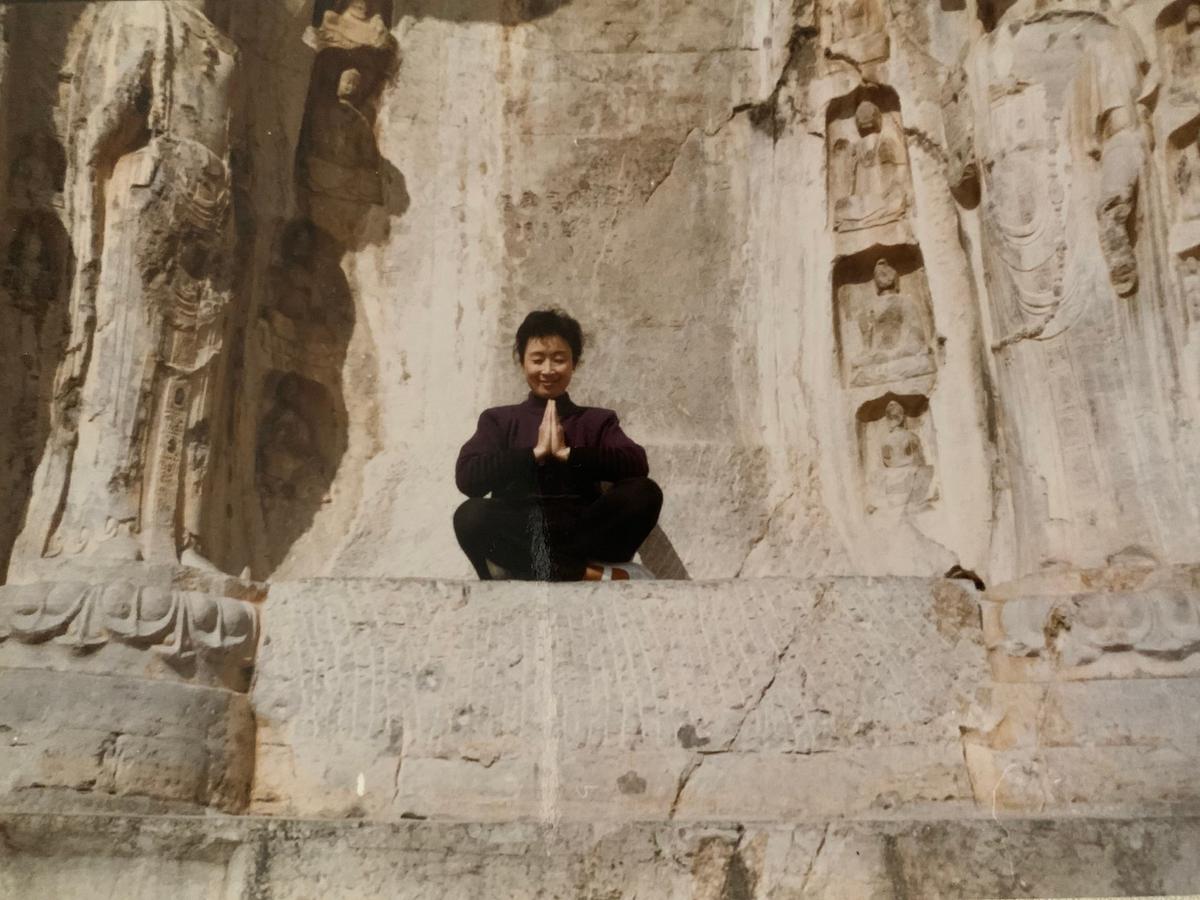 The same day, Zhang's father was in Beijing, making an appeal for Falun Gong. He was subjected to a brutal beating at the hands of police officers, who punched, kicked, and used wooden clubs and planks to assault him. The beatings left him bloodied, with blisters on his head and bruises all over his body, according to a 2017 account submitted by his wife to Minghui, a U.S.-based clearinghouse that collects first-hand information on the persecution from China.
While detained, her father's feet ended up swelling so much that he couldn't fit into his shoes. Blisters appeared on his arms where the police burned him with a lighter. It would be more than two months before the swelling disappeared.
During their family reunion for the 2000 Chinese New Year, Zhang's parents and grandparents were subjected to another round of arrests, one of many that would occur over the following two decades. As a result, Zhang was largely in her aunt's care.
That month of grueling torture caused Zhang's father to lose half of his weight—from more than 200 pounds to about 100. He was sentenced to three years in prison shortly after. Both of Zhang's grandmothers also received sentences of three years in prison.
The long-running persecution reduced the Zhangs from a well-to-do family to one struggling to get by. Each time the police visited, they took away all the cash and assets they could, including two vehicles with a collective value of 50,000 yuan ($7,622), about four times the dispensable annual income for Shandong residents at the time.
Persistence
Zhang, before coming to the United States, had hoped to reunite with her family here and begin a college degree in fine arts; however, the arrest and jailing of her father in 2019 got in the way.

"We have no desire to live an extravagant life, but even to live a most basic life is now difficult," she told The Epoch Times.

Authorities haven't allowed family visits to the prison since COVID-19 broke out. Since mid-December, relatives haven't been able to hold a single video call with Zhang's father, and they know little about how he is doing.

Despite being safe and free in America, Zhang is gripped by worry for her family in China. The psychological pressure, she said, almost feels "no different than being in a prison."

But looking back, Zhang believes her family's 22 years of persistence have been worth it.

"I wouldn't have been born if not because of Dafa," she said, referring to another name for the practice, Falun Dafa.

The question of whether to persist in their faith is a question many adherents in China have faced.

Li, who has a slight limp due to a fall from the fourth floor of a building while fleeing police, was repeatedly asked by her former coworkers, neighborhood committee officers, interrogators, and officials from her company to go through the formalities of renouncing her faith.
She said they told her, "You can have everything, your salary, your job—nothing will be affected if you just practice secretly at home."
While the proposition at times seemed alluring to Li, she had resolved to stick with her convictions. Even while detained for her beliefs, one thought stayed with her.
"Someone has to stand up for justice," she said.
Terri Wu contributed to this report.