On April 9, a residential neighborhood with an area of about 2 square miles in Beijing's densely populated Chaoyang district was declared a high-risk area, because in the past 14 days, there were eight confirmed local cases of COVID-19 infection, according to the deputy director of the Beijing Municipal Center for Disease Control and Prevention.
China's zero-COVID policy does not allow people in the high-risk area to leave their homes, while people in the surrounding areas are allowed to leave their homes but not the community, and they are not allowed to congregate.
The high-risk area, named Jiuxianqiao, consists of 10 residential communities, 4 lower schools (up to grade 6) and 4 upper schools (grade 7–12), 5 medical facilities ranging from general hospitals to clinics, and a variety of businesses.
An online video shows someone driving along what appears to be the main road in Jiuxianqiao area where the stores were all closed with official seals on the front. In his video, the driver kept saying "everything is closed, everything!"
On the Chinese social media app weibo, a netizen posted a picture of an electronic bulletin board in a Beijing neighborhood. The messages on the picture say, "do not enter or exit Beijing," "do not post anything related to COVID online," "the enemy's spies are right next to you, you could leak our secrets in an instant," and "wantonly speaking up will be severely punished."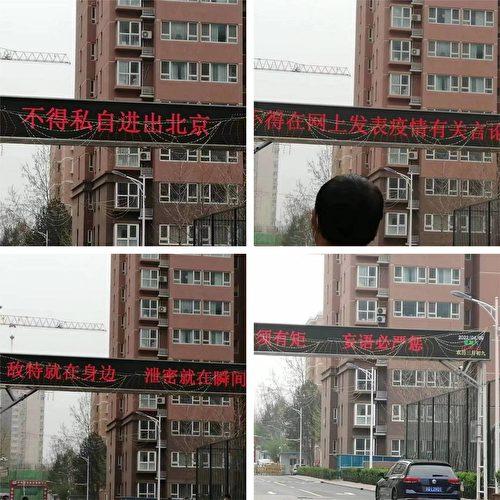 Mass Testing
Chaoyang district is a diplomatic and financial hub filled with upscale shopping centers and luxury apartments. The deputy head of Chaoyang district said that on April 8, 798,331 people in the district were tested, among which 398,000 people in high-risk areas were tested the third time. Those who were "close contacts" with the already identified positive cases have been quarantined, even though they tested negative. One person under quarantine tested positive on April 9.

According to a 2019 survey report by the Central Academy of Fine Arts, the population of Jiuxianqiao was 87,400 and it is more densely populated than the average in Chaoyang district. In addition, this number excludes the migrant population.
Imported Auto-Parts Tested Positive
According to a Chinese media report, during the April 9 press conference, the deputy director of the Beijing Municipal CDC also mentioned that some imported auto-parts had been PCR tested and they had tested positive, although he did not say from where they were imported. "We have started contact tracing of the infected auto-parts and will identify those and handle them according to different risk levels."
Roads Closed, Outskirts Affected
According to online postings, the highways to the south and east of Beijing are closed. No vehicles can enter Beijing via these highways.

Xianghe County is to the southeast of Beijing. A business owner in Xianghe county told The Epoch Times Chinese Edition that "even though not a single positive case has been found, the county has been under lockdown since March 13. Some factories are forced to close down."
On April 2, a logistics company at Xianghe county had a few trucks coming back from Shanghai. The county officials immediately put the logistics company, and the neighborhoods where the drivers live under strict surveillance.
On April 9, workers at a closed construction material market in Xianghe staged a protest demanding the re-opening of the market so they can work. In a video, the people can be heard shouting, "I want to work." But the local government has not responded. The Xianghe business owner told The Epoch Times, "we don't know how to pay our rent."
Li Jing and Gu Xiaohua contributed to this report