News Analysis
A bipartisan group of U.S. lawmakers met with Taiwan President Tsai Ing-Wen on April 15, a move that Beijing called "deliberately provocative." Furthermore, the Chinese regime carried out military drills and deployed frigates, bombers, and fighter planes in the air and sea space around the island nation.
"To abandon Taiwan would be to abandon democracy and freedom. … There's a backlash growing in the world to thuggery—to the bad guys," Sen. Lindsey Graham (R-S.C.) told Tsai during their meeting in Taipei.
Graham and five other lawmakers, including Sen. Bob Menendez (D-N.J.), chairman of the Senate Foreign Relations Committee, arrived in Taiwan on Friday aboard a U.S. Air Force aircraft and were greeted by Taiwan Foreign Minister Joseph Wu. The group met with Tsai on the same day and planned to meet with Taiwan's defense minister later in their visit.
Originally, House Speaker Nancy Pelosi (D-Calif.) was meant to visit Taiwan, but her trip was postponed after testing positive for COVID-19 earlier this month. The Chinese Communist Party (CCP) threatened that such a visit would be dangerous because it would undermine relations.
Graham told Tsai that the Ukraine crisis and the increasing threat to Taiwan are two issues that have rallied members of both U.S. political parties.
Tsai told the delegation that Russia's invasion of Ukraine "has proven that democracies must bolster their alliances and collectively we can defend ourselves from the threats posed by authoritarian nations."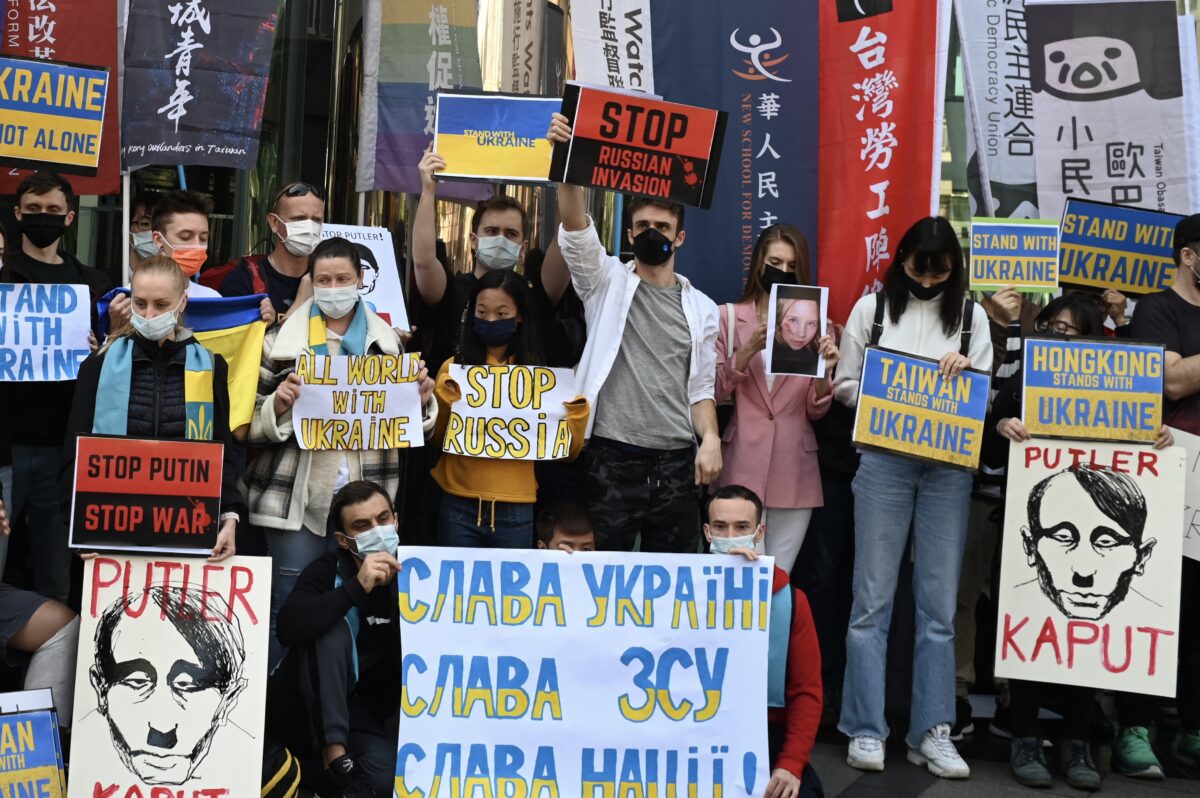 Interestingly, the CCP also invokes comparisons between Ukraine and Taiwan to further its agenda. The day before the U.S. delegation met with Tsai, Chinese Foreign Minister Wang Yi told his Vietnamese counterpart, Bui Thanh Son, that the Ukraine crisis was an opportunity for the two countries to band together and restore the peace undermined by the U.S. Indo-Pacific strategy.
Upholding democracy is only one reason why U.S. support for Taiwan is crucial. Aside from the fact that Taiwan is a sovereign, high-functioning democracy and a model of development that should be preserved, there are a number of strategic reasons for the United States to stand by Taiwan.
Menendez said that Taiwan's security has implications for the entire world. Allowing the world's leading chipmaker to fall into the hands of the CCP would cripple U.S. defense capabilities.
Additionally, Taiwan's location just 110 miles across the Taiwan Strait from mainland China makes the island nation crucial for the U.S. Pacific defense and China containment strategies.
Menendez collaborated with Sen. Marco Rubio (R-Fla.) to introduce the Taiwan Representative Office Act on Feb. 4, calling for the Taipei Economic and Cultural Representative Office (TECRO) in Washington to be renamed the "Taiwan Representative Office."
CCP Threats
On the same day as the U.S.-Taiwan meeting, CCP Foreign Ministry spokesperson Zhao Lijian said China firmly opposes official engagement between the United States and Taiwan. He followed this with an implied threat, stating that Beijing would take necessary actions to maintain its sovereignty and territorial integrity.
He confirmed that the Eastern Theater Command of the People's Liberation Army had conducted targeted training as well as a combat-readiness patrol in the waters and airspace around Taiwan.
According to Chinese state-run media Xinhua, Zhao cited an article by former Japanese Prime Minister Shinzo Abe comparing Taiwan to Ukraine. Abe called on the Americans to end their official stance of strategic ambiguity regarding Taiwan. He insisted that Washington clearly and concisely state whether it would or would not fight to defend the island nation.
Zhao responded to Abe's remarks, stating they were "outrageous and irresponsible" and that Abe was provoking a confrontation.
On Dec. 1, 2021, via video conference with Taipei, Abe linked Japan's fate to that of Taiwan's, saying that an invasion of the island would create an emergency for Tokyo. After the speech, Abe stated that Japan should participate in a trilateral security dialogue with Taiwan and the United States. This was something Japan had never been open to in the past, suggesting that the Japanese perceive an escalating threat from communist China.
Despite angering Beijing, U.S. support for Taiwan is undeterred by CCP threats. Graham warned China in a message he delivered to the Taiwanese people during the visit to Taipei.
"Here is my promise to you and the Taiwanese people: We are going to start making China pay a greater price for what they are doing all over the world."
Views expressed in this article are the opinions of the author and do not necessarily reflect the views of The Epoch Times.