China Ranks Second to Mexico in Cesarean Births
September 23, 2010 6:50 pm Last Updated: October 1, 2015 6:58 pm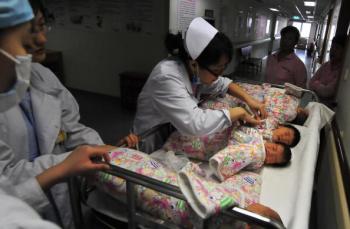 Cesarean birth rates have climbed in China during the last 20 years. A World Health Organization report shows that between October 2007 and May 2008, 46 percent of births in China were by Cesarean section. China ranked second in the world in Cesarean births, second only to Mexico. Chinese media have attributed the causes to profit, getting the child to school one year earlier, and a new generation's diminished tolerance to the pain of giving birth.
According to the Yangcheng Evening News, before 1980, C-section births only accounted for approximately five percent of all births in China. Currently, the rate is as high as 50 percent in some cities: in Beijing, Shanghai, Guangzhou, and Shenzhen, the rate hovers between 60 and 80 percent, far higher than the 15 percent recommended by the World Health Organization. At least 20 percent of the women choosing C-section deliveries are believed to be capable of giving birth vaginally.
Economic incentives have contributed to the increase in C-section births. As described by obstetrician Dr. Guo from Henan Province in an interview with the China Economics Weekly: "If all births were normal we would have no food on the table," Guo explained.
He added, "In our hospital, a normal birth costs 500 yuan, while a Cesarean section costs over 1,000 yuan. If all births were normal, we would only make 7,000 to 8,000 yuan. The money is split among the hospital, the obstetrics department and four staff members, so our income would be very limited… The government hasn't given us money for several years. We have to earn our own salary."
In comparison to a C-section, normal births take longer, require more care, make less money, and cause more disputes.
Liu Haiying, deputy director of the Medical Dispute Interceding Center in Beijing told the China Economics Weekly that the disputes are caused by multiple reasons. High expectations from new mothers is one of them: most women have received much care and love from family members at home, but when they are sent to hospital for delivery, as most of the doctors and nurses are working overload and under pressure, the new mothers may not receive the same level of care, and they often feel being mistreated.

Continued on the next page…