A top U.S. intelligence official recently confirmed that the Chinese regime is seeking to develop "super soldiers" through the use of biotechnology, which research papers published by China's military show that the regime has been researching for years.
Director of National Intelligence (DNI) John Ratcliffe wrote in an op-ed, titled "China is National Security Threat No. 1" and published in The Wall Street Journal on Dec. 3, that U.S. intelligence has ascertained China has "conducted human testing on members of the People's Liberation Army in hope of developing soldiers with biologically enhanced capabilities." The People's Liberation Army is the official name of China's military.
"There are no ethical boundaries to Beijing's pursuit of power," Ratcliffe added.
As early as 2010, Guo Jiwei, a professor at China's Third Military Medical University, highlighted the importance of biology in future warfare in his book, "War for Biological Dominance."
"If it becomes reality that military biotechnology can be used to improve and enhance human capabilities, then soldiers' physical and intelligent deficiencies can be overcome and they will become 'all-round fighters,'" Guo wrote.
PLA Maj. Gen. He Fuchu, who also is vice president of the state-run Academy of Military Sciences, said in a 2017 article: "The trend of the biological military revolution may be going from the power of intelligence to the power of brain control and the power to control life."
In particular, defense experts have warned about the CCP's biological experiments with gene-editing to enhance its troops' combat capabilities.
In 2016, a doctoral dissertation published by a PLA researcher at the Academy of Military Medical Sciences gained prominence for characterizing CRISPR-Cas gene-editing technology as one of "three primary technologies that might boost troops' combat effectiveness."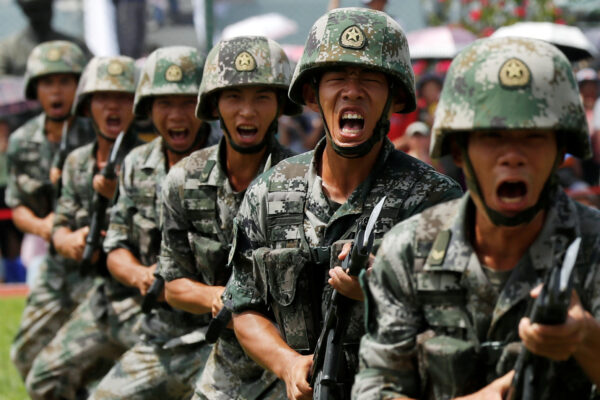 And during an Atlantic Council panel on gene editing in September 2016, Dr. Pierre Noel, then a nonresident fellow at the Council's Brent Scowcroft Center on International Security, said the technology could create a military threat.
"It's possible that in the future, as the technology becomes more sophisticated, countries may be able to implement gene-editing technology to design … super soldiers … with great muscle force and strength."
Elsa Kania, an expert on Chinese defense technology at the think tank Center for a New American Security, and Wilson VornDick, a consultant and former U.S. Navy officer, also warned that the PLA was using a combination of biotech and artificial intelligence to develop "CRISPR-related advances in therapeutics or enhancement."
They wrote in an August 2019 article for U.S. military news site Defense One that such research was part of China's national strategy of military-civil fusion, through which private-sector innovations are leveraged to help advance PLA technological developments.
One of those private companies is Beijing Genomics (BGI), which has collaborated with the PLA's National University of Defense Technology, according to Kania and VornDick's research. BGI also has partnerships with U.S. research institutions on human genome sequencing—which has drawn scrutiny from some lawmakers.
CRISPR technology drew widespread controversy in 2018, when Chinese scientist He Jiankui announced that he had edited the embryonic genes of twin girls, making them immune to HIV (human immunodeficiency virus). It raised concerns about the ethics of gene-editing experiments.
Lin Yan contributed to this report.