Turkish media outlets have published portions of the purported audio recording of Saudi journalist Jamal Khashoggi's murder.
Killers of the 59-year-old Washington Post columnist are allegedly heard on the recording, which was published on Nov. 20 by the Hurriyet Daily News, telling Khashoggi that he will "be held to account" and calling him a traitor.
The audio is said to contain conversations between members of the so-called hit squad, talking about one of them wearing the slain journalist's clothing to act as a decoy after his murder.
Footage of Khashoggi entering the Saudi Arabian Consulate building in Istanbul, Turkey, on Oct. 2 to obtain paperwork for his upcoming marriage to his Turkish fiancée is the last known visual record of the journalist alive.
Turkish officials have said that the audio recording is evidence that Khashoggi was strangled to death and dismembered inside the consulate.
The recording reportedly reveals that the journalist resisted his attackers. "Release my arm! What do you think you are doing?," Khashoggi said shortly after entering the building, according to Hurriyet Daily News. This is reportedly followed by "a verbal quarrel, noises of a physical fight, and then beating and torture."
A male voice can allegedly be heard later saying, "It is spooky to wear the clothes of a man whom we killed 20 minutes ago."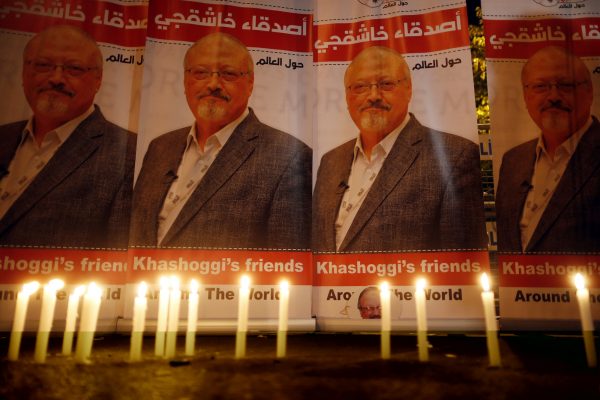 The Saudi Account
Saudi Arabia has offered varying accounts of what happened.
Initially, Saudi officials said Khashoggi left the consulate, and later claimed that he was killed when an argument degenerated into a fistfight.
Most recently, the kingdom's top prosecutor Saud al-Mojeb said a 15-member team went to Istanbul to coerce Khashoggi into returning to Saudi Arabia, but instead killed him in a rogue operation.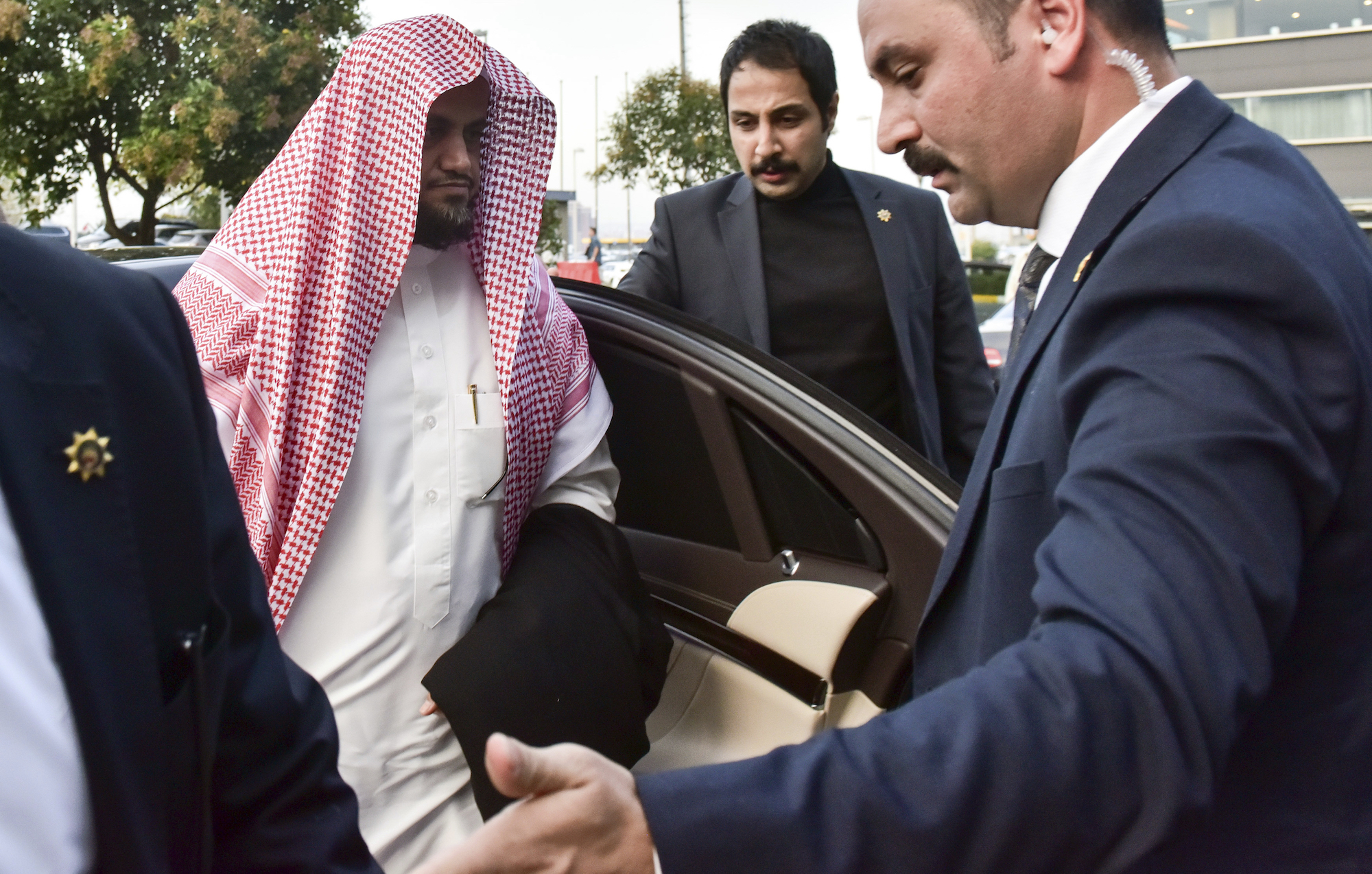 The spokesman for al-Mojeb's office, Shalan al-Shalan, told a rare press conference in Riyadh on Thursday, Nov. 15, that Khashoggi was killed inside the consulate and his body was dismembered and handed over to an unidentified "local collaborator" for disposal.
The body has not been found.
According to al-Shalan, Saudi Arabia's Crown Prince Mohammed bin Salman knew nothing of the operation.
Prosecutors said the highest-level official incriminated in connection with the killing is former deputy intelligence chief Ahmed al-Assiri, who has since been fired.
Al-Assiri deemed Khashoggi a threat because of his work as a writer and because he was allegedly backed by groups and countries that are hostile to Saudi Arabia, Saudi prosecutors said.
Without identifying them, al-Shalan said the Saudi prosecutor had requested the death penalty for five individuals "charged with ordering and committing the crime, and for the appropriate sentences for the other indicted individuals."
He said 11 of the 21 suspects have been indicted and will be referred to court, while investigations of the remaining suspects will continue.
The US Response
Hours after Riyadh's announcement, U.S. Secretary of State Mike Pompeo announced sanctions against 17 Saudi officials allegedly involved in the killing.
"At the time of Khashoggi's killing, these individuals occupied positions in the royal court and several ministries and offices of the government of Saudi Arabia," Pompeo said in a statement. "Our action today is an important step in responding to Khashoggi's killing."
President Donald Trump said on Nov. 17 that his administration will get a report in the next two days about Khashoggi's death.
"We'll be having a very full report over the next two days, probably Monday or Tuesday," Trump said Saturday. That will include "who did it," he said. Publication of the report is expected on Nov. 20.
Trump said that when it came to allegations that Prince Mohammad may have been directly involved, "as of this moment we were told that he did not play a role. We're going to have to find out what they have to say."
The president also said that Prince Mohammed has denied to him perhaps five times any role in Khashoggi's killing, and the investigators may never know whether he was involved in the murder.
"Well, will anybody really know? All right, will anybody really know?" Trump responded when Fox News anchor Chris Wallace asked during a "Fox News Sunday" interview that was taped Nov. 16 whether the prince's denials might be lies.
"The United States government is determined to hold all those responsible for the killing of Jamal Khashoggi accountable," the State Department said in a statement on Saturday. "Recent reports indicating that the U.S. government has made a final conclusion are inaccurate. There remain numerous unanswered questions with respect to the murder of Mr. Khashoggi. The State Department will continue to seek all relevant facts."
The statement made reference to recent reports, which cited anonymous sources, that the CIA had concluded that Prince Mohammed ordered Khashoggi's murder.
The CIA has not commented on the allegations.
U.S. national security adviser John Bolton said earlier he didn't think the tape implicated the crown prince.
"That is not the conclusion that the people who have heard it have come to," Bolton said. "I have not listened to the tape myself, but in the assessment of those who have listened to it, it does not, in any way, link the crown prince to the killing."
Reuters, The Associated Press Epoch Times reporter Ivan Pentchoukov contributed to this report.