Nine Primary School Students Slaughtered On Their Way to School
March 25, 2010 3:42 pm Last Updated: October 1, 2015 8:31 pm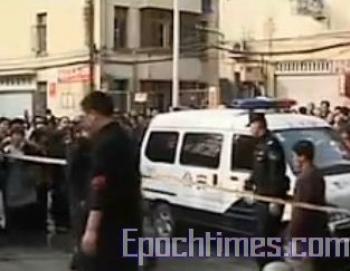 At 7:24 a.m. on March 23, a man randomly stabbed a group of primary school students as they waited to enter their school. So far, nine of them have died with four others injured.
The students were in the first to fourth grades, with most of them being first graders.
Three of the students died at the crime scene and ten of them were rushed to the Nanping Chinese Medicine Hospital and the City Hospital. Six of them subsequently died in the hospital.
The police arrested the suspect at the scene and launched an investigation.
The Nanping Experimental Primary School suspended classes for the day.
Ten-Inch Knife Used On Children
Physical education teacher Gan Guiping was at the scene when it happened. Gan told the Epoch Times that the students were waiting to enter the school when the suspect pulled out a 10-inch long knife and started stabbing the students. Gan saw one of the stabbed students stand up from the ground and then fall down again. A mother who took her child to school witnessed her child being stabbed to death right in front of her. The entire incident took place in less than a minute.
After the suspect was done with the students, he headed toward a crowded place to continue killing. He yelled, "They would not let me live and drove me crazy. I won't let anyone live either."
As soon as Gan recovered from shock, he picked up a mop and knocked the knife away from the suspect. Four people in the crowd then subdued the suspect and turned him over to the police.
A sixth grader, waiting at the school's entrance for the gate to open, witnessed the incident: "That guy first grabbed a student and stabbed him or her twice. Before I realized what had happened, he grabbed another girl and stabbed her several times. All the stabbings were in the chest and abdomen. The blood spurted out. Several students and I ran to a private house and hid there."
The Epoch Times's reporter called the Nanping Experimental Primary School Police Station and was told that the case was transferred to the criminal team of the Nanping City Public Safety Bureau. When the reporter called the Bureau, the operator hung up the phone after talking to the supervisor.
According to the local police, the suspect, Zheng Mingsheng, male, 40 years old, was single and used to work in a local clinic. Zheng quit his job in June 2009. His motivations for the killings, according to what the suspect told the police, were that people around him despised him for having a certain disease, his girl friend refused to marry him, and he could not find a new job.