Video footage posted by a school in Lexington, Kentucky, shows staff members dragging an autistic child through the facility. The boy's mother, however, accused the school of abusing the boy, claiming he had cuts and bruises.
Jo Grayson said that her autistic 11-year-old son, Thatcher, is mostly non-verbal, epileptic, celiac, and has hypermobility, Lex18 reported.
"My son was having a meltdown. He refused to get up off the gym floor, and a teacher and a school nurse dragged him down a hallway until they could get him to the resource classroom," Grayson told the station. "The teacher had messaged me that they had to pick him off of the gym floor earlier in the day. But she did not say that he was dragged down the hallway," added Grayson.
Grayson said that the video that was provided to her (seen above) appears the boy with his service dog being picked up and dragged down a hallway after refusing to get up. Later, she said that he suffered bruises and cuts.
The Fayette County School System said that an investigation is underway.
Grayson told WSAZ that she felt the response wasn't necessary: "It's just made me more mad. How could somebody who works with a person with disabilities lose their cool like that and just be, you know, not thinking about how this is going to not only physically hurt a child but psychologically hurt them as well?"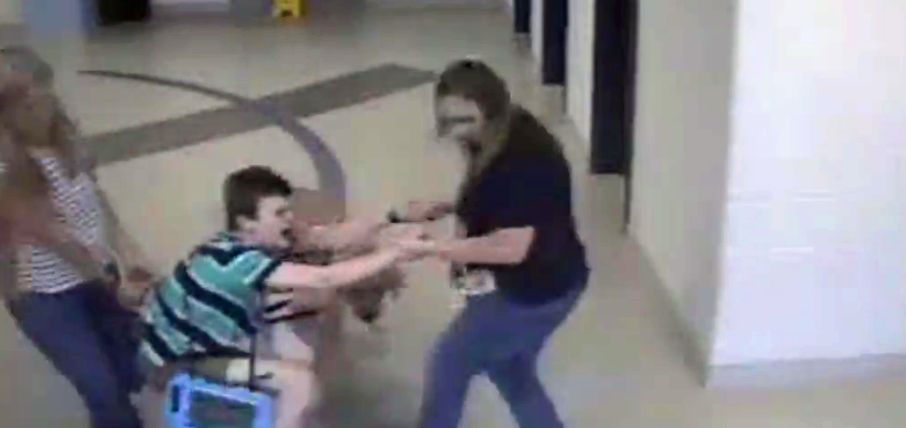 "We are committed to ensuring the safety and well-being of our students and take any and all reports of this nature seriously. While we cannot discuss individual personnel matters, we can say that in a situation involving these types of allegations, we would make a report to the cabinet for health and family services and place the employee involved on administrative leave until the investigation is complete," the school said in a statement.
The Lexington-Fayette County Health Department told the outlet that a nurse involved in the incident was placed on administrative leave.
"A school health nurse has been placed on paid administrative leave pending the investigation. We continue to work with Fayette County Public Schools to investigate the matter. We cannot comment further at this time," the agency said.
Difficulty in the Classroom
Some experts have said that some children with autism have a difficult time in the classroom.
"Autism isn't like diabetes," psychologist Kathleen Platzman told WebMD. "With diabetes, we have two or three things that we absolutely know about every kid who has it. But since it's not that way with autism, we need an educational model wide enough to take in the whole spectrum. That means it's going to have to be a fairly broad model."
Platzman, who works with autistic children in Atlanta, said that every autistic child needs individual attention.
Platzman said that parents with autistic kids shouldn't hesitate to change schools if it's not working out.