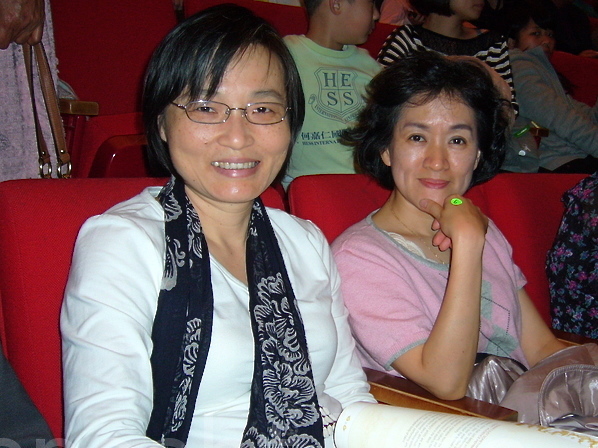 TAIPEI, Taiwan—On the evening of March 23, Ms. Chang Shu-Jen, chief editor of Cite Publishing Group, the largest publishing group in Taiwan, saw Shen Yun at the Sun Yat-Sen Memorial Hall with a friend. "I was watching the performance intently and I felt very strong energy!" Ms. Chang said.
"The artists danced so well and were so nimble," she added.
Ms. Chang was especially impressed by the piece Joyful Little Monks in which "apprentice monks gather to tidy up the temple with brooms, basins, and washcloths. Eager to do well, they put their hearts into their work—with fun and humorous results," states the program booklet.
She said, "Not only did the dance itself expressed strength and beauty, but it was also fun. The story is part of traditional Chinese culture and resonated with me."
Ms. Chang was also impressed with Shen Yun's high-tech, animated backdrops. "The scenes on the backdrop blend in with the artists and the stories. It's not an easy thing to do, synchronizing with the artists' movements. It's a wonderful combination of digital technology and real people; very refreshing!"
Ms. Chang's friend Huang Tsuei-Hwa said she adored the Shen Yun Orchestra which combines classical Western and traditional Chinese instruments to produce a unique sound. "It's top class! It's traditional Chinese music but it is not old," Ms. Huang said.
Ms. Chang concluded by saying: "Shen Yun's performance includes dances from different ethnic minorities in China," and she said she also enjoyed the tenors and soprano who use the bel canto technique to perform piano-accompanied solos. "The songs mention the divine. It surpasses religion and does not give me the feeling of religion. It's such a unique and incredible art feast."
Reporting by Li Da-Wei and Lin Hsin-Yi.
Shen Yun Performing Arts, based in New York, tours the world on a mission to revive traditional Chinese culture. Shen Yun Performing Arts New York Company will perform in seven cities in Taiwan until April 8 and then continue to top venues in Australia and New Zealand.
For more information visit ShenYunPerformingArts.org
Read original Chinese article