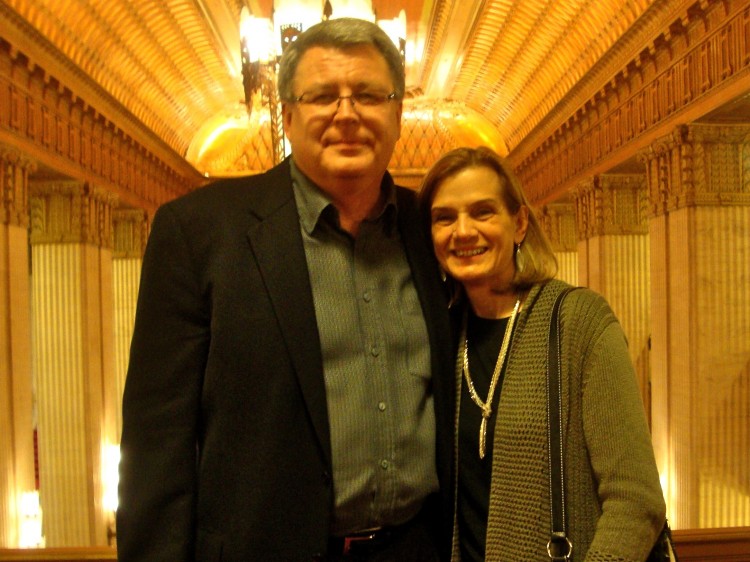 CHICAGO—The financial industry seemed out in full force to catch Shen Yun Performing Arts International company as they made their first appearance this year at the Civic Opera House.
"Beautiful, so understated, I don't even have the words for it," said Cynthia Klein.
Shen Yun is noted for the ethereal beauty of its dances, costumes and backdrops, all aiming to give audiences an experience of pure beauty and grace.
Ms. Klein, Vice President Business Banker for the Bank of America and Wendell Bowman, Vice President of Internal Audit at First American Bank enjoyed the performance Thursday, April 19.
"My sister gave us the tickets, as a gift," Ms. Klein explained.
Both Ms. Klein and Mr. Bowman agreed that the phrase "Very pleasant" described the evening, because both were enchanted with the performance's soothing aspect.
Yet, whereas Ms. Klein most enjoyed the gentle dance Lotus Leaves, Mr. Bowman enjoyed the vigor of the opening segment with drums titled An Era Begins.
The program describes Lotus Leaves with the following: "Behind the leaf of every lily pad lies a blossom waiting to bloom. Delicate yet playful, these lotus maidens are at their ease when dancing atop the waters, The dancers' unique full-circle fans sway like lily pads in the wind, evoking scenes of a flowering lotus garden in the summertime."
"I liked the opening with the drums. Everything is so well choreographed and its done so well, but I really liked that [one], I don't know why," he said.
Both agreed that the show gave them a wonderful way to relax, enjoy and take in the music and the dance and the culture.
'It shows a different culture'
Malko Odisho also attended the opening night performance of Shen Yun. Mr. Odisho owns Chicagoland Property Investments.
"This is the first time I could see something like this. It shows a different culture. I enjoyed it a lot. I came here with my sister, she invited me, and I really enjoyed it," he said.
Mr. Odisho appreciates old cultures because he is Assyrian, another culture that can boast of an ancient legacy. Shen Yun, gave him a new appreciation of Chinese culture.
Reporting by Stacey Tang and Sharon Kilarski.
Shen Yun Performing Arts, based in New York, has three touring companies that perform simultaneously around the world, with a mission to revive traditional Chinese culture. Shen Yun Performing Arts International Company will perform in Chicago through April 22.
For more information visit ShenYunPerformingArts.org