Chicago Mayor Lori Lightfoot said that she hopes Walmart and other retailers won't abandon Chicago after nights of looting and vandalism during protests triggered by the death of George Floyd.
Lightfoot told reporters that she was on a conference call with major retailers including Walmart, which had their stores looted or damaged by unrest in Chicago, pleading with them not to abandon the city.
"I think in the case of Walmart, what they were focused on was assessing the damage. They are doing an effort to donate fresh produce, to the extent of what's left so it doesn't perish, and other perishables, and they are talking their time, as I would expect," she said.
Some Walmart officials said they would rebuild stores that were damaged by looters but later said that only some stores would be opened.
"My hope is that they will come back," Lightfoot said. "But I got a resounding, 'Mayor, this is our city, this is our home,' from a lot of other retailers and I would hope that Walmart would follow suit."
In a statement to Crain's Chicago Business, the Arkansas-based retail giant said it wouldn't commit to reopening all stores in Chicago.
"We're working to assess the situation with each location and are planning to reopen stores as soon as possible, recognizing the important role we play in so many impacted communities in providing for everyday needs," a Walmart representative said in a statement.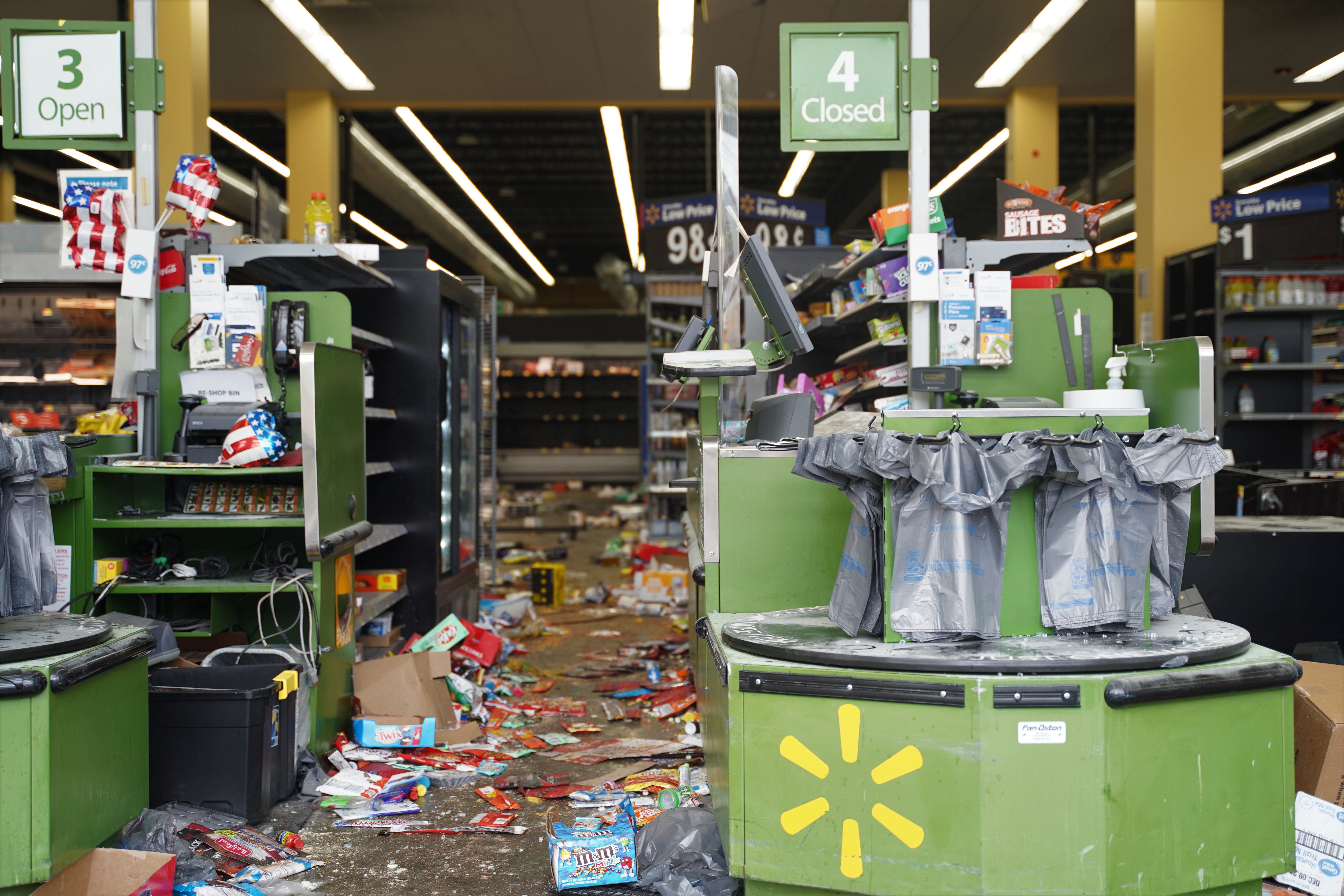 A local official, Ald. Howard Brookins Jr., said he's concerned that a Walmart on 83rd Street and Stewart Ave. won't reopen due to the damages incurred during looting.
"It's a much-needed resource and invaluable store for our community," he said. He noted that the Walmart managers there already complained about losing money at the location.
Brookins told the Chicago Sun-Times earlier this week that during riots and looting, 95 percent of stores that sell merchandise in his ward were hit.
"I get the protest. I get the anger. I don't get the looting and tearing up your own community. I don't condone it. I don't think it's right," he said.
Floyd's death in May has become the latest flashpoint for rage, propelling the issue to the top of the political agenda five months before the U.S. presidential election on Nov. 3.
Derek Chauvin, 44, was fired from the Minneapolis police force and charged with second-degree murder after being filmed in a widely circulated video kneeling on Floyd's neck.
Reuters contributed to this report.