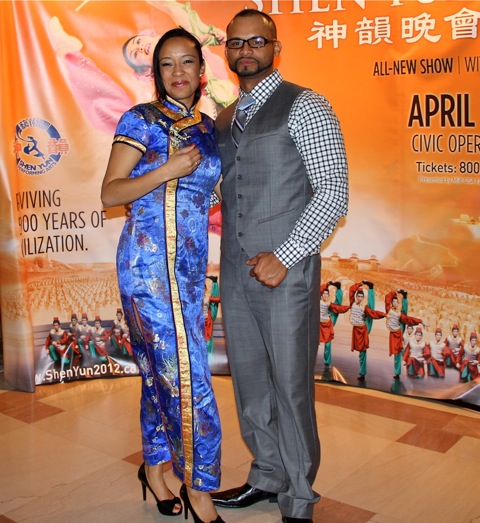 CHICAGO—Luis Cubas works as a plasterer in Chicago, an art form in the deco city that keeps him busy.
The Chicago artisan saw Shen Yun Performing Arts at the Civic Opera House on Friday April 20, saying he had had a hard week and Shen Yun was making him feel so relaxed.
"It just takes it to a whole different level," he said of Shen Yun, a company based in New York. "It is relaxing; the culture, I love it, they are just at peace all the time."
Mr. Cubas has worked on many of the iconic buildings in Chicago, most of which were built in the early 1900s when molded ceilings, ornate cornices and plaster roses centered around light fittings, were in much demand.
Just as those buildings, with their intricate interior details, transport the observer to different worlds, so Shen Yun, did for Mr. Cubas.
"I am sitting there and I am floating in the air, he said, noting the dancers, "the way they move."
A Shen Yun performance takes the audience on a journey through China's 5,000-year culture, "from the Himalayas to tropical lake-filled regions; from the legends of the culture's creation over 5,000 years ago through to the story of Falun Dafa in China today; from the highest heavens down to the dusty plateaus of the Middle Kingdom," the Shen Yun website says.
Mr. Cubas's wife, Monique Hardin, said she had never been to China, but after seeing Shen Yun she felt as if she had been there.
"It takes you, it transports you to a different place and a different time," she said. "You can really see the tradition behind it and they make sure they are true to the tradition. It's just beautiful."
Ms. Hardin, a school teacher, said Shen Yun was "a perfect combination" of art forms.
"It just works perfectly with the visual effects, the backdrops … the costumes, the performance—it is wonderful," she said.
The couple both agreed that Shen Yun was a "must see," with Ms. Hardin adding, "It is something we want to bring our daughter to when she is old enough and make it a tradition. It's great."
Shen Yun Performing Arts, based in New York, has three touring companies that perform simultaneously around the world, with a mission to revive traditional Chinese culture. Shen Yun Performing Arts International Company will perform in Chicago at the Civic Opera House through April 22.
For more information visit ShenYunPerformingArts.org