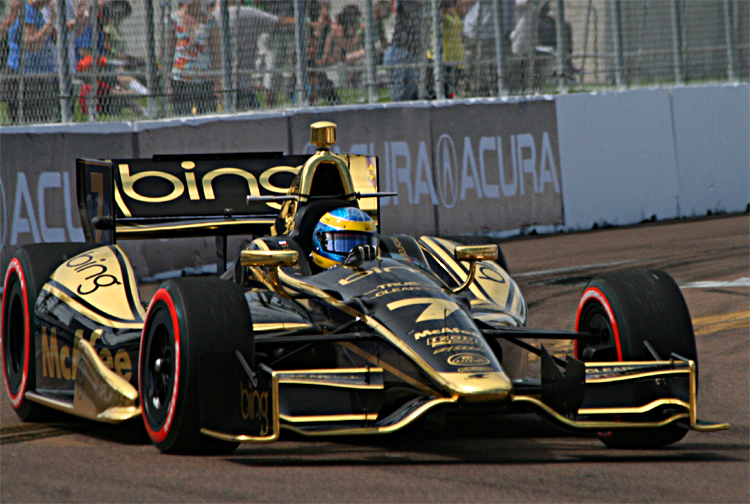 Chevrolet, one of three suppliers of engines to IndyCar teams, is ordering all 11 of its teams to change engines before Sunday's Toyota Grand Prix of Long Beach, despite the fact that all the teams will lose ten grid positions for the engine swap.
Chevrolet IndyCar program manager Chris Berube told espn.com that a potential problem was found during testing at Californian's Sonoma circuit on Monday, and that all Chevrolet-powered teams needed new powerplants.
When Chevrolet, Honda, and Lotus agreed to supply motors for IndyCar, they looked at the past to learn what mistakes not to make again. The biggest fear was that "spending wars" would erupt, where different manufacturers tried to build ever better engines, spending millions on exotic alloys, constant redesigns, and endless testing. Spending wars have often driven manufacturers out of racing, because the cost of being competitive grew to outweigh any promotional value.
The three IndyCar engine suppliers agreed on rules to prevent spending wars, the most important being that if teams changed engines before a specific number of miles (1850 per engine,) the team would sustain a ten-grid-spot penalty for that car. Engines blown during a race can be changed with no penalty.
The idea was that manufacturers wouldn't build "qualifying" engines with huge output and low endurance, or do endless miles of testing and then swap in a fresh, redesigned engine for a race.
The rule was already getting a lot of scrutiny from because Sébastian Bourdais had to give up ten spots for changing his Lotus engine after the last race, and James Hinchcliffe had to change his Chevrolet engine after testing at Sonoma. After Chevy's problems, the rule might be modified. However, its seems unlikely the rule will be dropped altogether.
The rule came into being at the behest of, and with full agreement from the engine manufacturers. It was not imposed by IndyCar. Chevy, Honda, and Lotus knew that to make IndyCar pay off, they'd need to limit spending.
It seems likely that Honda and Lotus might want to keep the rule as is. Chevy-powered cars won both poles and both races so far, and the Chevy engine was rumored to be the most powerful. Now Chevrolet is paying the price for building a more powerful, possibly less durable engine. Honda and Lotus are being rewarded for designing and building more conservatively.