Chevrolet Brings Back A Performance Sedan
April 7, 2013 11:29 pm Last Updated: April 7, 2013 11:29 pm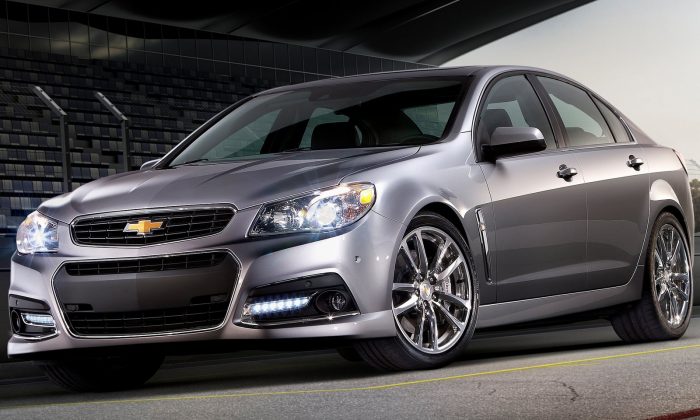 It has been nearly two decades since Chevrolet offered a rear-drive performance sedan. In fact, it was in 1996 that the full-size Impala SS was lighting pavement fires with all of 260 hp. That was a lot in the late-90s. A new performance four-port will soon roam highways and raceways while packing considerably more heat. It may also shoot flames in the face of a few NASCAR drivers.
"The Chevrolet brand was largely built on the strength of rear-drive performance sedans, yet it's been 17 years since we've offered one," said Mark Reuss, president of General Motors North America. "The all-new Chevrolet SS fills that void and fills it better than any other vehicle in the brand's rich history. The comfort, convenience, spaciousness, and V8 power make the SS a total performance package unlike any other on the road today."
Reuss has a unique perspective, having spent considerable time with GM's Holden subsidiary in Australia. That's the same group, under Reuss, that developed the Pontiac G8 and an iconic car that shares its basic architecture-the Chevy Camaro. Another point of note is the Chevy Caprice PPV police vehicle that just entered service and rides on the same platform. Think of the new 2014 Chevy SS as a next-generation G8 with Camaro attitude.
Stoked with a 6.2-liter V8 from the 2013 Corvette, and actually bigger than the 5.5-liter V8 used in NASCAR, the SS will thump time clocks with 415 horsepower and 415 lb.-ft. of torque. The engine is mated exclusively to a six-speed automatic transmission with TAPshift paddles on the steering wheel in case drivers want to make their own selections. Chevrolet claims the car will run 0-60 mph in about five seconds, making it a pretty speedy sedan.
Real enthusiasts know performance is not just about power. Through the use of an aluminum hood and decklid that are 30 percent lighter than steel panels, engineers achieved a near 50/50 weight distribution. A MacPherson strut front and multilink independent rear suspension should keep 19-inch alloys firmly planted. Electronic power steering and four-piston Brembo disc brakes amplify the fun.
"Our goal was to create a car that delivers incredible grip and handling balance while cornering, while still being comfortable to drive on the road," continued David Leone, executive chief engineer GM global programs.
"The perfect weight balance and lower center of gravity were a big part of that goal because it enabled the team to tune for a more comfortable highway ride without sacrificing handling or driver confidence while cornering at the limits."
Chevrolet's most iconic performance sedans were some of the most beautiful cars ever created. The man ultimately responsible for the SS is the same guy who oversaw design for the C5 Corvette-John Cafaro.
"From every angle, the Chevrolet SS says power and performance," said John Cafaro design director for Chevrolet passenger cars and small crossovers. "The combination of an aggressive rear-wheel drive stance and body-side attitude, with the right balance of detail and refinement inside and out, are the perfect home for Chevrolet's V8 performance package."
Interiors are also impressive. Leather seating with thick side bolsters, SS emblem stitched into the soft-touch instrument panel, chrome accents, and ice blue ambient lighting are but a start. Performance drivers will appreciate a color heads-up display, push-button starting, and thick leather-wrapped steering wheel. Forward Collision Alert, Lane Departure Warning, Side Blind Zone Alert, and Rear-vision camera with Rear Cross Traffic Alert employ next-decade safety technology. That just ensures everybody will be around to enjoy the Bose nine-speaker audio system, Chevy MyLink infotainment, navigation, and a big colorful touchscreen. The SS is even capable of semi-autonomously parking itself.
When Danica Patrick became the first woman to take the pole for this year's Daytona 500, she did so from behind the wheel of a Chevrolet SS. With GM's performance brand, history continues to be made. Prices will be announced closer to the car's on-sale date during the fourth quarter of 2013, but I'd expect it begin around $40k.