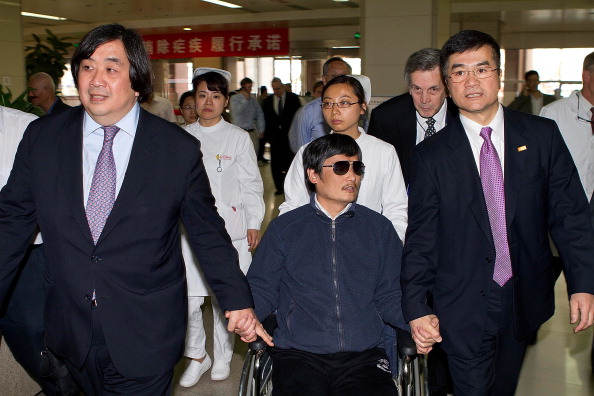 ---
Update: Chen Guangcheng Arrives in the United States, Issues Thanks
---
Blind activist lawyer Chen Guangcheng with his wife and two children have boarded a plane at Beijing Airport on the afternoon of May 19 and are on their way to New York. 
Prior to flying out Chen told The Epoch Times via phone that he left Chaoyang hospital just after midday and that hospital staff accompanied him and his family to the airport: "I'm at the airport now. It's our family of four. We have already received our passports," Chen said. "Now my mind is filled with thousands of thoughts. My folks back home all know about my departure. I've called my mother and family and bid farewell to them."
Human rights lawyer Jiang Tianyong told The Epoch Times that Chen had boarded a plane at 3:45 p.m. on May 19 and the flight took off at 5:10 p.m. Jiang said that the authorities gave Chen very short notice, and he left in a hurry, almost without any preparation, for the flight out of China. 
Prior to flying out Chen said he was very worried about his nephew Chen Kegui. "I hope friends can continue to pay attention to his condition. My family has been confined in the village," Chen said. 
The fate of his nephew hangs in the balance, as he was recently denied his choice of legal representation by local courts controlled by communist authorities. Chen Guangcheng's daring escape, plain-clothes police officers broke into the relatives' rural homeand beat members of Chen Kegui's family. On the second occasion they broke in, Chen Kegui attempted to defend his family from further assaults and attacked the intruders with kitchen knives. He now faces charges of "intentional homicide," though no one died.
A source told Radio Free Asia that a Party official visited Chen Guangcheng on May 16 and made an agreement with the activist about the fate of Chen Kegui, which will depend on how Chen behaves himself when he is in the United States. 
"If Chen breaks the agreement, Chen Kegui will get a heavy sentence … If Chen abides by the agreement, he will get a light sentence," the source said to RFA.
Chen Guangcheng's escape from house arrest last month and six days spent inside the American Embassy seeking safety brought world attention to human rights abuses in China.
A source told Hong Kong's Ming Pao that Chen's case is "very special" and has gone through special procedures to speed up processing. "Today is Saturday and journalists are all taking the day off. By the time they realize what has happened, Chen would have already left China," the source said.
According to the source, Chen was able to get a passport quickly because the authorities wanted him to leave before June 4, the anniversary of the 1989 Tiananmen Square massacre, "so it won't shake things up too much."
chinareports@epochtimes.com
The Epoch Times publishes in 35 countries and in 19 languages. Subscribe to our e-newsletter.
Click www.ept.ms/ccp-crisis to read about the most recent developments in the ongoing power struggle within the Chinese communist regime. In this special topic, we provide readers with the necessary context to understand the situation. Get the RSS feed. Get the new interactive Timeline of Events. Who are the Major Players?