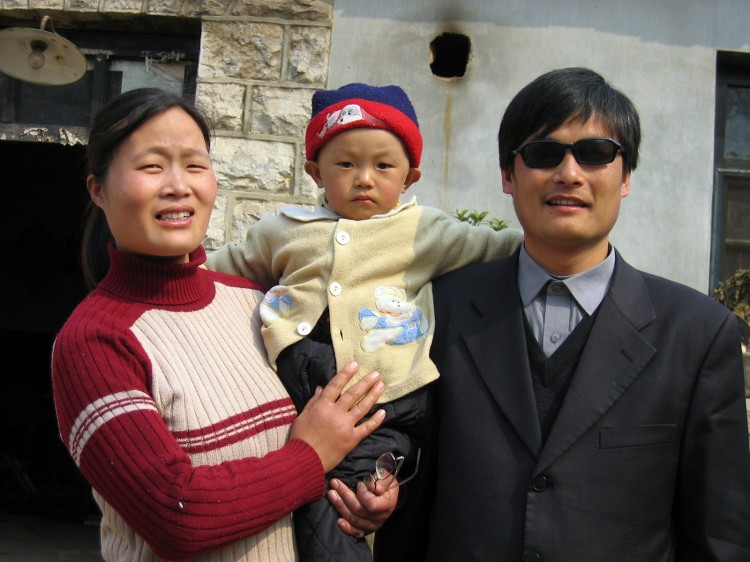 UPDATED 6:59pm UTC The Chinese Ministry of Foreign Affairs has stated that Chen Guangcheng can apply for a passport like "any other Chinese citizen," in response to a question by a journalist on May 4 about Chen wanting to study in the United States.
---
BREAKING: Chen's Lawyer Jiang Tianyong Captured, Beaten, and Put Under House Arrest
---
The statement was re-announced soon afterwards on May 4 by the United States Department of State, who added that "Mr. Chen has been offered a fellowship from an American university, where he can be accompanied by his wife and two children."
According to a statement by New York University on the afternoon of May 4, Chen has an invitation to be a visiting scholar at NYU in New York or elsewhere.
The State Department said that "the Chinese Government has indicated that it will accept Mr. Chen's applications for appropriate travel documents."
It added that it expects the Chinese side to expedite the application, so the U.S. can quickly dispense visas. "This matter has been handled in the spirit of a cooperative U.S.-China partnership," the statement said.
It is unclear whether this constitutes an agreement between Chinese authorities and the U.S. to allow Chen to travel. The initial statement was made by the Ministry of Foreign Affairs. However, the agency that is responsible for entry, exit, and passports is the Public Security Bureau. The Public Security Bureau is controlled by the Political and Legislative Affairs Committee (PLAC), the extralegal agency responsible for the persecution and abuse of Chen over the last seven years. The PLAC is headed by Politburo Standing Committee member Zhou Yongkang.
Public security organs wield broad and vaguely defined powers to reject passports and interfere with the travel arrangements of Chinese citizens. It is unclear whether the understanding between the State Department and Chinese authorities precludes such meddling in this case.
The summarized contents of a telephone call posted online yesterday by one of Chen's close friends, Guo Yushan, said that Chen had received an invitation to study there. NYU confirmed that Chen had received an invitation in an emailed statement by spokesman John Beckman.
Jerome Cohen, a professor of Chinese law at NYU, has for many years been an advocate and friend of Chen's, and played an important role in the recent negotiations surrounding Chen's fate.
Beckman would not address in a brief telephone discussion whether NYU's invitation was extended to Chen in the context of any agreement or understanding with the Chinese Ministry of Foreign Affairs or the U.S. State Department.
---
Click www.ept.ms/ccp-crisis to read about the most recent developments in the ongoing power struggle within the Chinese communist regime. In this special topic, we provide readers with the necessary context to understand the situation. Get the RSS feed. Get the Timeline of Events. Who are the Major Players?

---