Clashes sparked by rival protests in the east German city of Chemnitz, in response to the slaying of a man allegedly by two immigrants, have left six people injured and officials sounding the alarm on "vigilante justice."
Right-wing demonstrators clashed with leftist counter-protesters on Aug. 27, following the arrest of an Iraqi and Syrian over the fatal knife attack on a German man.
The stabbing triggered a wave of protests that included opposing demonstrators throwing bottles and fireworks at each other, and police deploying water cannons to quell the violence.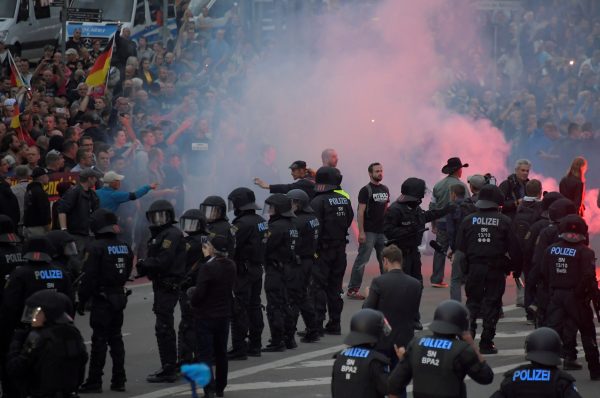 State officials appealed for calm amid reports of several revenge attacks.
"That was a horrible incident," said Chancellor Angela Merkel at a news conference in Berlin, decrying the killing.
She added, however, that citizens taking the law into their own hands is "something that has no place in a state under the rule of law."
The unrest reflects a schism in German society after Merkel's government allowed about 1 million asylum seekers to enter the country in 2015, triggering fears that mass migration would undercut social stability.
Street Festival Stabbing
Prosecutor Christine Muecke told reporters the slaying stemmed from a verbal altercation on the sidelines of a local street festival in the early-morning hours of Aug. 26. It is unclear what led to the dispute, which ended with a 35-year-old German man fatally wounded.
Two other German men, aged 33 and 38, suffered serious injuries in the stabbing, which reportedly involved about 10 attackers.
A 22-year-old Syrian citizen and a 21-year-old Iraqi citizen were arrested and are being held on suspicion of manslaughter. They are suspected of stabbing the victim multiple times "with no justifiable reason," prosecutors said on Aug. 27.
The victim has been identified as Daniel H., a carpenter, according to the BBC.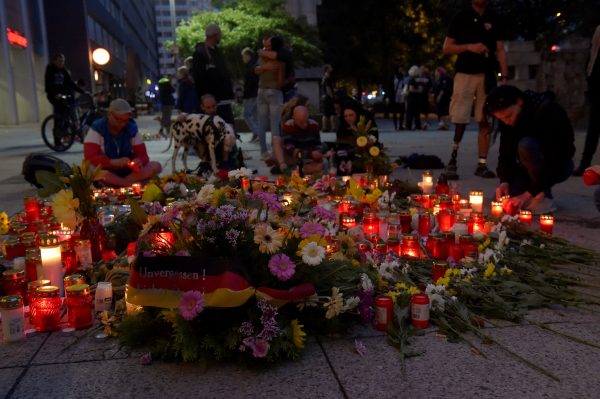 Protests in the Wake of the Slaying
An initial rally of about 100 people occurred without incident on Aug. 26, according to the news agency AFP. Tensions rose, however, when about 800 people gathered later in the day, following calls on social media for a more forceful response.
Among the protesters was a group of about 50 individuals "ready to commit violence," the BBC reported, citing police.
Tweeting about the clash, Alternative for Germany (AfD) politician Markus Frohnmaier said, "If the state is no longer to protect citizens, then people take to the streets and protect themselves. It's as simple as that!"
AfD, a right-wing party and the main opposition in Parliament, has been critical of Germany's wholesale acceptance of migrants who have made their way into the European Union illegally. Deutsche Welle, a German news service, reported that Frohnmaier's AfD colleagues criticized his tweet and gave assurances that the party opposes vigilante justice.
Police said they were investigating reports of assaults on an Afghan, a Syrian, and a Bulgarian on Sunday.
A larger protest occurred Aug. 27, with some holding anti-immigration placards with messages such as "Stop the asylum flood."
Left-wing counter-demonstrators gathered nearby, with volleys of projectiles from both sides resulting in injuries.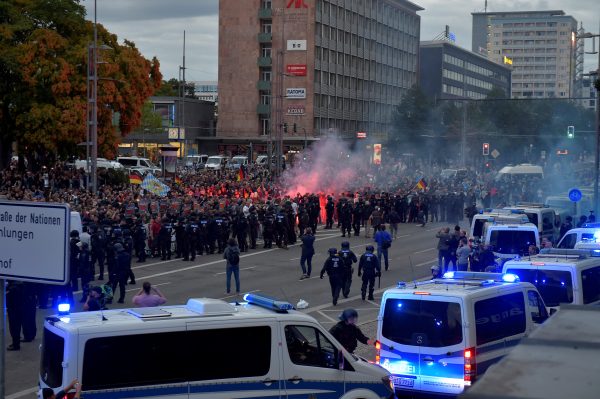 Meanwhile, the interior minister of Saxony, the province in which Chemnitz is located, appealed for calm.
"Now is the time to remain calm and level-headed," said Roland Woeller, adding that Chemnitz authorities "will not allow the perpetrators of violence and anarchists to run rampant on our streets, but we will enforce the rule of law."
The Risk of Mob Justice
The escalation of violence seemed to have caught police by surprise, as officials acknowledged that too few officers were mobilized for Monday's demonstration, the German news agency DPA reported.
Reinforcements have since been brought in to contain potential flare-ups, but the chairman of Germany's Federal Police Union (GdP) warned that cuts of about 16,000 police jobs in recent years have exacerbated the risk of mob violence.
"Any village brawl can turn into a hunt," said Oliver Malchow, according to the New Osnabrück newspaper, adding that if people lose confidence in the ability of the government to provide protection, "There is a danger that citizens will take the law into their own hands and resort to vigilante justice."
"For operational situations like in Chemnitz, several hundred colleagues would always have to be kept in reserve," Malchow told the paper, adding that, under the current circumstances "that's totally unrealistic."
The GdP demands the reinstatement of 20,000 law-enforcement jobs.
"The state has failed in the area of internal security because it has massively reduced staff," the GdP chairman said. "This problem cannot be solved quickly."
Reuters contributed to this report.