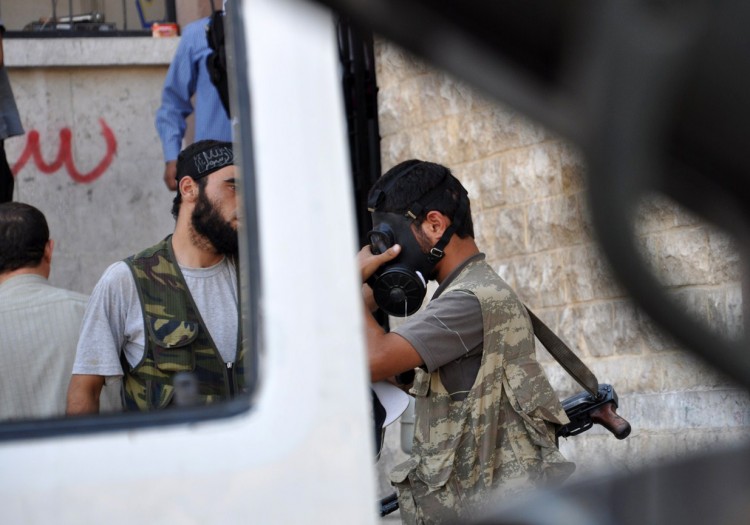 Opposition activists have posted several videos they say show Syria is currently using chemical weapons. For the past week, Western governments have expressed concern that the regime is covertly mixing chemicals used for nerve agents.
U.K. Foreign Secretary William Hague and U.S. President Barack Obama have both indicated that Syria would be crossing a line if it used chemical weapons and foreign intervention in the civil war may follow. 
Hague said at a security conference in Bahrain that the use of chemical weapons would mark a "major change" in the 20-month conflict that has killed tens of thousands, according to the BBC.
"The president of the United States warned of serious consequences and he means it," Hague told the BBC.
One video shows a fire caused by a Syrian tank, that opposition activists say could not be extinguished with water, reported Al-Arabiya News on Sunday. The tank released a toxic substance that bubbled, said the activists.
Rebels also posted a video of equipment they say is being used by Syrian soldiers as protection against chemical weapons.
The videos come after Hague told the BBC on Saturday that there is "enough evidence to know that they need a warning," referring to the Syrian government's apparent plans to use chemical weapons.
U.S. officials told Wired magazine last week that Syrian engineers have begun combining substances to make the nerve agent sarin gas. Syria is believed to have more than 500 metric tons of methylphosphonyl difluoride and isopropanol, which are used to create the gas.
"Physically, they've gotten to the point where the can load it up on a plane and drop it," one official said.
The chemical weapons are primarily concentrated in five air bases and are being monitored closely by foreign intelligence services, the BBC reported, citing Western military sources in the Persian Gulf region.
The Syrian government has said it has no plans to use chemical weapons, according to AFP. It said rebels are more likely to use chemical weapons. 
The rebels "may resort to using chemical weapons against the Syrian people … after having gained control of a toxic chlorine factory" said the Syrian Foreign Ministry, reported AFP. 
The Foreign Ministry likely was referring to the Syrian-Saudi Chemicals Company, located near Safira, which was captured by insurgents with the hard-line Islamist Al-Nusra Front.
The Epoch Times publishes in 35 countries and in 19 languages. Subscribe to our e-newsletter.