Chemical Plant Explosion in China Kills at Least Five
April 16, 2014 1:19 pm Last Updated: April 16, 2014 1:19 pm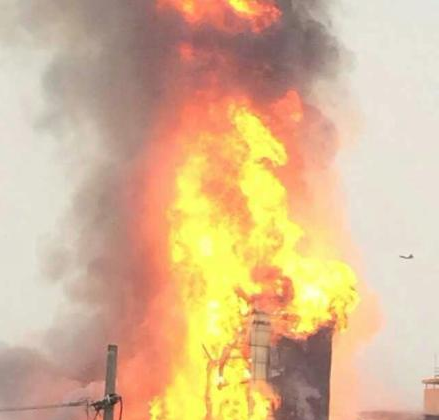 The explosion of a chemical plant and subsequent fire killed at least five people in the city of Rugao, in China's eastern Jiangsu Province, on April 16, according to official reports. 
Two loud explosions sounded at around 10 a.m., issuing from the machine shop of a chemical plant that produces stearic acid in Rugao City, according to the official local newspaper Jianghai Evening News. 
The fire was controlled at around 11 a.m, though rescue activities continue into the evening. At least 5 were found dead and 12 hospitalized, reports said. Three people were missing. The final death toll has not been made public.
"Bang! It was so loud. I thought it was a military exercise! And then I saw fire in the sky!" said a local resident who lives near the plant, in an interview with the U.S.-based Sound of Hope radio. "The doors and windows shook."  
Photos from China News, an official website, show heavy black smoke and large fires emanating from the plant, with part of the building collapsed. An irritating odor filled the air, the report said. Bodies were moved with a forklift.  
Reports said that 20 ambulances were dispatched; police are still investigating the cause of the explosion.
The burnt plant belongs a large private manufacturer in Rugao City, called Shuangma Chemical, which launched in 1997. It mainly produces stearic acid, glycerin, palm wax. 
Similar production safety accidents have been often reported in China's chemical factories in recent years. 
Last week, an explosion took place at a resin plant of Hengtong Chemical company in eastern China's Shandong Province. A chlorine gas leak took place there in 2011, poisoning 125 people.
On Dec. 29 last year, three people were killed in a chemical plant in Linxi City of Shandong Province, after several barrels of hydrogen peroxide exploded.