More than seven tons of toxic chemicals were spilled a port in southern China's Fujian Province on Nov. 4. Due to censorship of the news by communist authorities and neglect of the spill, local fishermen have sustained considerable financial losses and health problems due to the pollution.
News published by Chinese Communist Party (CCP)-controlled outlets, however, painted a quite different picture from villagers' accounts as described in interviews with the Chinese-language Epoch Times.
Official news media initially claimed that an undetermined amount of petroleum products had been leaked in the early morning of Nov. 4 due to a damaged hose between the dock and a tanker in the port district of Quangang, located in the municipality of Quanzhou in Fujian Province.
The Donggang Petrochemical Industry Co., Ltd. was unloading the materials, according to official reports.
The next day, however, the Quangang District Environmental Protection Bureau re-issued a notice with more details: the tanker had leaked 6.97 tonnes (7.68 tons) of C9 aromatic hydrocarbons, and cleanup had been "basically completed" by 6 p.m. on Nov. 4.
C9 aromatic hydrocarbon solvents are a skin, eye, and respiratory irritant that hamper breathing respiratory rates and damage the liver and kidney with prolonged exposure.
When The Epoch Times contacted local residents on Nov. 8, they said that the sea surface had apparently yet to be cleaned. The air was still filled with a nauseous stench and many people felt unwell.
Ms. Li, a villager from Xiaocuo Village, four or five kilometers (2.5-3 miles) away from the incident, told an Epoch Times reporter on Nov. 7: "My neighbor's daughter was foaming at her mouth and her eyes were rolled back. Her parents took the child to the hospital and spent more than 600 yuan ($86.5) for a checkup. When asked if she had been poisoned, the doctor dared not to reply. Many villagers went to Quangang Hospital because they had been vomiting; many had this symptom."
Villagers believe that the CCP authorities had censored the news. State-run media only mentioned one man who had fallen in the water and was sent to an intensive care unit for treatment.
Mr. Wang, another resident in Xiaocuo, told the reporter that a villager received chemical burns on his hands when he put them in the water. A number of soldiers tasked with performing cleanup work were sent to the hospital to receive treatment for symptoms caused by the pollutants.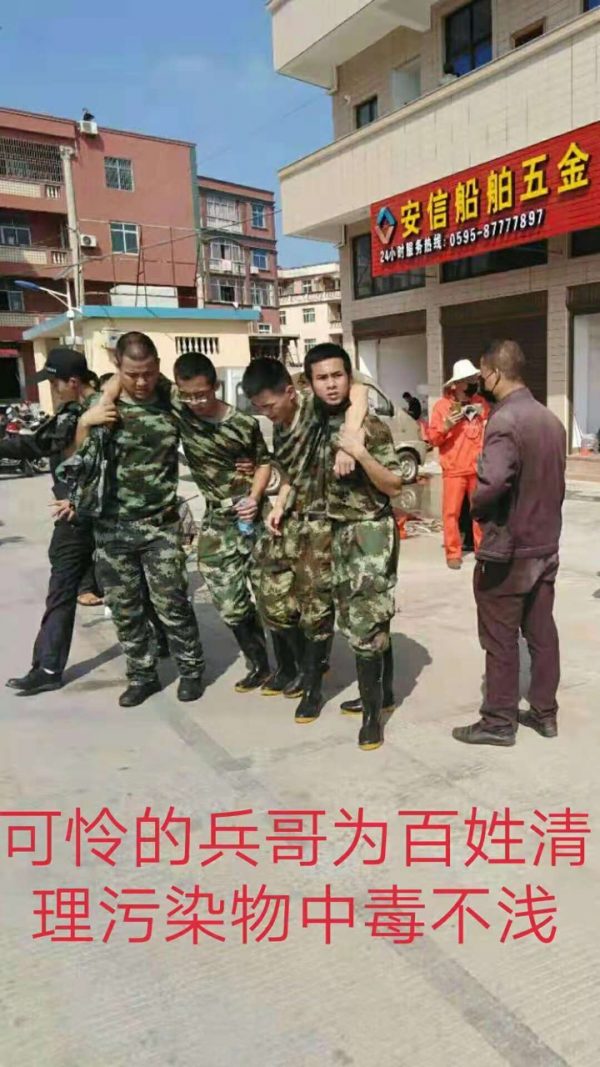 Villagers said that because the authorities concealed and falsified facts at the beginning, it had misled the public with serious consequences for them.
Wang said that at the time of the hydrocarbon leak, fishermen sleeping on their rafts found that the foam under their vessels had been corroded, but nobody knew what was in the water that caused it.
"Villagers found that the sea water became gluey and sticky," Wang said. " At first the government said it was an oil leak. Later it was changed to C9 aromatic hydrocarbon leak."
Wang said that the Quangang District Environmental Protection Bureau used a fire truck to hose down the bureau's office building to reduce air pollution in the immediate vicinity, since the instruments for measuring air quality were located onsite. Shortly afterward, the authorities claimed that the air and water had returned to normal conditions.
Locals expressed anger at the authorities' failure to report the factual situation or inform villagers of protective measures they could have taken.
Due to pollution, fish, shrimp, and other sea creatures harvested by the fishermen all died. Angry fishermen hauled their poisoned, rotting catches to the offices of the petrochemical company and district governmental offices, and dumped them outside the premises.
"Two to three hundred people protest there every day," one villager said. "They want the mayor to buy their rotten fish and shrimp."
According to the locals, neither the government nor the petrochemical company has issued any response or explanations.
The chemical leak damaged net cages and fishing rafts, destroying property that poor fishermen had struggled to accumulate over decades of hard work. "Each household probably lost five million yuan (about $700,000)," a woman surnamed Liu said.
Mr. Wang said: "we spent 20 or 30 years getting over a thousand fish rafts; now they're all gone."
Gu Xiaohua contributed to this report.