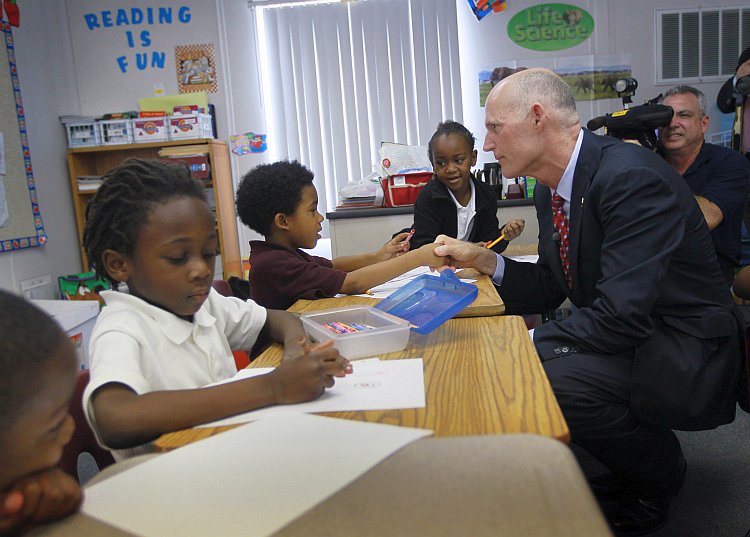 As part of a growing education reform movement, Southern states have recently seen a surge in legislative proposals and ballot initiatives aimed at clearing the path for charter schools.
Georgia's legislature recently voted to add the Georgia Charter Schools Amendment on the voting ballot in November. If passed, the referendum would create a state constitutional amendment that would clear the way for the outlawed Georgia Charter Schools Commission, giving it the power to create charter schools—even those rejected by local school boards.
Support and opposition voices are gearing up for the fight, and Georgians can expect a barrage of billboards, opinion pieces, and political newspaper and television ads framing the issue.
The main opposition is fronted by district public school boards, which have expressed concerns over the amendment granting the ability to the state commission to establish charter schools outside of school district approval.
"Voters need to decide who they want running school systems," said Angela Palm of the Georgia School Boards Association, in an April 9 Georgia Public Broadcasting (GPB) news report. "Do voters really want to give up part of local control, and part of what has always been the local system of schools, to allow a state-appointed body to say, 'Yes, we're going to put a school in your district?'"
Supporters of pro-charter "school choice," like Georgia's Mark Peezy, say that charter school boards are composed of parents, "the ultimate in local control," according to the GPB news report.
"Part of the challenge in Georgia as a whole is to help the Greater Georgia area—so certainly outside the Atlanta metro area—to understand school choice options can provide much-needed innovation in their local districts," Peezy said.
Other states in the South have opened the door for charter schools through legislation and education reform initiatives. Last June, N.C. Gov. Perdue along with the general assembly passed a bill removing the cap on the number of charter schools allowed in the state. They added a 'fast track' so that previously interviewed applicants could bypass the 12-month application process.
Since repealing charter school limits in the state, North Carolina's Office of Charter Schools has seen a record number of 61 charter school applications, according to an April 18 Education News report.
Joel Medley, director of the Office of Charter Schools, said there are 100 charter schools in North Carolina, with nine new charter schools expected to open in the fall of 2012.
Medley says there are still major challenges for charter schools across the country, including facility funding. According to Medley, though charter schools receive government funding per student, schools do not receive government money for facilities.
This challenge has often led charter school operators to look for quarters outside the traditional schoolhouse. Empty spaces in strip malls and historic mills have been transformed into charter schools, according to Medley, with operators often saving and investing their own funds for facilities.
In Washington, D.C., a surplus army medical center was recommended for charter schools in February, according to the National Charter School Resource website.
In New York City, the NYC Department of Education developed what is called "colocation." Colocation is when the charter school solves its facility challenge by moving into district school buildings and sharing space with other schools.
Quality and Specialty
Quality of education is another challenge, according to Medley. "Some charters do well, some are in the middle, and some are struggling," he said, adding that charters should use experience and data obtained over time to push forward and improve.
One appeal of charters is that they can cater to student's particular needs or talents. Medley said he once worked in a school where they addressed the needs of kids with severe behavior problems, helping them get on the right track with schooling.
One North Carolina school is a dual-language Montessori where students learn in English and Spanish. Another is an Outward Bound expedition charter where students spend school time outdoors. It is a "green" school as well.
Yet, with such flexibility comes risk—and concern. One charter school in South Carolina has support from the controversial Hanban, also known as the Confucius Institute, which Epoch Times reports revealed has strong ties with the China's communist regime and doctrine.
Despite this, North Carolina has seen a surge in charter school student enrollment, with a further rise projected for 2013.
In mid-March, neighboring South Carolina passed a Senate bill to foster charter school growth in the state by a 39–2 vote. The bill allows for charter school sponsorship from a university, college, or community college, currently not allowed in the state.
Jay Ragley, deputy superintendent for legislative and public affairs, and spokesperson for Mick Zais, state superintendent of education, said in a phone interview that a charter high school in Greenville, S.C., is housed in a community college, but sponsorship by the college is prohibited under current policies.
According to Ragley, there are maybe 12 states that allow a college or university to sponsor a public charter school.
The bill also allows for charters to establish gender schools. "We have single-gender programs and classes, but what the bill would say is girl-only and boy-only schools," Ragley said.
Mary Carmichael, executive director of the Public Charter School Alliance of South Carolina, said in a phone interview there is only one school in the state that, although coed, the boys and girls stay among their genders the entire school day. "It has worked very well," said Carmichael.
Students at charter schools would also be able to join traditional public schools sports and other programs not offered at their charter school, according to the S.C. bill.
Carmichael stated that she has seen charter schools "empower the teacher in the classroom. They have the ability to go to the principals and see results, whereas in a district school, results take years because they have to go through the district level."
For Carmichael, the difference lies in charter school management. She recalled conversations she had with charter school teachers. "The teachers are very happy," she said, because they are able "to do what they were trained in college to do."