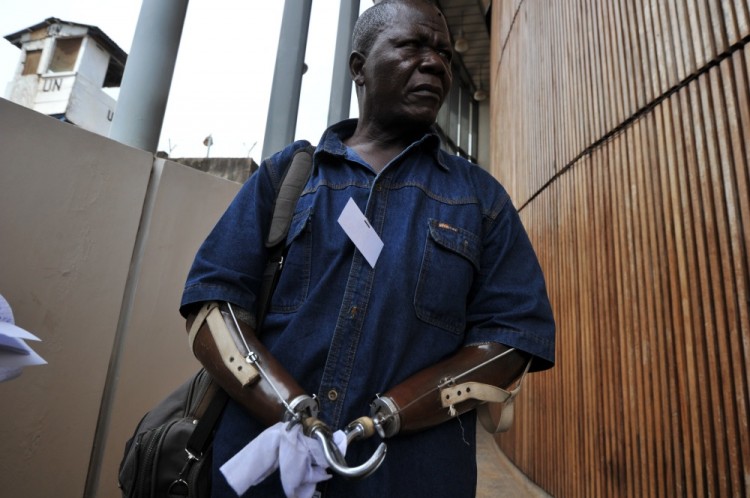 Charles Taylor, the notorious former leader of Liberia, was convicted of 11 counts of aiding and abetting war crimes and crimes against humanity during Sierra Leone's civil war in a landmark case, making the ex-strongman the first head of state to be convicted by an international court since the Nuremburg Nazi trials after World War II.
It took almost four years to hear from 115 witnesses and examine 1,522 pieces of often gruesome evidence detailing atrocities committed by the rebel groups Taylor sponsored including mutilating civilians, and feeding drugs to child soldiers as young as 8 to desensitize them to the violence.
The verdict took about two hours to read on Thursday at the United Nations-backed Trial Chamber of the Special Court for Sierra Leone, located in The Hague for security reasons.
U.N. human rights chief, Navi Pillay, described the verdict as a "major milestone in the development of international justice."
"A former President, who once wielded immense influence in a neighboring country where tens of thousands of people were killed, mutilated, raped, robbed and repeatedly displaced for years on end, has been arrested, tried in a fair and thorough international procedure, and has now been convicted of very serious crimes," she said in a statement.
In a message to other dictators she warned them that the days of retiring to luxury after a career of mass murder are over. 
"Few things are more repugnant than seeing people with so much blood on their hands, living on stolen money with no prospect of their victims seeing justice carried out," Pillay added.
A few months after a warrant for Taylor's arrest was issued in June 2003, he stepped down as Liberian president and went into exile in Nigeria. The charges against him specifically relate to the period from November 1996 to January 2002, during which he oversaw a campaign of sheer terror against civilians in territory of Sierra Leone. 
Human rights groups praised the verdict, as sending the right message, that no head of state is immune from prosecution.
"Powerful leaders like Charles Taylor have for too long lived comfortably above the law," stated Elise Keppler, the senior international justice counsel at Human Rights Watch. "Taylor's conviction sends a message to those in power that they can be held to account for grave crimes."
Taylor is the first head of state to be successfully convicted of war crimes by an international court, but others may follow. Ex-Ivory Coast President Laurent Gbagbo is currently on trial, and sitting Sudanese President Omar al-Bashir has been indicted but not arrested.
Two other strongmen, the former Yugoslavia's Slobodan Milosevic, and Libya's Moammar Gadhafi died during some stage of international proceedings against them.
Brima Abdulai Sheriff, the head of Amnesty International's Sierra Leone division, said that the verdict "sends an important message to high-ranking state officials" that they will receive due retribution for crimes committed.
Taylor's Crimes
The 64-year-old American-educated warlord took over Liberia in 1990 after receiving training under Gadhafi in Libya. Over the next decade, rebel groups sponsored by Taylor—the Revolutionary United Front (RUF) and the Armed Forces Revolutionary Council (AFRC)—fought with the Sierra Leone government, leaving as many as 50,000 dead and 2.5 million displaced.
Taylor seized power then won the presidency in 1997 on his infamous campaign slogan: "he killed my ma, he killed my pa, but I'll vote for him anyway." 
"Children were taken from their families, and not only used to fight, but also to commit crimes against their fellow Sierra Leoneans. This robbed these children of their childhood, and the judges have sent a clear message that this will never be tolerated," the Special Court Prosecutor Brenda Hollis said in a statement.
Included in the crimes cited by the court was mining for diamonds to export to Western companies to pay for weapons.
Mining diamonds in both Liberia and Sierra Leone, the court found, was the primary source of income for the RUF rebels, who allegedly gave the diamonds to Taylor's government in exchange for arms and supplies.
According to the verdict, Taylor provided "sustained and significant" support to the RUF during its bizarre and macabre "Operation No Living Thing" assault on Freetown, the capital of Sierra Leone, and other parts of the country, which saw public executions, dismemberment, people being burned in their homes, and other atrocities.
Taylor was also accused of commanding the rebels to commit the war crimes, but the prosecution could not find sufficient evidence that he was directly responsible for the atrocities. He has maintained that he is innocent.
There is no indication yet if Taylor will appeal the verdict. Sentencing is expected in a separate hearing.