Charles James: Fashioning a Design Language
A glimpse into the will and the way of a great couturier
May 16, 2014 10:50 am Last Updated: May 16, 2014 10:50 am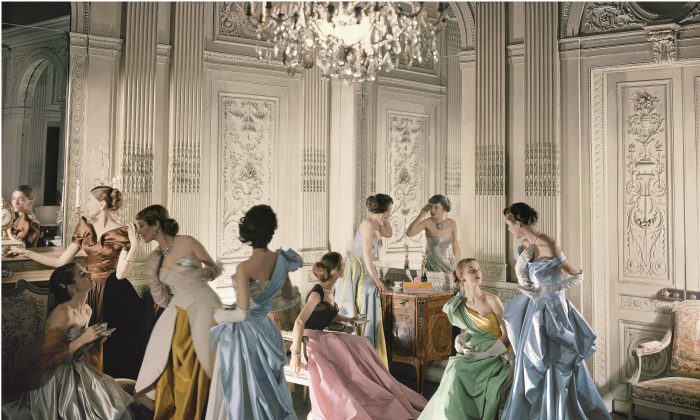 NEW YORK—"The only difference between fashion and architecture is that when a building falls down it's not the same as when a dress does," said one of my teachers during my fashion-design student days.
At the time, I took it as a quaint revelation. But the more I see great design, the more I am inclined to agree.
The legendary 20th-century Anglo-American couturier Charles James (1906–1978) declared a similar sentiment: "In fashion even what seems most fragile must be built on cement." His work is displayed in the "Charles James: Beyond Fashion" exhibition that opened last Thursday at The Metropolitan Museum of Art.
Dissecting a Charles James Gown
The retrospective exhibition features approximately 65 of the most notable designs James produced over the course of his long career, from the 1920s until his death in 1978. Curators Harold Koda and Jan Glier Reeder have enlisted the know-how of exhibition designers Diller Scofidio+Renfro, the interdisciplinary architecture and design firm to technologically dissect James' designs.
Analytical animations and X-rays reveal not just the intricate construction of the garments but also some of the underlying problems and puzzles with which James grappled and played during the process of creating a garment.
"The exhibition is intended to convey the specialness of his work," Koda said, adding that the use of technology was "with the idea of communicating quite complicated thoughts about the making of clothes, because for me the construction of the garment is the mapping of the designer's thinking. You can just see how he or she is working."
Koda says that, in terms of style, the garments could be Dior or early Balenciaga, "but when you start to look at how he created that shape, no one else did it that way. It's so distinctive."
James was by no means prolific in terms of sheer quantity of design. The fruits of his labor number around 1000 garments, whereas some designers might have 100 garments in just one show. But his creations have been seminal and continue to influence designers.
One at a Time
Each creation adheres to James' credo that "a good design should be like a well-made sentence, and it should only express one idea at a time." And it is perhaps owing to this clarity that many of his designs have been seminal.
For example, the "Taxi dress" is a modified spiral in rib-knit that demonstrates how elegance and practicality can easily go hand-in-hand. The same principle has been adopted and thoroughly developed by Diane von Furstenberg in her iconic "wrap dress."
James' experiments with "the ribbon" used as a module resulted in the ribbon gown and the coat, and the dressing gown. The ribbon idea was used by Herve Leger to produce his signature "bandage dress." Leger's version is made of elasticized bandage-like strips that don't just mold to the body, but also mold the body into shape, something that is infinitely appealing to silhouette-conscious celebrities and fashionistas.
It is certainly mesmerizing to watch the unfolding of, say, the "Figure Eight dress" in digital animation. Mathematics, origami, and a good grasp of what happens to fabric when cut on a bias clearly played a part in this gown. What we, as spectators, see on screen is what James would have had to visualize in his mind's eye to achieve the effect.
The green silk ball gown is also one of the few dresses that have been digitally analyzed in the exhibition and is simply breathtaking. It is another variation on the use of the spiral—an asymmetrical, sculptural ode to the female form that is completely balanced. Watching the video animation of it is like watching the gown being born.
The Beginning
Raised and educated in England, James started his design career in 1926 (at the age of 19) as a milliner in Chicago using the name "Boucheron." A milliner uses felt very much the same way that a sculptor might model with clay, shaping and adjusting the material until the desired volume is achieved. This undoubtedly served James well in hat design; when it came to fashion design, he wanted to have the same molded feel to his garments, though he couldn't mold fabric on to life-sized female torsos.
By the time James was 21 he opened a dressmaking business in New York. Naturally, he had to adopt dressmaking methods where form is achieved by cutting and constructing fabric, which ultimately must cover the various shapes of the human physique.
Volume is "the end," and any means possible is "the way" in James' designs. His techniques demonstrate the constant pull toward an organic hands-on approach of manipulating fabric to sculpt a three-dimensional shape, but he also clearly embraces the benefits of applied geometry and mathematics to achieve spectacular sculptural effects.
His experiments with patterns found in Edwardian corseting, and even biomorphic patterns and shapes, like those found in insects, point to the fact that he was constantly in search of a design language. James himself said that his designs "are not luxuries" but "represent fashion research."
James' quotes have been used copiously throughout the exhibition and serve well to delve deeper into the designer's creative process.
In Search of a Paradigm Shift
"I don't think that he conformed to any preexisting system; he was constantly inventing his own ratios and proportions. He couldn't follow rules. One could say that he was into fractals," Koda told the Epoch Times.
But his experiments are a rich source of inspiration for the important reason that indeed, Charles James didn't just want to make dresses, he wanted to invent a perfect system that could both serve and fuel the imagination.
He inspired many designers. Couturiers Paul Poiret, Elsa Schiaparelli, Cristóbal Balenciaga, and Christian Dior were among James' acquaintances and early supporters. In fact, Dior attributed his "New Look" designs to a James idea.
"So much of what he has done has become part of the general vocabulary of glamorous ball gowns or bias-cut skirts," said Koda, adding that, while it's hard to say what is distinctively James and who is "channeling him," when you look at all the major designers, they are certainly aware of his contribution.
"[They] would have to be envious of the fact that he did exactly what he chose in his creative expression because that's not how you do a business, and these are great businessmen as well as creators," said Koda.
"Charles James: Beyond Fashion" is on view until August 10, 2014.