Characteristics of Tibetan Traditional Clothing
September 14, 2006 12:00 am Last Updated: September 14, 2006 12:00 am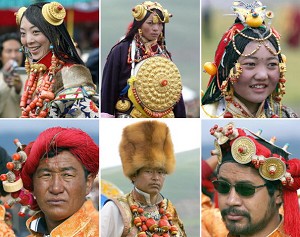 Tibetan herdsmen who live on the grasslands of "The Roof of the World" are surrounded by snowy mountains and impetuous rivers and have created their own fashion culture that has distinctive local characteristics and national style.
Minorities in Tibet all have their own traditional social customs, way of life and social activities. The men usually wear leather hats, boots, colorful ribbons at the waist and Tibetan knives to display their power and heroic spirits. The women dress in a graceful manner, and are covered with vibrant amber, coral and other precious jewelry, plus luxurious and beautiful gold and silver ornaments.







In the old villages, many families have preserved for hundreds of years, the traditional costumes from the Qing Dynasty (1644-1911) inherited from their ancestors. These valuable traditional costumes are made of silk, embroidered with linen, gold and silver, and decorated with jewelry. Villagers dress in traditional costumes to celebrate festivals and ceremonies.