News Analysis
The suicide on Sept. 18 of an unidentified woman who had sought asylum at a shelter in New York, one of 180 cities and counties with so-called sanctuary policies that have received an influx of illegal aliens from border states in recent weeks, highlights the unpreparedness of municipal officials for the consequences of their stated positions on immigration, experts say.
In the scramble to avoid blame, some officials have pointed their finger at the governors of Florida, Texas, and other states who are simply acting in accordance with the policy of offering sanctuary to those who cross borders into the United States, regardless of the legality of their entry, according to the experts.
The woman who committed suicide at the shelter was one of a reported 11,000 illegal aliens who have strained the resources and capabilities of New York's homeless and social services in recent months, as revealed in a leaked internal email in which officials of the city's Human Resources Administration urged employees to make themselves available for overtime duties.
In a statement the day following the suicide, New York Mayor Eric Adams alluded to the massive influx of illegal immigrants that has caught his administration, like those of other cities and communities in the United States, off guard, while not explicitly acknowledging responsibility for the death.
"The thousands of asylum seekers we have seen arrive in our city came to this country seeking a better life. Sadly though, yesterday, an asylum seeker in one of our facilities took her own life. Our hearts break for this young woman and any loved ones she may have, and we, as a city, mourn her," Adams said.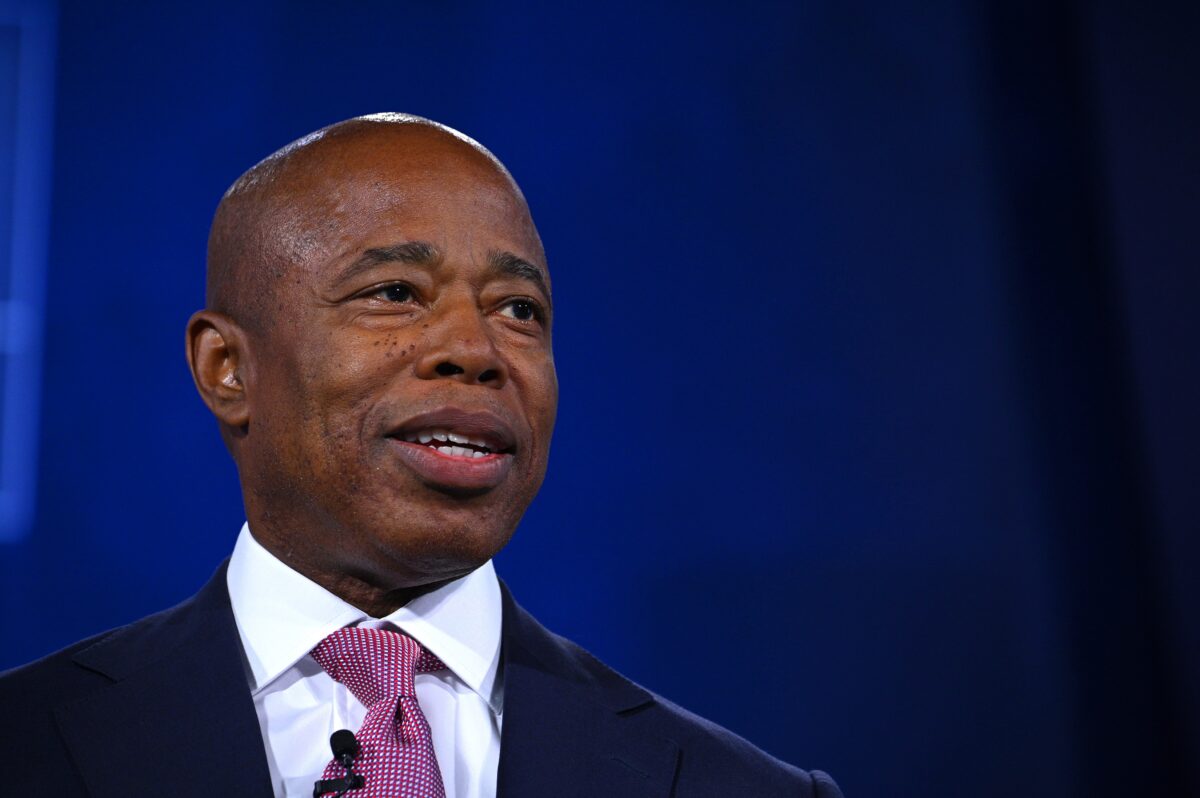 Recriminations Fly
But other city officials quickly faulted the mayor for downplaying the role of his administration's unpreparedness for the influx and for its lack of adherence to its own stated priorities as part of a sanctuary community.
"It is an indictment of the highest order that this woman, seeking refuge, arrived in New York City and was so overcome with hopelessness that she decided to end her life," Democratic state Sen. Jessica Ramos of Queens said in a statement. "Her act was a direct response to the lack of care provided by the City.
"There is no excuse for a failure of this magnitude."
In the same statement, Ramos criticized Adams for suggesting (without offering specific policy prescriptions) that it's time for New York to reassess its "right to shelter" laws.
Ramos and others are critical of the mayor for having allowed an environment in which the city is ill-equipped for the arrival of thousands of illegal immigrants to develop on his watch, particularly when the new arrivals are simply acting in accordance with codified policies and protocols.
'Right to Shelter' Under Pressure
The $101 billion budget approved for New York City in June allocated $2.4 billion to homelessness services for the fiscal year to follow, while setting aside roughly $5 billion for affordable housing over the next decade.
The sheer size of the investment in homelessness and social services presents a huge incentive for illegal immigrants who know that under the "right to shelter" law, their desire to be housed can't be legally denied, experts say. The law itself has its roots in a lawsuit filed in 1979 on behalf of Robert Callahan, a homeless man living in the city, and others who were without a fixed place of residence.
Stephen Eide, a senior fellow at the Manhattan Institute think tank who has studied migration and the homelessness issue, believes that while New York's Special One-Time Assistance Program may have operated relatively free from misuse, there can be no question that illegal immigrants are freely availing themselves of certain other perquisites.
"I am not aware of any migrants taking advantage of the One-Time Assistance Program. But they are certainly availing themselves of the basic shelter benefit, which everyone qualifies for regardless of immigration status, as well as an array of basic services including education, health, and public safety," Eide told The Epoch Times.
Given the realities of a network overwhelmed by the thousands of arrivals, even some progressive cities and communities have begun to rethink the wisdom of right to shelter legislation, Eide noted.
"Other jurisdictions, such as California, have contemplated establishing a New York-style right to shelter. They are probably giving the idea second thoughts now. Responding to a migrant crisis is more difficult for cities with a right to shelter than cities without one," Eide said.
As it stands, there are few places in the country where the enticement to those who might seek to take advantage of free refuge and services is as pronounced.
"I don't believe any community in America has a right to shelter as expansive as New York City's. Many migrants want to come to New York anyway because it's famous. The right to shelter just makes it appeal even more," Eide continued.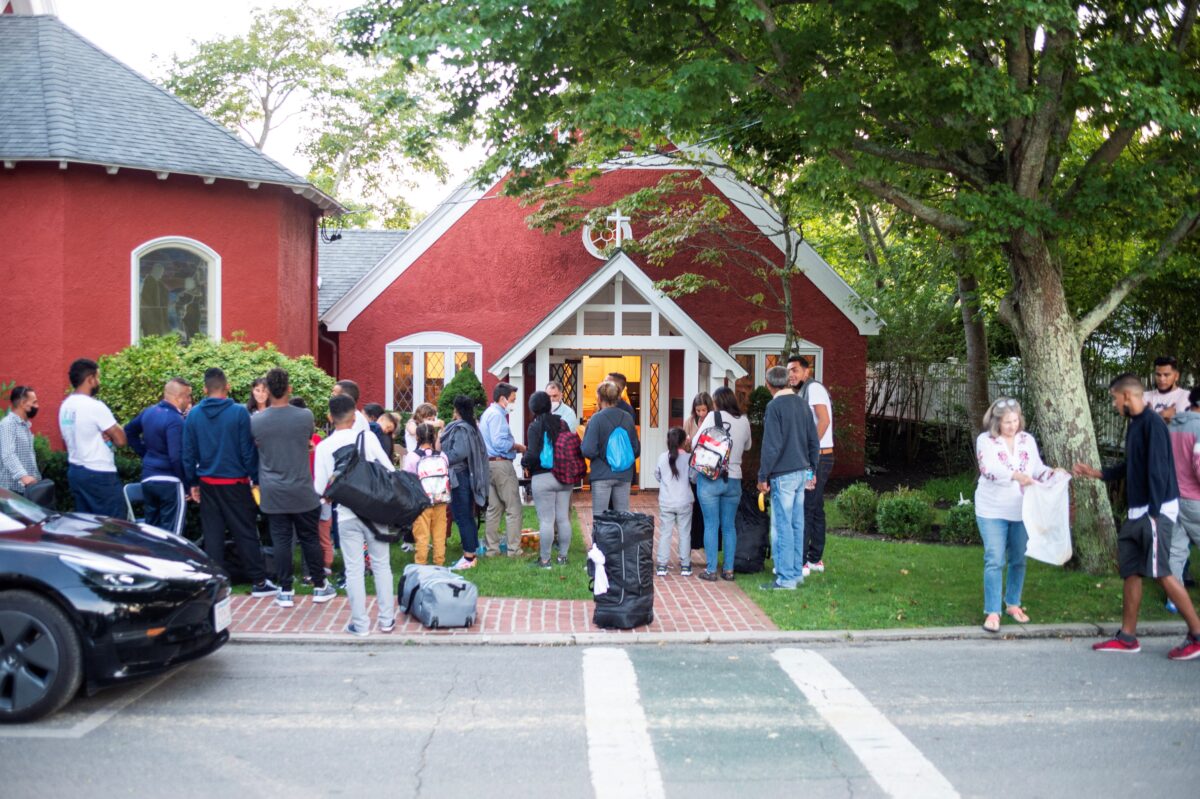 Blaming the Messenger
The resettlement of men, women, and children in Martha's Vineyard in Massachusetts, as well as the moving of refugees to New York, has been fraught with controversy and has led to potential legal complications for the officials involved. Reports emerged this week that Florida Gov. Ron DeSantis's chartering of flights to bring several dozen illegal immigrants to Martha's Vineyard is now the subject of a criminal investigation on the part of the sheriff's office in Bexar County, Texas, looking into the alleged luring of the migrants with promises of work.
But DeSantis, like Gov. Greg Abbott of Texas, is simply acting in accordance with the self-imposed priorities of sanctuary communities and those who advocate welcoming illegal immigrants with a panoply of services and opportunities, some observers argue.
"Governors DeSantis and Abbott are simply helping illegal immigrants get to sanctuary cities and towns. It's amusing because the politicians who declared these locales sanctuaries are now horrified that immigrants are actually being sent," Charles Steele, chair of the Department of Economics, Business, and Accounting at Hillsdale College in Michigan, told The Epoch Times. "Sanctuary status—an avowal to violate American immigration law—turns out to be little more than sanctimonious posturing."
The fiasco could have significant political consequences, even if it doesn't sway voters in the midterm elections who are concerned with inflation and crime.
"I doubt this will have much effect on the midterm election, because I don't think it will change people's opinions on the immigration issue," Steele said. "But if DeSantis and Abbott continue to move immigrants, it might lead to increasing pressure for the Biden administration to reduce the record flows across the border."
Distributing the Burden
Richard Conley, a professor of political science at the University of Florida, argued that the policy of placing illegal immigrants on charter flights to sanctuary destinations doesn't violate their rights and isn't cruel, though its consequences for the communities where they arrive are another matter.
Conley sees the policy largely as a response on the part of state officials to illegal immigration that has overwhelmed small towns on the southern border of the United States and made them desperate for a way to distribute the burden of accommodating illegal immigrants in a way that's more socially and economically feasible.
"I've spent a lot of time out there in Texas, where you've got towns like Eagle Pass, with about 29,000 people. They are getting a thousand, two thousand, and sometimes more, crossing into their communities, and the Biden administration seems to think that's OK," Conley told The Epoch Times.
"Governor Abbott is trying to deal with this crisis, where these small border communities don't have the resources to deal with the influx, and so they are electing to send these folks, with their consent."
The governors of the border states aren't acting in an illegal or coercive manner, he argued, because the illegal immigrants are giving their consent and, in many cases, explicitly requesting relocation to a sanctuary community.
"They sign a waiver saying, I want to go to New York, D.C., or Chicago. And, in the case of DeSantis, who wouldn't want to fly on an air-conditioned jet up to Martha's Vineyard? It's a playground of the rich," Conley said.
"Instead, the island, which claims to be a sanctuary, has a complete conniption fit and within two days has them transported somewhere else," he added, alluding to the decision to move the 50 illegal immigrants from Martha's Vineyard to a military base on nearby Cape Cod shortly after their arrival.
Though he doesn't view the border state governors' relocation policy as coercive or illegal, Conley said he does detect a political element to the policy, as the governors seek to make officials outside the border state region more aware of and responsive to the consequences of the policies they champion.
"It's a symbolic shot across the bow to the federal government, which is not enforcing the immigration laws that are on the books," he said.
The ongoing fiasco may, at last, bring increased attention to the broader debacle of U.S. immigration policy and its human costs, Conley suggested.
"The bigger issue here that gets lost is the tragedy of all this. The horrors that migrants face, the sexual assaults. We've got people being found who have suffocated in trucks and died of dehydration, and migrants who had to survive on bananas and iguanas after the cartels and gangs robbed them of all their money. And their daughters are assaulted and some of them are kidnapped. The goal of the governors is to point out the really vacuous arguments and the lack of signaling from the White House that we plan on closing this off and actually doing something,"
Adams's office didn't respond by press time to a request by The Epoch Times for comment.