The decision to change the definition of fully vaccinated from two to three jabs could create confusion for Australian if state governments decide to expand current booster mandates, according to vaccine developer Nikolai Petrovsky.
On Feb. 10, the Australian Technical Advisory Group on Immunisation (ATAGI), announced that individuals would only be considered "fully vaccinated" or "up-to-date" if they have received three jabs of an approved vaccine. The changes do not apply to travellers.
"ATAGI has advised that a booster can be given safely and effectively at any time after 6 months to become 'up-to-date' in the event that the booster had not been received earlier," Prime Minister Scott Morrison said in a statement.
"In its advice ATAGI acknowledges that this change in the definition of up-to-date status for COVID-19 vaccines may impact the status of an individual's COVID-19 immunisation certificate," he added, noting sufficient time should be provided to accommodate changes.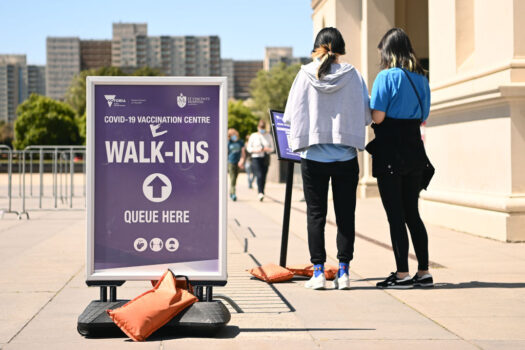 ATAGI has recommended the new standards be applied by the end of March 2022. On Feb. 16, the chair of the body, Nigel Crawford, did not rule out further changes to the definition to include more jabs.
Petrovsky, who is the primary researcher behind the Spikogen (COVAX-19) vaccine, says that changes from ATAGI need to be based on solid evidence and that altering the definition could have "far-reaching and unintended consequences."
"We don't want to end up in a situation where some policies, for instance in respect of travellers coming into the country—where two doses mean fully vaccinated—whereas another policy from ATAGI's says that, 'Now you're in Australia you are not considered fully vaccinated because inside the country only three doses represent fully vaccinated,'" he said. "Such contradictions create confusion and stress."
Currently, booster mandates apply in targeted industries in most states except for Western Australia, which has rolled out the most comprehensive mandate requiring the state's entire million-strong workforce to receive the third jab.
Petrovsky also noted that ATAGI advice was problematic due to a lack of proper review channels surrounding it.
"Unfortunately, ATAGI's recommendations have been turned by the state (governments) into mandates, justified on the basis that they are following ATAGI's advice," he added.
"This creates a circular self-justifying system where decisions are being made by government bodies with broad-reaching consequences, but the people affected are prevented from overturning such decisions, no matter how flawed they are."
The professor warned that the reliance on ATAGI to underpin public health orders, and vaccine mandates, has exposed a failing in the current democratic process and should be rectified to restore "faith in the system."
Vaccine mandates continue to be a contentious issue with ongoing protests opposing such public health orders.
On Feb. 12, tens of thousands of protestors from all walks of life gathered in the national capital Canberra to protest state government-mandated health restrictions.
One federal MP said it was the biggest protest he had seen in Australian Capital Territory (ACT) in his 11 years as a parliamentarian.
While ACT Police Commissioner Reece Kershaw told a Senate Estimates hearing that it was the largest protest the police had seen since the 1980s.