Challengers Too Quick For Taipans in Charitable Hong Kong Rugby Event
Rugby Union—Hong Kong
April 16, 2014 9:46 am Last Updated: May 24, 2016 11:00 am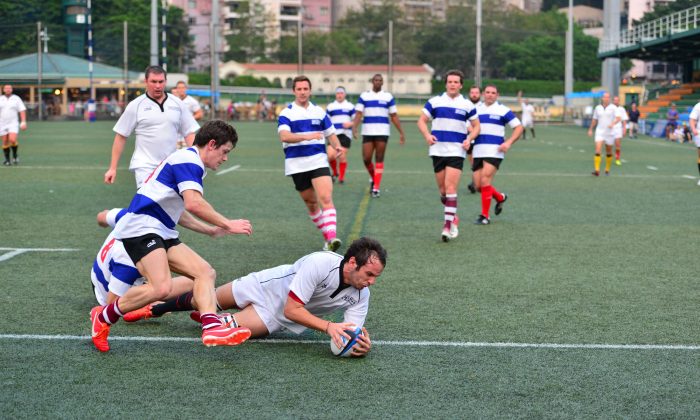 The annual end-of-season Taipan Rugby match took place on Saturday April 12 with Taipan and Challenger representative teams playing for the Taipan Trophy at the Hong Kong Football Cub Ground.
The 2014 Taipan, Rob Blain is Executive Chairman Asia Pacific for CBRE—a global leader in real estate services.
Blain has worked closely with several charities over many years including Operation Smile Vietnam, the Po Leung Kuk learning and development centre in Hong Kong and Enlighten Action for Epilepsy. He moved to Hong Kong from Australia via a short spell in Singapore in 2002 and after the tragic bombings in Bali became an active supporter of the HKFC's fundraiser to support families who had lost loved ones. CBRE has been a major sponsor of the Rugby Section of the HKFC since 2010.
His Challenger this year was Trevor Gregory, Chairman of the Hong Kong Rugby Football Union since 2006, who has been closely involved in the huge developments in Rugby Football in Hong Kong over many years.
Gregory has recently been appointed President of the Asia Rugby Union and is now expected to spend more time on this new role.
Many of the players for the Taipan team were drawn from HKFC and Kowloon with a smattering of Hong Kong Scottish players. Whereas, the Challengers team was drawn from Premiership winners Valley, top spot challengers Hong Kong Cricket Club and DEA.
All was going well for the Taipans at half-time—they got the match off to an immediate start with a try in the first three minutes to put them 5-points up. But, it was score and counter score right up until half-time with the Taipans 17-14 ahead going into the break.
However, all changed in the second-half with the Challengers playing fast open rugby and notching up scores at regular intervals finishing with eight trys in a winning score of 24-52.
Gregory was delighted with his team's performance as he commented after the match.
"Ah! What a day. I am so proud of the boys. They are guys who don't play together every day and I though they played some fantastic rugby.
"They were running from everywhere and really showed how to play expansive rugby. I am very proud of them, I am very honoured to have been the Challenger.
"I am sorry for Rob [Blain] that his team lost today, because he is an excellent Taipan and an excellent gentleman, but I am delighted for the boys and I am delighted to have been the victorious challenger," he explained.
Meanwhile, Taipan Blain looked at the result from a different viewpoint.
"I just think it was a good day for the end of the season for rugby," he said.
"It's for a good cause with the Enlighten for Epilepsy and just to have the rugby community together and to see a good game.
"Yes, they were a little quick but I have had a look at the stats for the last 50 years of the game and the Taipans are very much in front with 34 wins. So in fairness we probably let the Challengers get up today to make it fair.
"You have to lift yourself above the competition and I think it is a great concept. All of the clubs participate—it is not just a HK Football Club event, it is a HK rugby event and that is the most important thing," Blain concluded.
The Taipan's match was the culmination of a full day of rugby which included Mini Rugby, Ladies, Colts and Varsity matches.