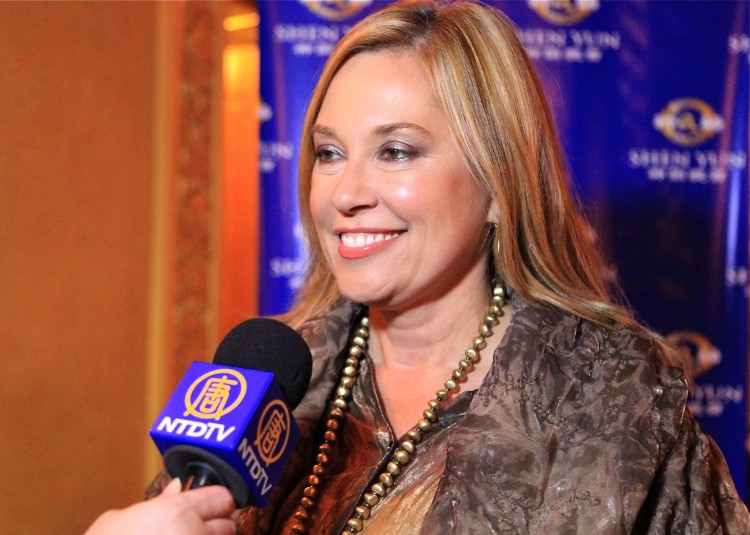 MELBOURNE, Australia—The New York based Shen Yun Performing Arts is dazzling the Melbourne Theatre goers on the opening night at the Regent Theatre. Divine dancing and brilliant costumes light up the stage. Laura Anderson, the Chair of the L'Oreal Melbourne Fashion Festival was especially delighted with the costumes.
"They were magnificent. I absolutely loved the colour, I'm actually thinking about how I can put together some of the things that I'll be wearing over the next few months in preparation for our trip to China—to embrace all the beautiful colours and silks and fabrics."
The 5,000 years of Chinese culture is played out by the Shen Yun performers in mini stories of the ancient myths and legends through the medium of song and dance. Ms. Anderson was not only impressed with the beauty and the love and respect for the culture but also with the passion that went with it.
"Aside from the absolute beauty and the dance and the music," Ms. Anderson feels that the key messages were really important to understand and to learn. "It was all about spirituality, it was about beauty, it was about one with nature. It was about embracing the past, but still celebrating the future and the present. "
Ms. Anderson thought it was really interesting how the live orchestra wove it all together. "The music, I loved the combination of East and West, just even showing some of the instruments."
Her enthusiasm for the performance was expressed by straight away texting her friends, "Please come, It'll be here for another four days."
"My son was born in the year of the Golden Dragon," she said. "And I remember I was pregnant and I was walking on the Great Wall of China, so it's always been special, very very special, and China has a special place in my heart."
"It's been just a wonderful honour to be here tonight, so thank you."
Reporting by NTD and Philippa Rayment.
Shen Yun Performing Arts, based in New York, tours the world on a mission to revive traditional Chinese culture. Shen Yun Performing Arts New York Company will perform in Melbourne, Australia, through to April 15.
For more information, visit ShenYunPerformingArts.org.