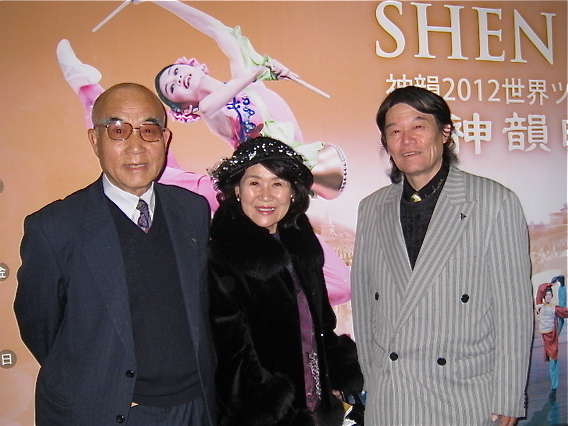 NAGOYA, Japan—The chairman of the International Art Academy, Mr. Hashimoto Seicho, who is a renowned painting artist, watched Shen Yun Performing Arts New York Company's second show at the Nagoya Congress Center on the evening of Feb. 17. After attending the performance, he said that he was touched by all of the programs, and that Shen Yun's performance has a lot for us to learn from.
Seeing Shen Yun for the first time, he commented, "All the programs are so wonderful, with a great diversity, including Taiwanese folk dance, Chinese classical dance, etc."
As a painting artist, Chairman Hashimoto Seicho's works mostly depict Goddess of Mercy, Buddha, etc. Among the programs, he especially praised the dance Lotus Leaves, saying that there was a lot for him to learn from it. He also marveled at the use of color in the performance, saying, "It can have great inspiration for professionals."
Furthermore, he said: "It is the first time for me to see the dynamic backdrops. It is indeed remarkable. In the program How the Monkey King Came To Be, the Monkey King was seemingly jumping directly from the backdrops to the stage. It was really fabulous. I love legendary and historical stories like the Monkey King very much."
"The programs depicting the battles between the righteous and the evil are magnificent. Shen Yun touches people's hearts, as it is presenting such beautiful arts to the audience."
Reporting by Zhang Nini and Billy Shyu.
Shen Yun Performing Arts, based in New York, tours the world on a mission to revive traditional Chinese culture. After its performances in Japan, Shen Yun Performing Arts New York Company will continue to top venues in Korea and Taiwan, followed by Australia and New Zealand.
For more information visit ShenYunPerformingArts.org
Read the Chinese article