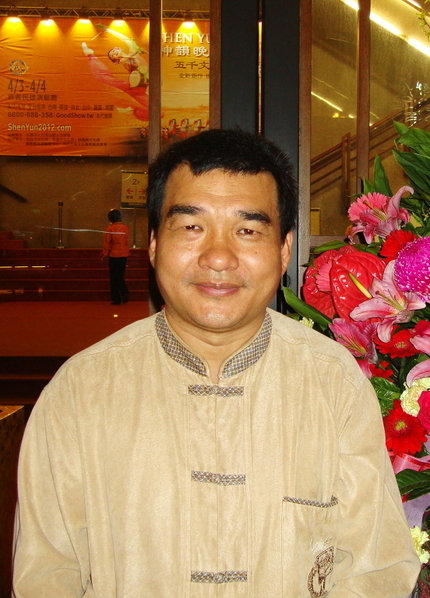 CHIAYI, Taiwan—Mr. Chipei Kao, the only person in Chiayi who has won Taiwan's National Woodcarving Craftsman Certificate, attended the Shen Yun Performing Arts New York Company's performance at Chiayi Performing Arts Center on the evening of April 3. 
Mr. Kao said after the performance, "Shen Yun performed so well, and its class is extraordinarily high. I was very touched; it's my first time to see such a fabulous performance." 
As a woodcarving class teacher at prisons in Chiayi, Yunlin, and Changhua Counties, Mr. Kao often combines wood sculpting with local culture to tell stories, and enlighten inmates with sculpture. Mr. Kao said that he had once carved Monkey King and often used woodcarving to point out to inmates not to bully others, or else they would never escape the Buddha's palm. For this reason, he was most impressed by the programs How the Monkey King Came to Be and Crazy Ji Saves the Day. 
Mr. Kao said that through his friends' introduction to Shen Yun he became aware of this world-renowned peforming arts company. "After watching the performance tonight, I think that Shen Yun really deserves its reputation, as the performance is really exquisite, and it has reached the highest realm of arts. It has also deeply inspired me, and ushered my artistic creation into a higher dimension," he said.
In addition to the historical legends, Mr. Kao mentioned that he was amazed by the overall performance, including the dynamic backdrops, musical accompaniment, dances, costumes, and the songs sung by the solo vocalists. He especially praised the program Before Disaster, the Divine Is Rescuing. In this dance, the good are spared from a calamity, according to the program.
Mr. Kao said that he would definitely come back to see Shen Yun next year, and would bring more family members and friends to join him. He sincerely hoped that more and more people would come to see the Shen Yun performance every year.

Reporting by Shanghai Tsai & Joseph Wu.
Shen Yun Performing Arts, based in New York, tours the world on a mission to revive traditional Chinese culture. Shen Yun Performing Arts New York Company will perform in seven cities in Taiwan until April 8 and then continue to top venues in Australia and New Zealand. 
For more information visit ShenYunPerformingArts.org 
Translated from http://www.epochtimes.com/b5/12/4/4/n3557711.htm